---
I watched Nigella Lawson's latest show, At My Table, and in her first episode she made these devine looking Turkish eggs. I couldn't quite imagine how yogurt would pair with the eggs, but I was willing to give it a try because the aleppo pepper butter looked delicious all on it's own.
This morning I decided to try her recipe, though making the eggs sunny side up (instead of poached) as I had bacon going on the griddle. Nothing beats a sunny side egg thats crispy around the edges from bacon fat. Just let me say, that if this is the way that they serve eggs in Turkey, I'd have no problem eating them.
The aleppo pepper butter gives it a gentle heat, it's fairly mild, but enough to let you know it's there, without the harshness of a tabasco styled hot sauce. The savoury warmed yogurt combined with the yolk, makes every toast bite a creamy bit of heaven. I don't know how much the dill imparts as I was totally digging the chili butter portion, but it didn't detract from the dish and I would use it again.
Please give Turkish eggs a try! I know it sounds odd with the yogurt, but it really does work together. And any left over yogurt can be saved for later and used with a Greek styled chicken or as the base for a cucumber salad dressing!
Extra bonus: if you use a MF% yogurt (5-11%) the carbs are quite low and pair with low carb bread for a low carb breakfast.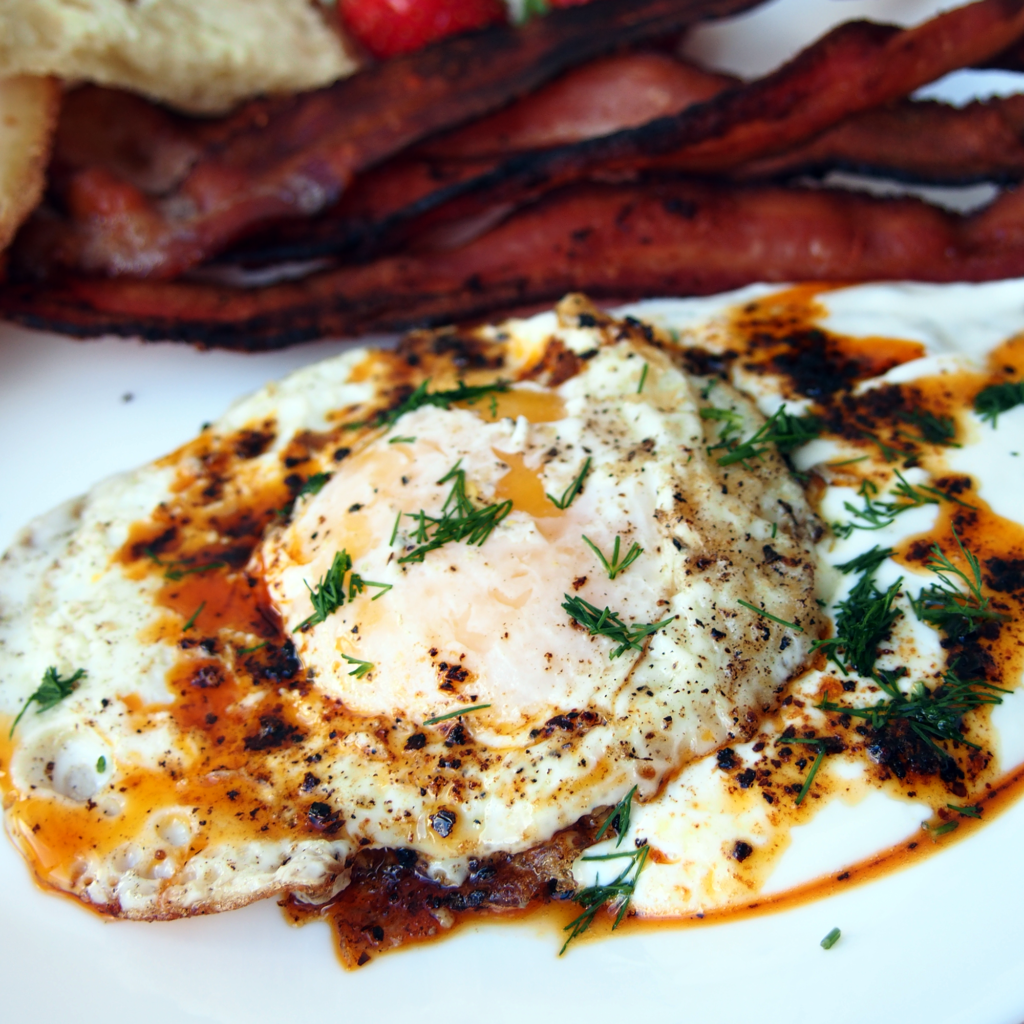 Print
Turkish Eggs
Ingredients
2

tablespoons

unsalted butter

1

tablespoon

olive oil

1

teaspoon

aleppo pepper

2/3

cup

yogurt

1

garlic clove

2

teaspoons

chopped dill

Salt and white pepper

Eggs
Instructions
In a small pan, melt the butter on medium heat and slowly brown it.

Add the olive oil to stop the oil from browning further or burning.

Add the aleppo pepper and let saute for a minute.

Remove from heat and put aside.

Boil a kettle full of water and place in a medium sized sauce pot, keep at a simmer.

Place a glass bowl on top of the pot (making sure the water does not touch the bowl) and place the yogurt in the bowl.

Grate in the garlic clove, 1 teaspoon of the dill, add salt and white pepper, and gently stir, heating through.

Remove from heat and set aside.

Prepare your eggs as desired (poach, sunny side up, etc.).

Place a good dollop of the yogurt on a plate, top with the eggs, drizzle with the chili oil, and sprinkle with dill.

Serve immediately with toast and devour!
If you like this recipe, please share!