---
The original recipe for this pie was a rhubarb cream pie of my mother-in-laws. Rhubarb or strawberry rhubarb were the only flavours she made. She thought I was totally thinking outside the box and it was crazy wild when I showed up with an apple cream pie. Using her base recipe. And its a great base recipe. Any combination of berries, fruit, cream and a little of nutmeg, cardamon, or cinnamon works great.
That was almost 25 years ago and it was only just this weekend that the Hubby and I figured out that the "flour" in her recipe was tapioca flour. He was certain that he remembered his mom using tapioca in it and I was certain that flour and sugar were basically the only dry ingredients. So he did a grocery run for me and picked up a bag of tapioca powder. It wasn't until we realized that the bag said tapioca flour that it wasn't generic flour she was using. I had been using regular flour this whole time (whole wheat, oat, unbleached, etc.) and the filling always seemed to collapse and run out of the pie. The tapioca flour is the key to having a firm pie that holds together when cut – after letting it cool. Have to admit, nothing beats a piece of pie for breakfast the next morning. (Just store the pie in the refrigerator.)
I've tried rhubarb, rhubarb strawberry, all strawberry, raspberry, peaches, apples, blackberries, and white raspberry and tayberry, and it's such a solid recipe that every rendition has turned out delicious. Add some spices to kick it up a notch and you're set!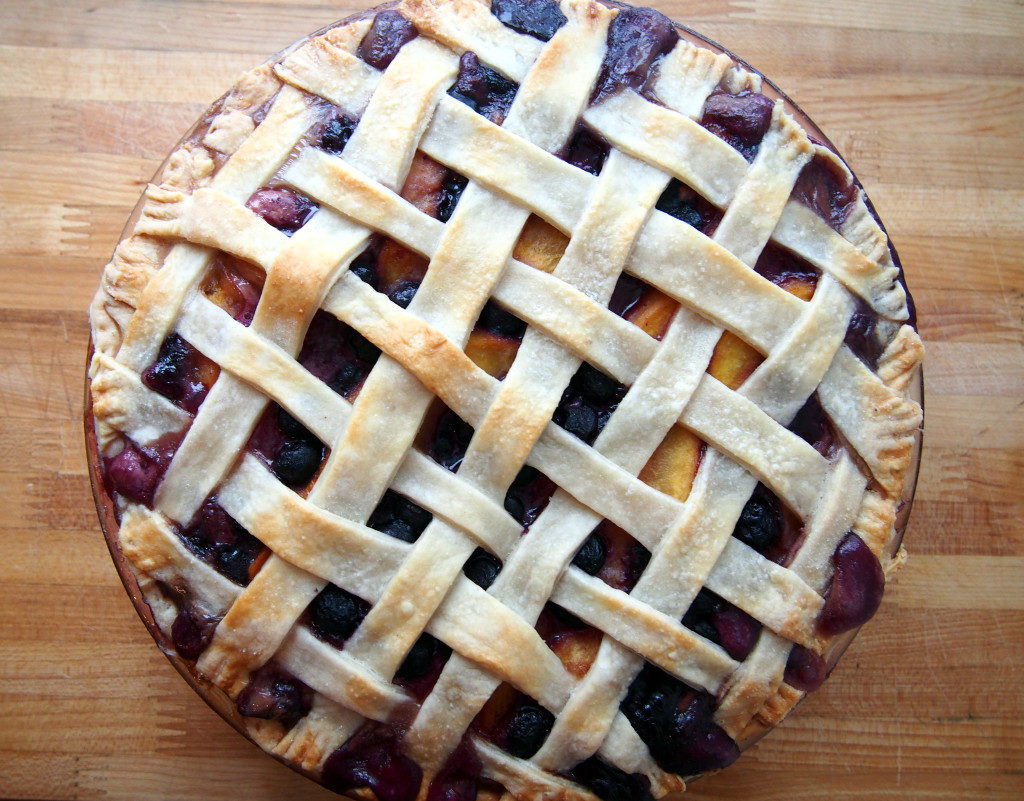 Print
BERRY CREAM PIE
Ingredients
4-5

cups

of fruit

2

deep dish pie crusts

or homemade pie crust for a deep dish pie plate

1

c

sugar**

1/3

c

tapioca flour

1/4

tsp

salt

3/4

c

cream
Instructions
Mix flour, sugar, salt, and spices (if using) together, and toss with fruit of choice.

Pour cream over and gently toss to mix.

Pour into a deep dish pie shell, top with another pie crust, and cut venting holes, sealing with an egg wash.

Brush with egg wash and sprinkle granular sugar over top.

Bake at 350°F for 1 hr.

Let cool completely before cutting. Otherwise your insides just leak out everywhere!
Notes
The 1 c of sugar varies on the fruit used. If using tart or sour fruit, use 1 cup. A sweeter berry, use less.
Use spices like nutmeg, cinnamon, cloves, in your dry mix! Or if making an apple cream pie, add a few small dollops of butter.
If you like this recipe, please share!