---
Last night I held a post-Christmas dinner, instead of the usual turkey, I wanted to do a beef roast. I would have liked to grab a prime rib, but couldn't find any, so I did a striploin roast with a side of horseradish cream. Of course there was the usual sides of mashed potatoes, peas, and a bucket of gravy. And of course, no roast beef dinner is complete without big fluffy yorkshire pudding.
This roast was an experiment, based off of a recipe of Amazing Ribs, and all the instructions go against everything you've been taught. No pre-sear, no resting, cooking low and slow, and no bringing the meat to room temperature.  I know it all sounds crazy, but trust me. Try it! Please see the link for his full explanation as to the why's of cooking a roast this way. The key to this is:
Cook by finished temperature, not by time.
In essence, get yourself a digital thermometer. You don't need to spend copious amounts of cash. I picked one up from Ikea that worked like a charm! The goal is to cook the roast to an internal temperature of 130-134F, and then sear it off at the end to give it that bark.
I've listed a herb rub in the recipe that I whipped together, but feel free to use your favorite sugar-free rub. For the sprinkling of all purpose rub, before popping into the oven, I used my standard recipe.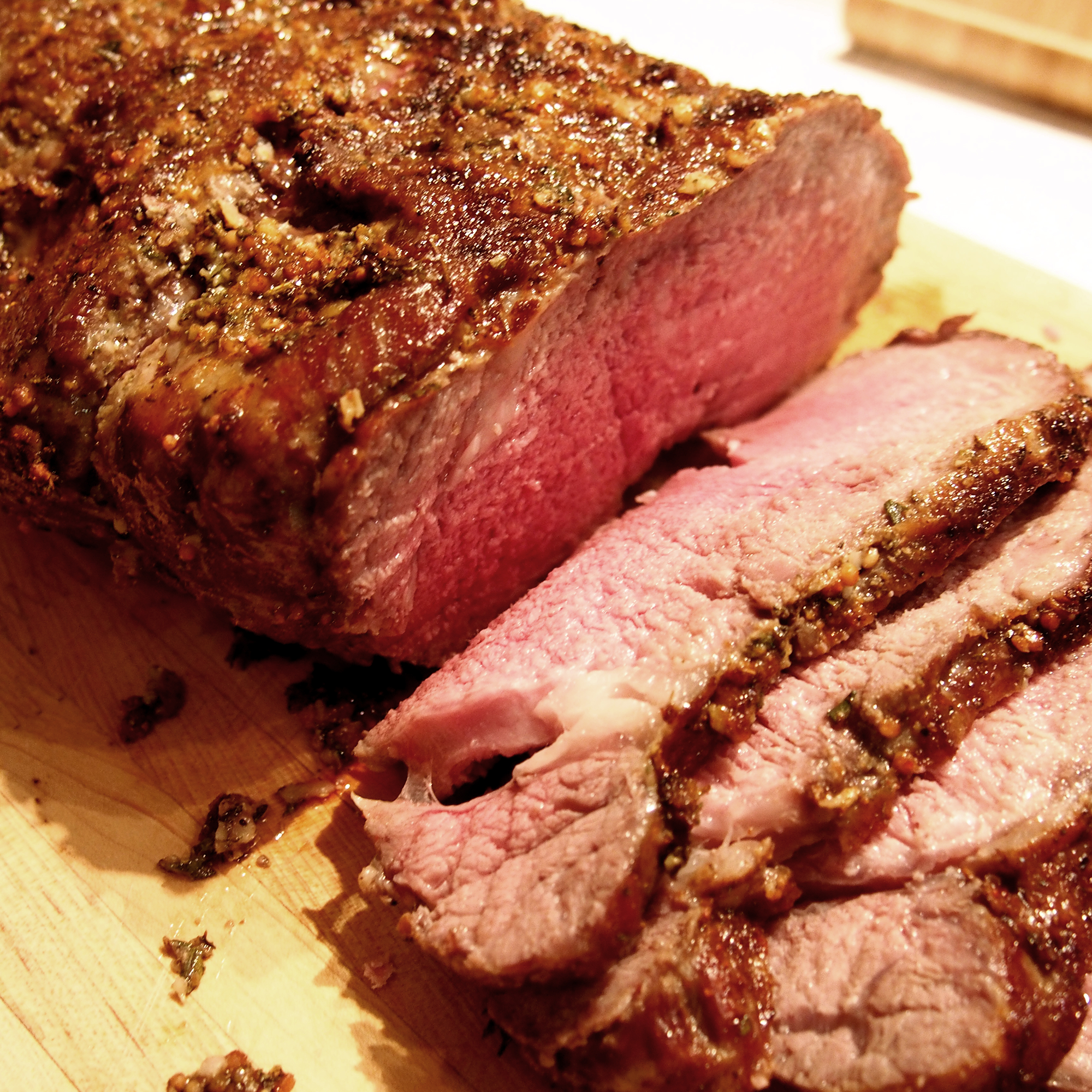 Print
Striploin Roast
Ingredients
Striploin or Prime Rib Roast

Salt

Butchers twine

Digital thermometer

All purpose dry rub
Herb Rub
1

heaping tablespoon fresh thyme

1

heaping tablespoon fresh oregano

2

teaspoons

dried basil

2

heaping tablespoons Guinness grainy mustard

2

heaping tablespoons crushed garlic

1

teaspoon

fine sea salt

1

teaspoon

fresh ground pepper

1

teaspoon

Mrs. Dash
Instructions
Day ahead
Cut any fat cap off the roast.

Salt liberally, rubbing lightly into the meat.

Put in ziplock bag and refrigerate.
One hour ahead of cooking
Remove from fridge and truss to get the roast as round of a cylinder as you can.

Mix the herb rub ingredients to form a thick paste and rub into the roast (all sides).

Place back in fridge.

Heat oven to 250F.

Sprinkle the rub all over with the all purpose rub.

Place a rack in the middle of a cookie sheet and place the roast on the rack. You want a rack that will hold the roast above the edges of the cookie sheet.

Place the probe end of the thermometer into the middle of the roast and set for 130F.

Cooking time will be APPROXIMATELY 30 minutes per inch (of diameter). So a 4 inch around roast, will take around 2 hours.

When the roast reaches 130F, remove from the oven for a minute, and turn on the broiler to high.

Once ready, pop the roast in and broil for 5 minutes, flip over and broil for another 5 minutes.

Remove the roast from the oven, place on cutting board, cut off the trussing, and slice. No need to rest!
Both the Hubby and I love horseradish with our roast, well, correction, I love a bit of horseradish and a bucket of gravy with my roast beef. This horseradish cream is very mild, in comparison, and actually I loved it on my potatoes!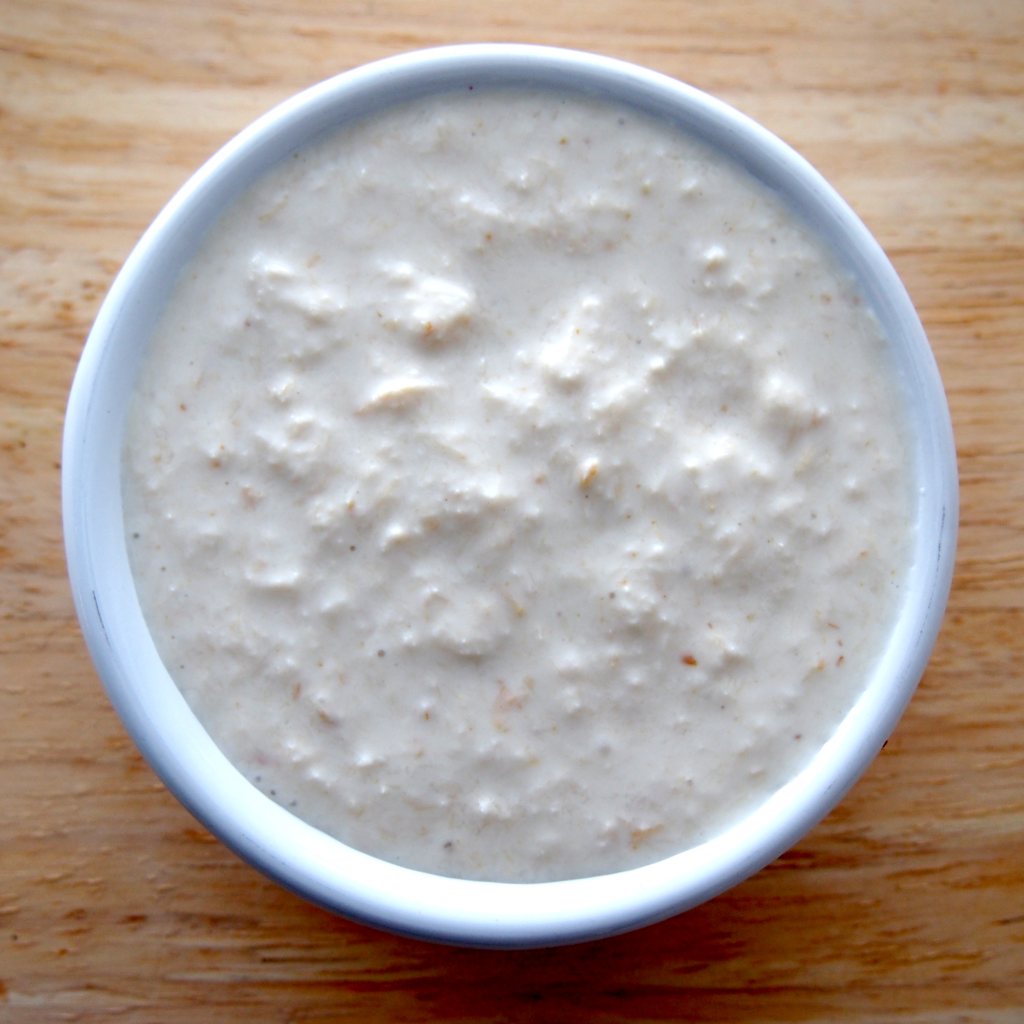 Print
Horseradish Cream
Ingredients
1/4

cup

sour cream

2-4

tablespoons

prepared horseradish in vinegar

2

tablespoon

milk

1

tablespoon

mayonnaise

1/4

teaspoon

kosher salt

2

pinches

ground white pepper
Instructions
Mix all ingredients in a small bowl.

Start with 2 tablespoons of the horseradish and add dollops until it's the desired strength.
If you like this recipe, please share!
STRIPLOIN ROAST AND HORSERADISH CREAM