---
Last night I was going to make a simple dish of pork chops in wine, from a Greek cookbook I have. Then I ended up chatting with a girlfriend who wanted to make coq au vin and I ended up sharing my recipe, and ended up noting that I had the ingredients to make it myself – but with pork chops. So instead of coq au vin, I made pork au vin. It made enough for two suppers, with tender moist chops and a kick ass gravy.
Being a gravy nut, I did thicken with a touch of flour, but if you prefer just a bit of thin sauce, feel free to omit that step. For the all purpose rub mentioned in the recipe, I used my homemade rub, that I always have on hand.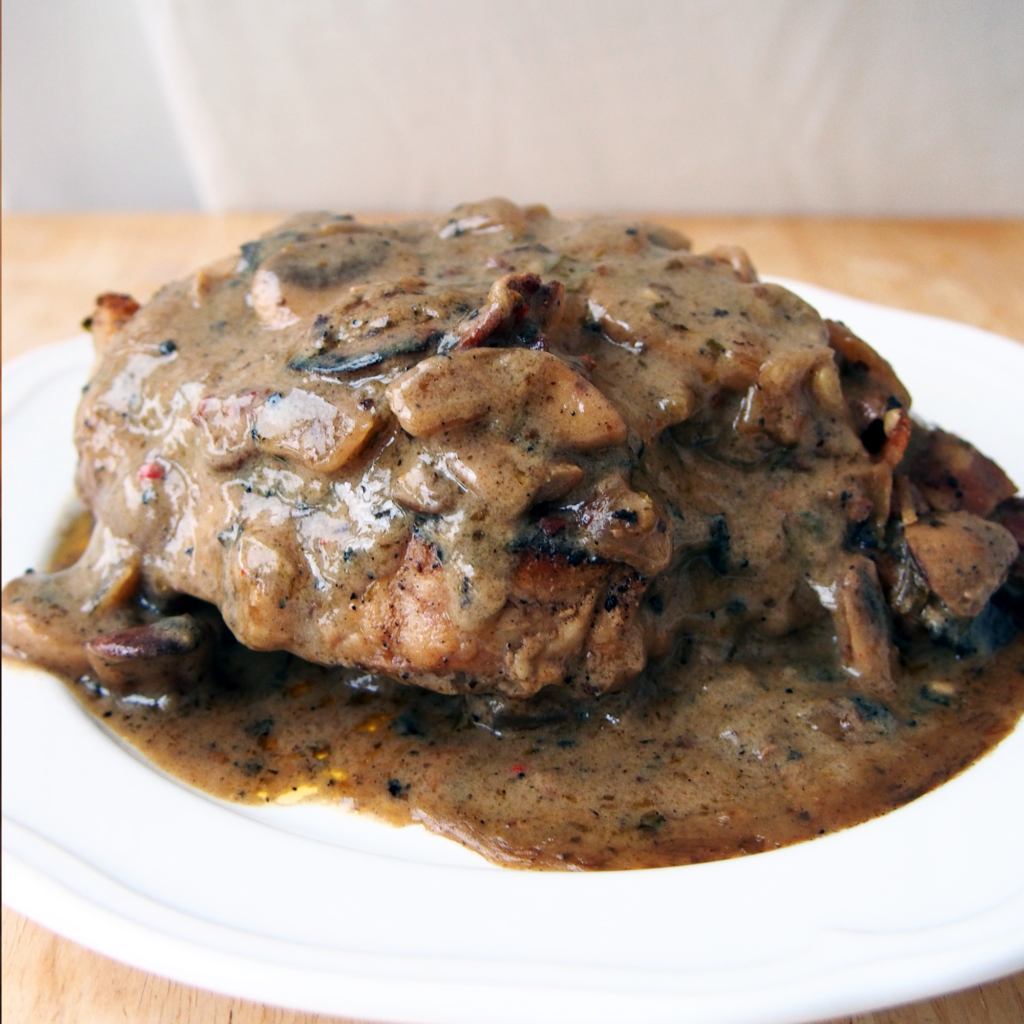 Print
Pork Au Vin
Ingredients
4

large pork chops

Zest of 1 lemon

Juice of 1 lemon

4

pieces

thick cut bacon

sliced into 1 inch pieces

1

onion

chopped small

1

pint

of mushrooms

sliced

1

tablespoon

fresh oregano

chopped

1/2

tablespoon

dried basil

1

tablespoon

dried oregano

All purpose rub

Salt and pepper to season

2

cups

white wine

ex. sauvignon blanc

5

cloves

of garlic

roughly chopped

1/4

cup

cream

Olive oil for cooking
Instructions
Season each side of the chops with some of the all purpose rub and salt and pepper.

Render down the bacon in a cast iron pan, removing from the pan with a slotted spoon, scoop into a medium sized bowl.

Add the onions, sliced mushrooms, lemon zest, dried oregano and dried basil, season with salt and pepper, and sprinkle with some of the rub, tossing to coat. (Add a bit of olive oil to the pan if needed.)

When the onions have softened and the mushrooms have shrunk a bit, remove with a slotted spoon and place into the bowl.

Add the fresh oregano, then mix the bacon and onion mixture and place half the mix into the bottom of a 9x13 pan.

Heat a bit of olive oil in the pan, and brown the chops, a few minutes on each side.

Remove from the pan, and place in one layer, in the 9x13 pan.

Top with the other half of remaining onion mix.

Deglaze the pan with the juice of the lemon and a slash of the wine.

Add the rest of the wine and the garlic and bring to a boil. Let reduce slightly.

Pour over the chops, set the pan aside (don't wash it quite yet!)

Bake for 30 minutes at 350°F.

Remove the chops from the pan, pour the remaining liquid back into the frying pan used earlier.

Bring the mixture to a light boil, then add the cream.

Let reduce slightly.

At this point you can add a tiny bit of flour (mixed with some cold water) and thicken the mixture, or pour over the chops and serve.
If you like this recipe, please share!