---
I picked up a pound of pepperoncini peppers today for a whopping $1. I pickled a jars' worth and wanted to make something with the remaining. As I'd just picked up a couple pounds of stew pieces yesterday, I thought I would go with an Italian inspired simple stew with lots of fresh oregano. The peppers just about disappeared, but added a pleasant flavor. Keeping it low carb, I didn't add a roux or flour the beef pieces. It still tasted marvelous and using low carb garlic toast, the juices were sopped up and disappeared quickly.
The rub I mention in the recipe is my all purpose rub, another staple that I keep big jars of on hand.
I just wanted to note that in the below picture, the red is actually bacon and not undercooked meat. 😉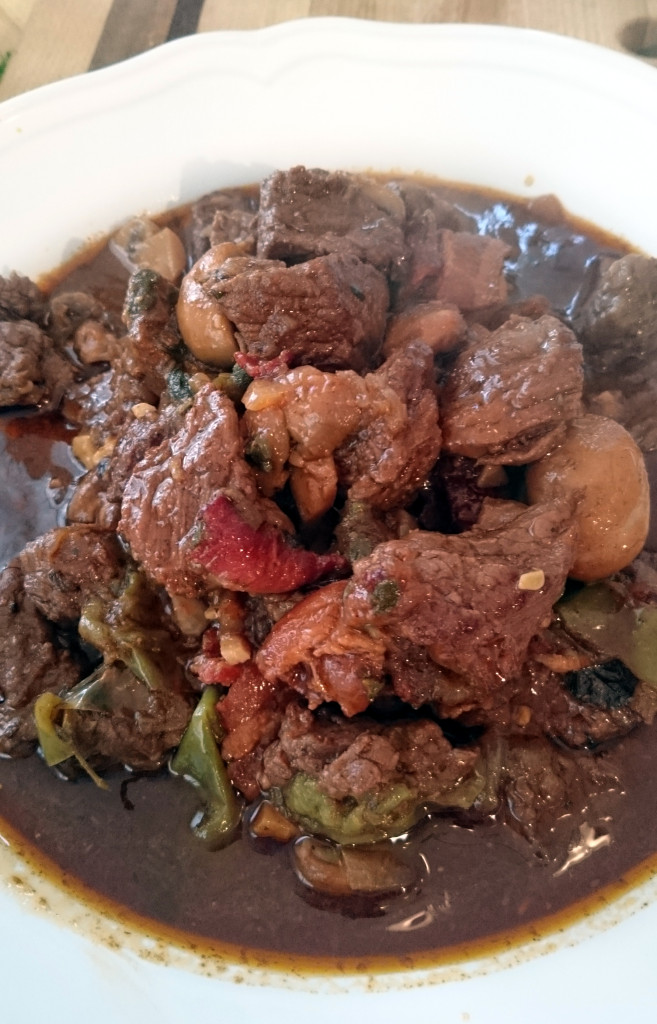 Print
Pepperoncini Beef Stew
Ingredients
5

slices

bacon

cut into small pieces

1/4

cup

fresh oregano

1

heaping tablespoon of dried Sicilian oregano

4-6

pepperoncini peppers

chopped small

1

onion chopped

5

cloves

garlic

roughly minced

1

cup

vegetable stock

1

cup

beef stock

2

cups

of white mushrooms

cleaned and halved

2

lbs

baron of beef

cubed

All purpose rub

2

tablespoons

concentrated tomato paste
Instructions
Starting with a cold (large frying) pan, render the bacon pieces down to almost crispy.

Turn the heat down to medium and add the onions. Stirring often so they don't brown.

As they begin to soften, add the garlic and peppers. Stirring often.

As the onions begin to turn translucent, add the mushrooms.

Once the mushrooms have started to turn brown, remove from the pan and put into the dutch oven.

Heavily dust the cubes of beef with rub and, in batches, brown them in the frying pan (I keep a small container of bacon fat to add to the pan for when it gets a bit dry), and place in the dutch oven.

Deglaze the pan with a bit of stock and add to the dutch oven. Add the fresh and dried oregano, S&P to taste, the remaining stock and the tomato paste. Stir to mix.

Put the lid on the dutch oven and bake for 1 1/2 hours at 350°F.
If you like this recipe, please share!