---
I came across this recipe for lemon posset through Facebook and by the pictures alone I knew I wanted to make it. The facts that it was made with three ingredients, looked like a lemony, silky, spoonful of heaven, and that I could easily use Splenda instead of sugar sold me on it. I wasn't 100% sure that using Splenda would work as it doesn't have all the properties of traditional sugar, but in the end it worked out fine.
I made sure that I cooked the liquid to volume as per the instructions, vs. boiling it for a set amount of time, and it came out perfectly. Like smooth set custard. Make sure to follow all the instructions. Cooking by volume, letting it sit to form a skin first, then put through a sieve, etc. And most importantly, use a deep and medium sized pot. Speaking from experience, where looking away for 20 seconds lets it boil over in the small pan, and flooding my stove. Which meant having to start over again.
I discovered I happen to love lemon posset, the texture, the bright flavour, refreshing and fruity, and perfect for a spring or summer dessert.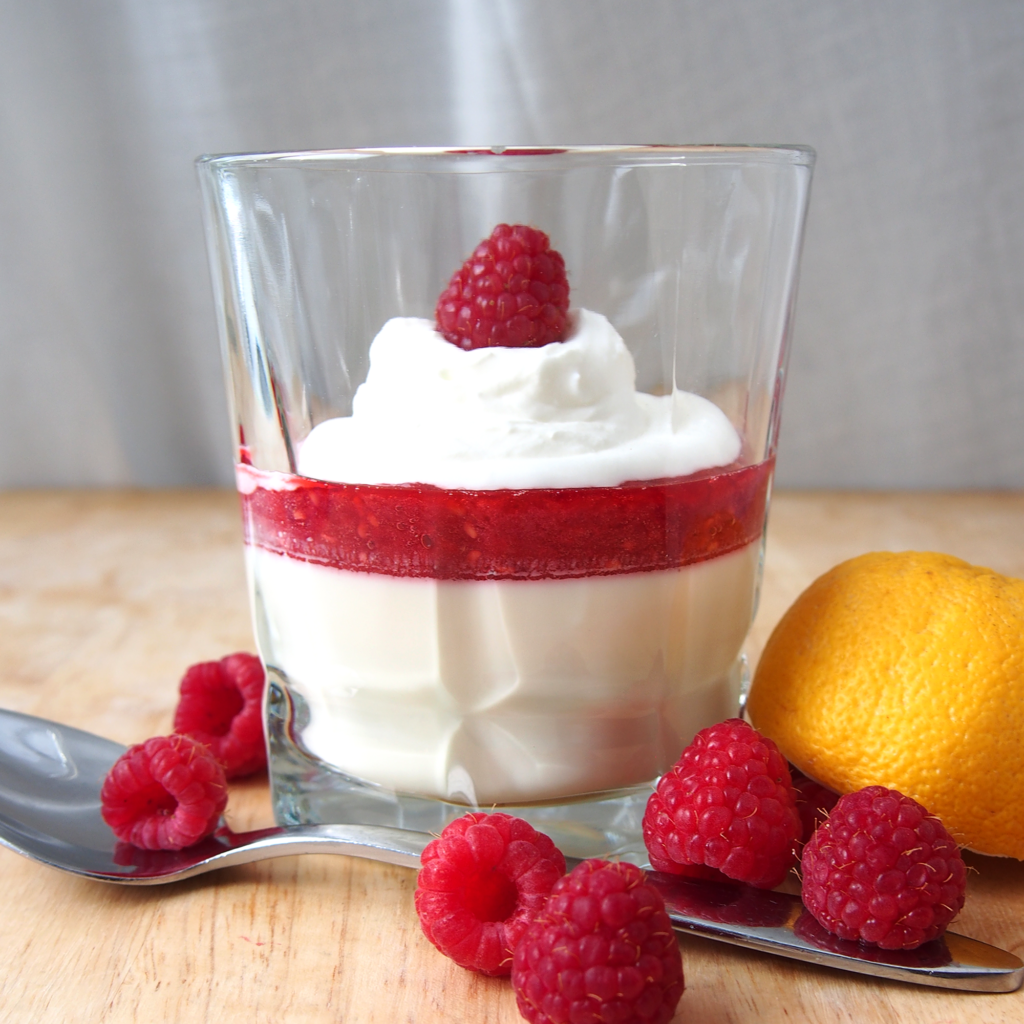 Print
Lemon Posset with Raspberry Coulis
Ingredients
2

cups

heavy cream

2/3

cup

Splenda

Zest of 1 lemon

6

tablespoons

freshly squeezed lemon juice

1

heaping cup of raspberries
Instructions
Measure out two cups of water and put it in the saucepan you plan to use.

Put a ruler, skewer or chopstick into the water in the saucepan and mark the level on it.

The posset will need to reduce to that line.

Recipe adapted from Cook's Illustrated, March & April 2016 Magazine

In a medium (deep) saucepan, combine the cream, Splenda and lemon zest.

Bring to a boil over medium heat and cook, whisking frequently, to dissolve the sugar. KEEP AN EYE OUT! It will boil over quickly! (If it gets close to the top, remove the pan briefly from the heat to slow the boil.)

Cook until the mixture reduces to exactly two cups.

Remove from the heat and whisk in the lemon juice.

Set the saucepan aside to cool until a skin forms on top (approximately 20 minutes).

Strain the posset through a fine mesh strainer into a bowl.

Pour into 4 small bowls.

Refrigerate, uncovered, until set, about 3 hours.

Put the raspberries in a small food processor and whiz until broken down.

Spoon gently onto the top of the posset and decorate with raspberries, then put back in the fridge until needed.
If you like this recipe, please share!
LEMON POSSET WITH RASPBERRY COULIS