---
Both the Hubby and I love focaccia and one of our favorite varieties is jalapeno cheddar focaccia. Unfortunately, due to my lactose intolerance, I can't have any made instore. I was watching a cooking show yesterday and was inspired to make some of my own with lactose free cheddar. I love the bread machine for making breads as all the hard work is done for you. In the case of focaccia, just put on the dough setting, wait the 2 hours, roll it out, and let it do its final rise.
This recipe makes a fluffy soft focaccia, that stays just as soft the next day. Of course you can top the focaccia with anything you like: edible flowers and herbs, carmelized onions, a cheese blend, or even just flakey salt!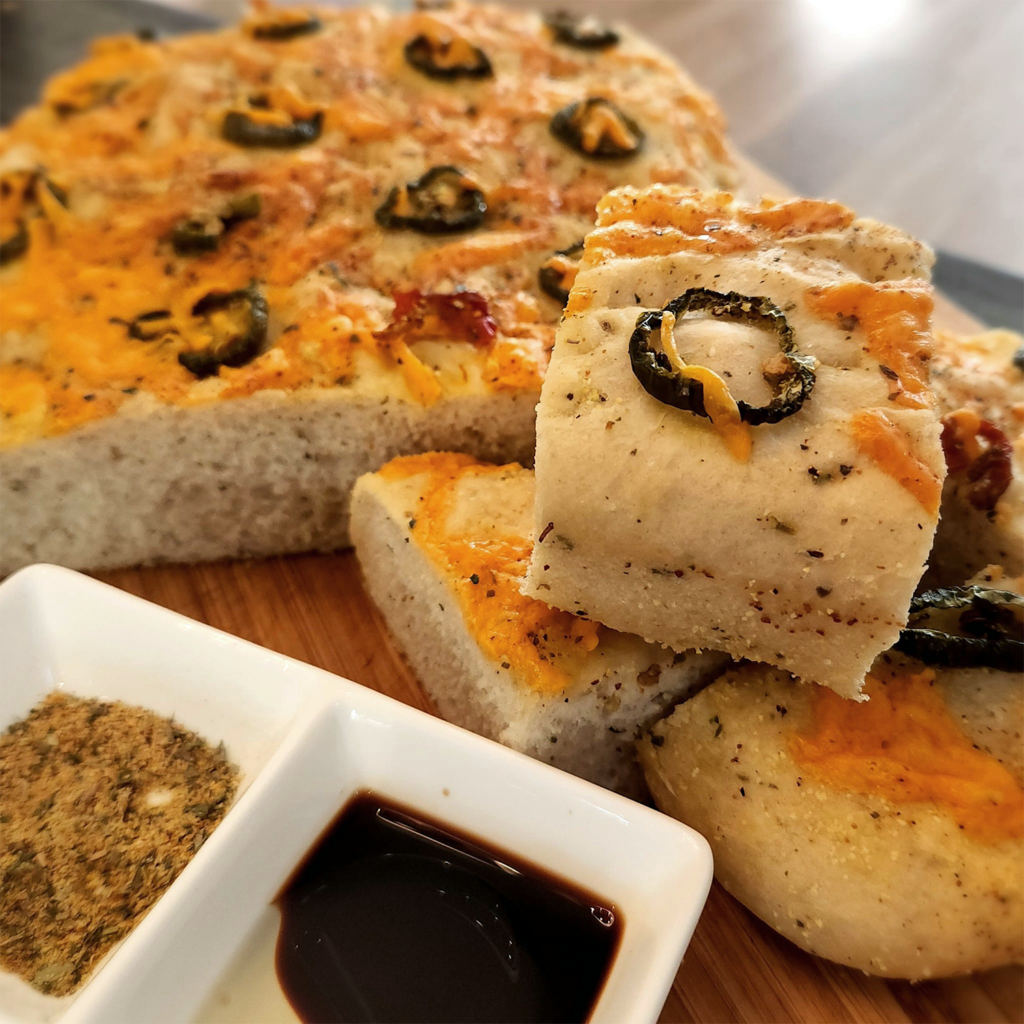 Print
Jalapeno Cheddar Focaccia
Ingredients
1 1/3

cups

luke warm water

1 1/2

teaspoons

salt*

1

teaspoon

sugar

3 1/3

cups

all purpose (or bread) flour

1

teaspoon

Italian Herbs Seasoning

1/2

teaspoon

finely minced dried rosemary

1/2

teaspoon

jalapeno powder

2 1/4

teaspoons

bread machine yeast

1/4

cup

cornmeal

1

cup

shredded cheddar

12

slices

pickled jalapeno

olive oil

Mrs. Dash Herb Mix
Instructions
Add the water, salt, and sugar to the bread machine.

Combine the flour, seasoning, rosemary, and jalapeno powder, whisking to mix. Add to the bread machine.

Add the yeast to the bread machine.

While the dough is being made, take a plate, line with paper towel, lay the slices on it and set another piece of paper towel on top. Lay another plate on top to add slight pressure. Change out the paper towel after about an hour.

Once the dough cycle is complete, take a large deep sided baking sheet or casserole pan and generously drizzle olive oil on the bottom, smearing up the sides.

Sprinkle the cornmeal over the bottom of the tray.

Roll out the dough to the dimensions of your tray and lay on top of the cornmeal, pushing into the corners if needed. Dimple the entire top with your fingers.

Cover with a tea towel and set somewhere warm for 30 minutes (I find the "proof" setting on the oven is perfect.)

Preheat the oven for 400°F.

Lay the jalapeno pieces on top of the dough and sprinkle the cheese over. Sprinkle with a dusting of the Mrs. Dash Herb Mix.

Bake for 20-30 minutes until golden.

Remove from oven and let cool for about 5 minutes then remove from the pan to finish cooling on a rack.

Excellent when it's just slightly warm with some balsamic vinegar and olive oil for dipping into!
Notes
* I like to use Italian Seasoned Salt (merely Italian herbs mixed with fine sea salt).
If you like this recipe, please share!
JALAPENO CHEDDAR FOCACCIA