---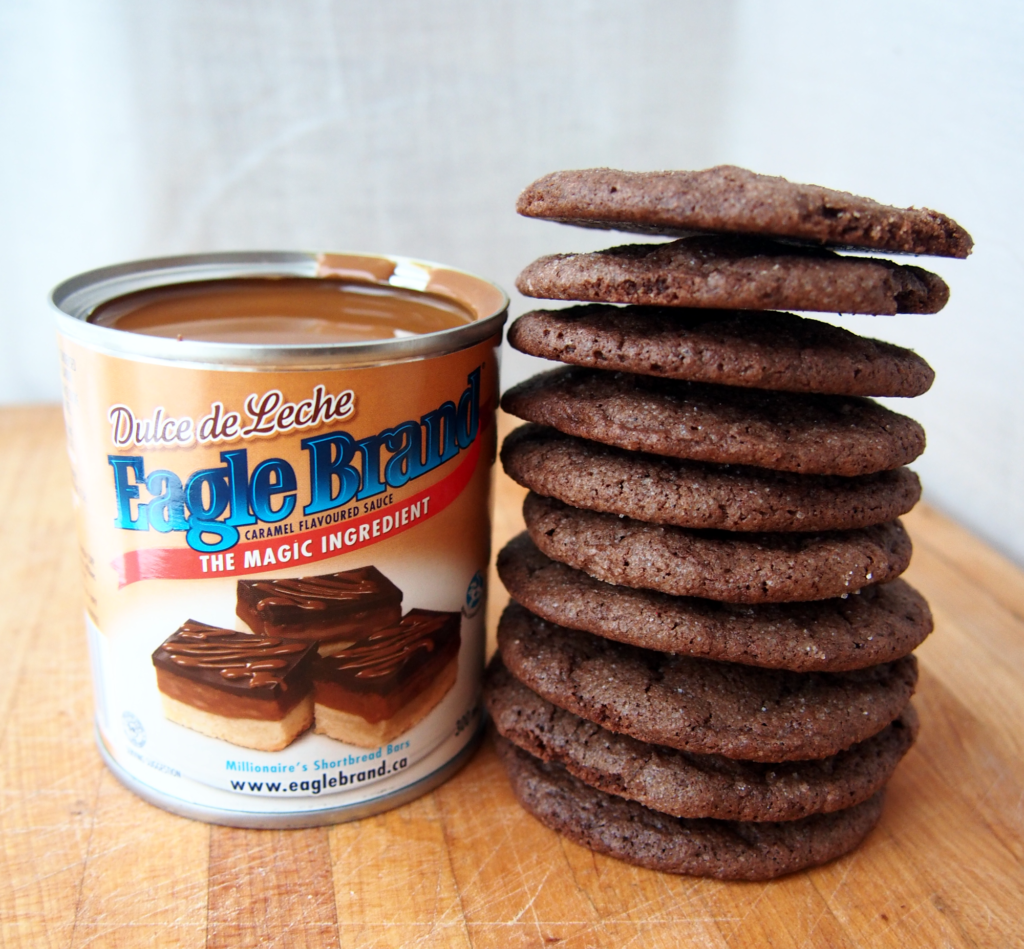 This is one of those recipes I happened across by finding a recipe on a page, seeing a picture that had a yummy looking link, going to that website, then another link. You get the drift. The end result was a site with a recipe for Mexican Chocolate Sandwich Cookies with Dulce De Leche Filling. They looked mouthwateringly delicious and I knew I wanted to do a Christmas version. I changed the Mexican Chocolate to Chocolate Gingerbread Dulce De Leche Filled Sandwich Cookies.
The cookie part of the recipe came out perfectly. I have added the tip of chilling the dough before forming the cookies as the dough straight from the mixer was a bit tacky and messy to work with. But they came out slightly chewy and were good all on their own. I have to admit that the end cookie was a bit too sweet, even for my Hubby who definitely has more of a sweet tooth than I do. I think that the next batch will either not be dipped in sugar or just forego any gingerbread flavours, and sticky with the spicy chocolate.
One saving grace was finding the Dulce de Leche Sweet & Condensed milk! Instead of spending hours making it, all I had to do was pour it into a small sauce pan and boil for about 5 minutes to thicken it to more of a spreadable consistency.
Note, that although the batter made 36 cookies, it really means only 18 cookie sandwiches were made.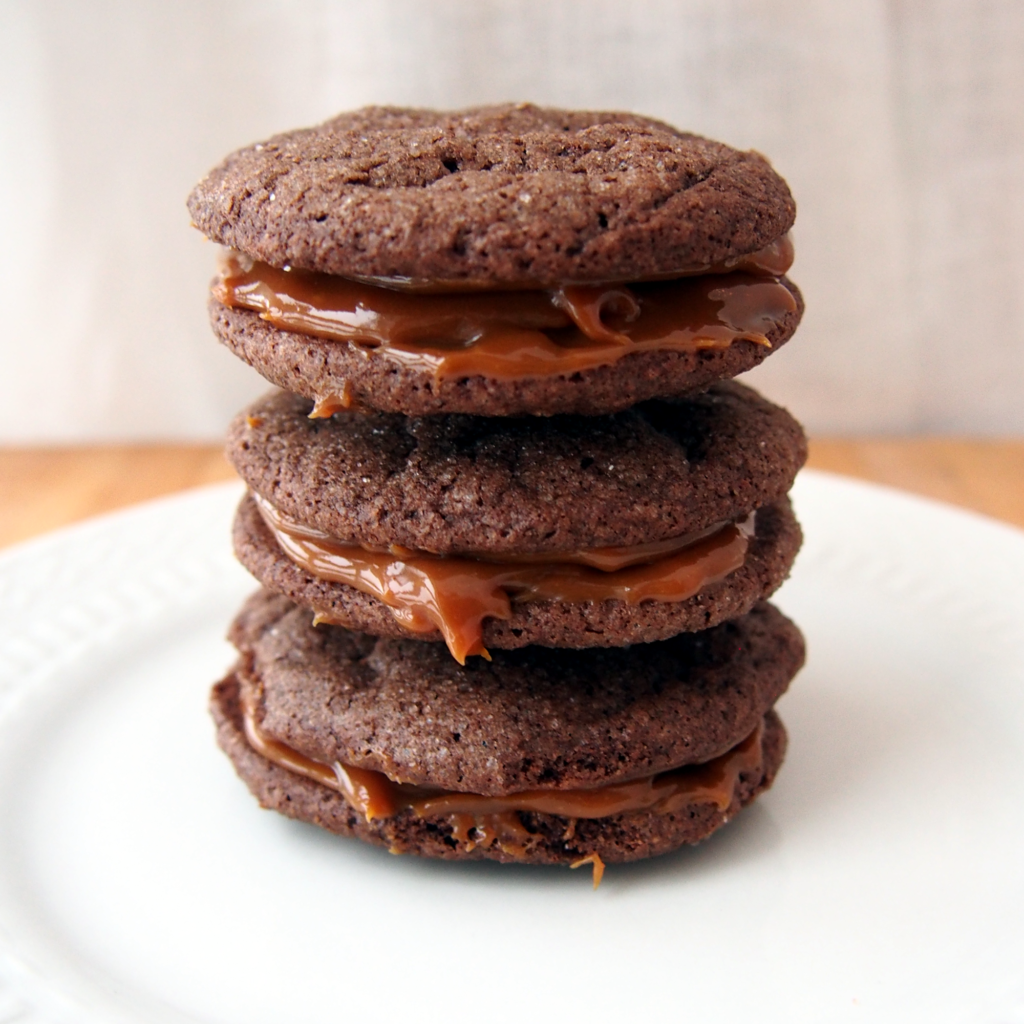 Print
Dulce de Leche Filled Cookies
Ingredients
1

cup

all-purpose flour

1/2

cup

unsweetened Dutch Process Cocoa Powder

1/2

teaspoon

salt

1/2

teaspoon

baking soda

1/2

teaspoon

ground cinnamon

1

teaspoon

ground ginger

1/2

teaspoon

ground cardamom

1/2

teaspoon

nutmeg

1/4

teaspoon

ground cloves

1/2

cup

one stick unsalted butter, softened

1 1/2

cups

granulated sugar

plus additional for sprinkling

2

large eggs

room temperature

1/2

teaspoon

maple extract

1/2

teaspoon

rum extract

1

can Dulce de Leche Sweet & Condensed Milk
Instructions
In a medium bowl, whisk together flour, cocoa powder, salt, baking soda, cinnamon, ginger, cloves, nutmeg, and cardamom.

In the bowl of a stand mixer fitted with a paddle attachment, cream together butter and sugar on medium speed. Add eggs, one at a time and the extracts, and mix until well blended.

Reduce speed to low and gradually add flour mixture.

Once mixed, place in fridge to chill for 15-20 minutes.

Use a tablespoon, scoop out dough and form into balls.

If making the Mexican version, at this point, dunk half the ball into white sugar.

Slightly flatten each of the cookies.

Space cookies out on a silpat on a cookie sheet, at as they will flatten and spread out. I put 10 cookies staggered on a cookie sheet.

Bake at 325°F for 13-15 minutes or until surface shows some cracking.

Cookies should be on the soft side. Remove from oven and let cool.

If your dulce de leche is thin, boil while stirring constantly for about 5 minutes until it begins to thicken. Pour into a bowl set in an ice bath to cool.

Spread a layer on one bottom side of the cookie and top with another, forming a delicious sandwich.
Notes
If making Mexican Chocolate cookies, omit the ginger, cardamom, and cloves and add 1/8 teaspoon cayenne powder.
Adapted from The Beach House Kitchen
If you like this recipe, please share!
DULCE DE LECHE FILLED SANDWICH COOKIES