---
I love Thai food and larb is one of my favorite Thai salads. I had a pork loin to use up and was inspired to make pork larb lettuce wraps. I also just recently picked up a meat grinder attachment that I wanted to try, so there may have been an ulterior motive in picking up the pork loin.
So, while I took the pupper out for a quick walk, I had the Hubby dig up a recipe for me. He chose pork larb lettuce wraps from Food&Wine, due to the numerous and positive reviews.
It was quick to make and tasted delicious. I had just over 3/4 pound of ground meat, so I had to up the ingredient amounts just a tad. I drowned my pork in the dipping sauce and lends every bite that amazing umami flavor.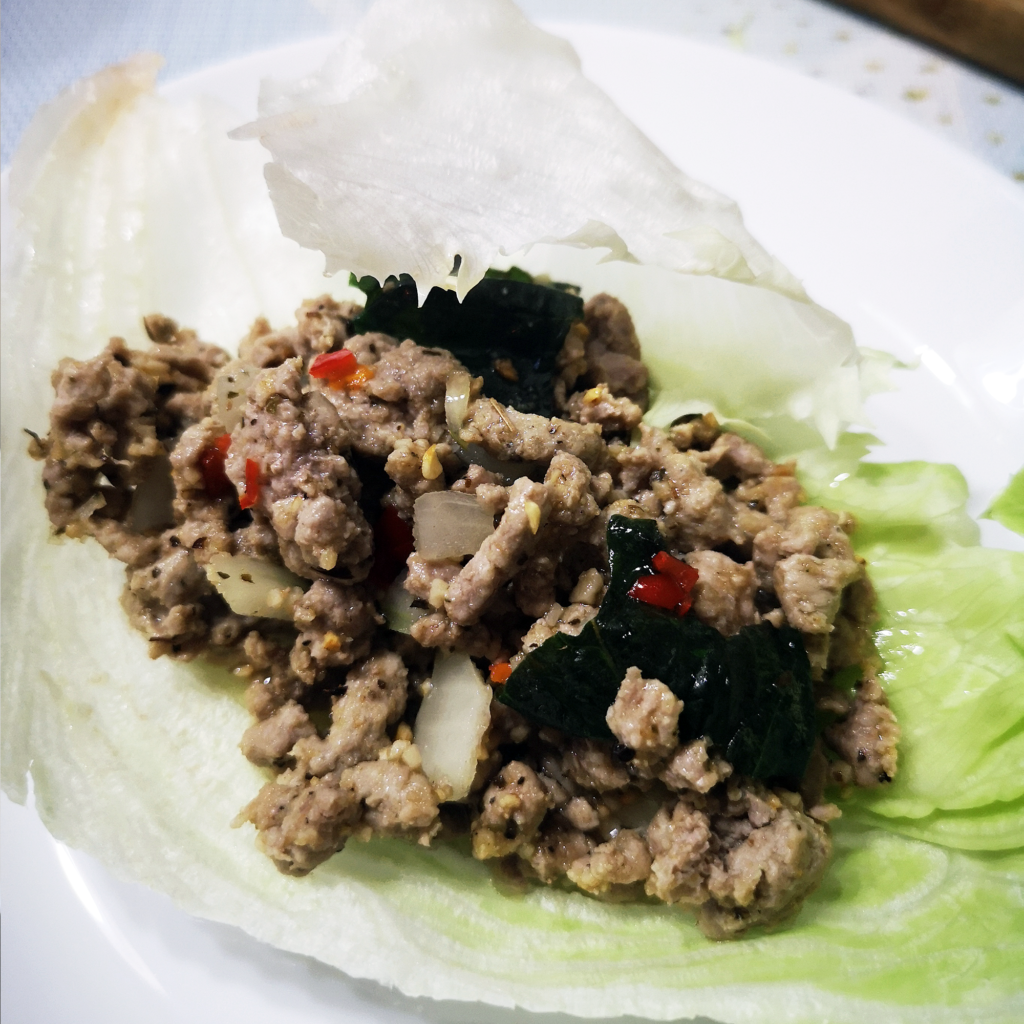 Print
Pork Larb Lettuce Wraps
Ingredients
1

tablespoon

vegetable oil

2

tablespoons

minced garlic

2

teaspoons

sugar

3/4

pound

ground pork or beef

Salt and Freshly ground pepper

2

tablespoons

Asian fish sauce

1

teaspoon

Asian fish sauce

(yes, it's 2 tbsp + 1 tsp)

1

tablespoon

long-grain rice

2

tablespoons

fresh lime juice

1-3

Thai chiles

(minced with seeds)

Boston lettuce leaves

1/4

small red onion

(thinly sliced)

1/4

cup

Thai basil leaves

(torn)

1

teaspoon

dried mint leaves

(or 1/4 cup fresh torn mint)
Instructions
In a small skillet, toast the rice over moderate heat, shaking the pan often, until browned, about 3 minutes. Transfer the rice to a plate and let cool completely. Once cooled, put in a spice grinder and grind to a powder.

In a small bowl, combine the lime juice with 2 tablespoons of fish sauce, 2 teaspoons to 1 tablespoon of sugar (upon taste), the minced chili, and 1 tablespoon of water. Stir until the sugar is dissolved.

In a medium sized skillet, heat the oil. Add the garlic and cook over moderately low heat, stirring a few times, until golden brown, about 1 minute. Add 1 teaspoon of sugar and cook for about 20 seconds. Add the ground pork and cook over moderately high heat, breaking up the meat finely, until no pink remains, about 3 minutes. Add 1 teaspoon of the fish sauce and season with salt and pepper. Set aside.

Remove from the heat and stir in the onion, basil, mint, cilantro and extra chili if desired. Sprinkle the pork with the rice powder and stir to mix. Transfer to a bowl and place on or near the platter with the lettuce leaves. 

Let everyone spoon the pork onto the lettuce leaves and season with the dipping sauce.
If you like this recipe, please share!