---
I finally went this weekend and bought a couple calendars. One for the kitchen and one for work. The kitchen one was appropriately all about (hot) peppers. Although there were a couple other food related ones, I picked the chili pepper one as it had recipes for each month. Flipping through there are quite a few that I want to make. These two recipes are just the start.
The shrimp were quite good, but didn't seem as hot as I expected. I used fresh green peppercorns (opposed to their brined) and they can be quite pungent and strong. It was also quite saucy and would have been excellent on rice. I served with salad tossed in a quick, homemade sesame vinaigrette and the quick pickled gingered cucumbers.
I loved the quick pickles and they were quite "pickle'y" for only sitting for an hour.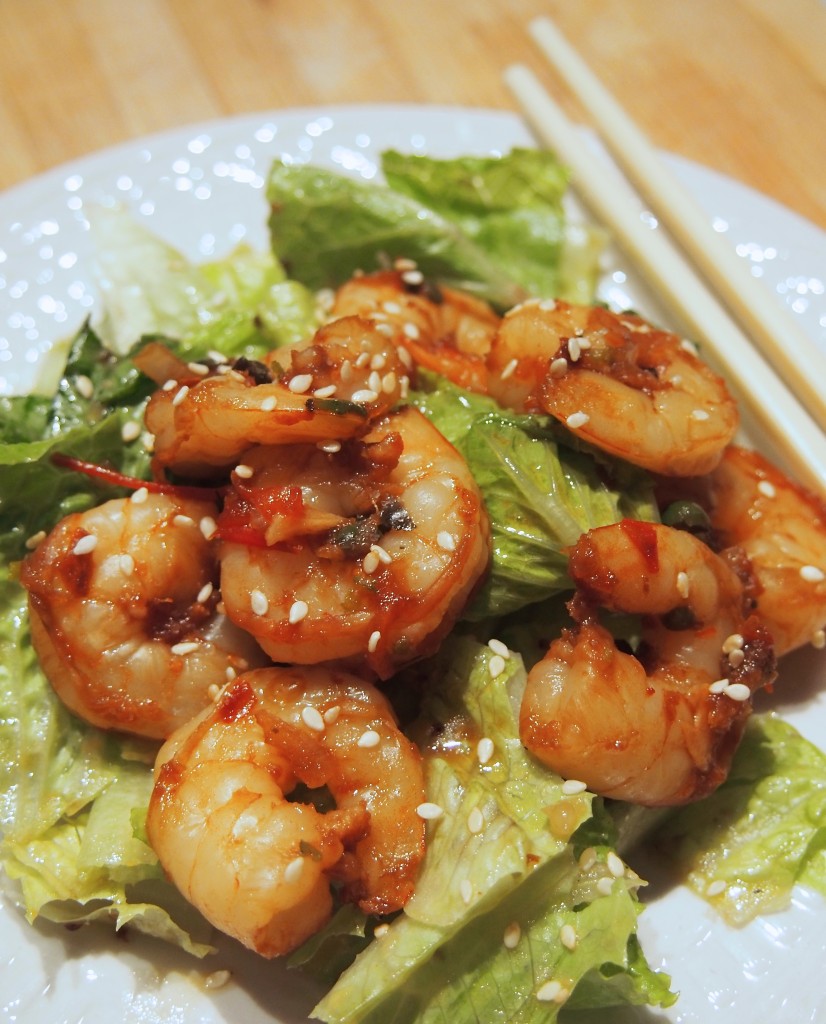 Print
Green Peppercorn Prawns
Ingredients
2

lbs

prawns

peeled and devained (or fresh calamari rings)

2

tbsp

fresh peppercorns

mostly crushed with mortar and pestal

1

tbsp

lime juice

1/2

tsp

ginger

peeled and grated

4

garlic cloves minced

1/4

cup

shallots diced

6-8

kaffir lime leaves

sliced thin (or 2 tsp lime zest)

3

plum tomatoes

cored and diced

1

tsp

chili flakes

2

tbsp

soy sauce

2

tbsp

fish sauce

2

tbsp

oyster sauce

2

tbsp

canola oil
Instructions
Combine the soy sauce, fish sauce and oyster sauce in a small bowl and set aside.

Place prawns in a bowl with the lime juice and crushed peppercorns, toss to mix, and set aside.

Put the garlic, ginger, and shallots together in a small bowl and set aside.

Put the tomatoes, kaffir leaves (or lime zest) and chili flakes in another bowl and set aside.

Heat the canola oil in a wok on high heat.

Add the garlic/ginger/shallots and saute for 2 minutes.

Add the tomato mix bowl and saute for another 2 minutes.

Add the sauce mix and prawns and saute until the prawns are pink and cooked through.

Garnish with cilantro if preferred, give a squeeze of lime, and serve.
Print
Gingered Cucumbers
Ingredients
1/2

large English cucumber

1 cup worth, peeled and cut into 1/4" x 2" strips

2

tsp

salt

1

tsp

ginger

peeled and grated

2

garlic cloves

minced

1

tbsp

sugar

Or 1/2 tsp Stevia

3

tbsp

rice wine vinegar

1

tsp

sesame oil
Instructions
Take the 2 tsp of salt and sprinkle over the cucumbers, set in a bowl and put aside for half to one hour.

Mix the other ingredients in a bowl.

Drain the cucumbers, squeeze gently to extract liquid and pat dry with paper towels.

Put in bowl with dressing and toss to coat.

Set aside for about 20 minutes at room temperature / 1 hour in the fridge.
Notes
I like cold pickles / cucumbers, so marinated longer in the fridge, rather than their recommended 20 minutes at room temp.
If you like this recipe, please share!
GREEN PEPPERCORN PRAWNS & GINGERED CUCUMBERS