---
This summer we went to a Filipino restaurant and had binagoongan (deep fried pork belly) for the first time. I was immediately in love. So much flavour, crunchy texture, and addicting like a bowl of salty popcorn. Its fairly easy to make, just time consuming. I've tried with pork shoulder and with pork belly, and its definitely better done with the belly. The combination of the crispy skin, juicy fat layer, and the meaty bits all tossed in the sauce that has a punch. You can make it as spicy as you want to, by adding however many chilies you like.
The time invested in making the dish is definitely worth it! Just a few simple ingredients and you'll have a dish people can't stop eating. Make sure you don't use a Thai shrimp paste, pick up bagoong alamang. Well stocked Asian markets like T&T will have it.
Oh and the best part of this magical dish? Its low carb!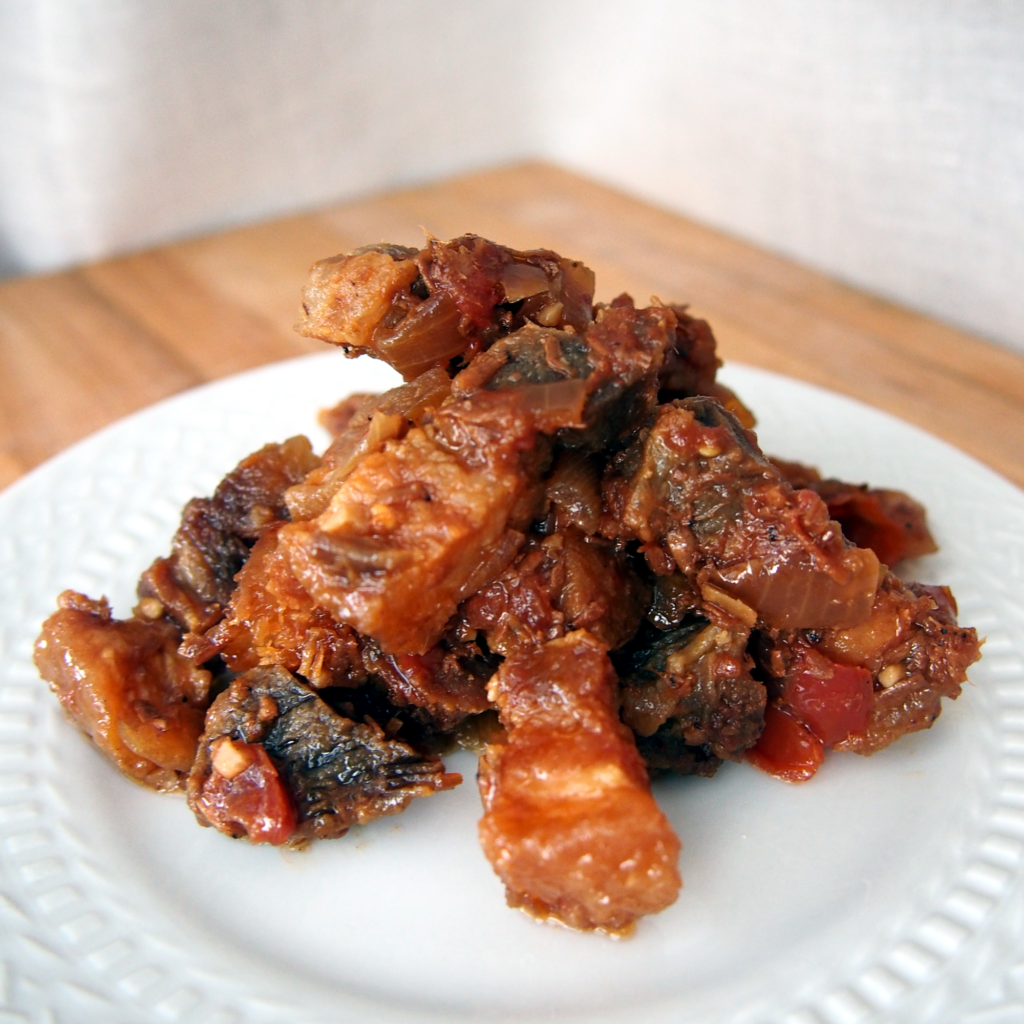 Print
Deep Fried Pork Belly
Ingredients
1-1/2

lb

pork belly

cut lengthwise into 2-inch thick slabs

4

cloves

garlic

crushed

1

tablespoon

salt

Vegetable oil

1

small onion

chopped small

Thai chilies

1 to

mato

chopped small

1

tablespoon

minced garlic

1/2

cup

bagoong alamang
Instructions
Put the 4 cloves of garlic, salt and pork belly in a pot. Cover with water.

Bring to a boil, then lower to a simmer and let simmer for about an hour.

Remove from the pot and pat dry.

Remove 1/2 cup of the stock and set aside. (Strain and keep the remainder for other uses.)

My piece was around 9 inches long and 5 inches wide. I sliced 1/2 inch slices width-wise (like a slice of meatloaf), then those slices into 4. So ended up 1/2 inch square strips about 2 inches long.

Heat a couple inches of vegetable oil in a deep pot.

Pat the meat as dry as possible. Its going to spit!

Fry the strips in batches. I covered the pot with a screen and rested a lid on top of that. It allows for air flow, yet covers escaping oil. Wait about 4 minutes until all the popping has stopped, remove the lid and screen, then give the strips a light stir to make sure they aren't sticking together.

Remove the strips with a strainer when they are a nice brown and crispy, and place on a plate that has been covered with paper towel.

For the sauce, heat a couple tablespoons of oil in a frying pan and add the onions and chilies. Saute on medium low heat until the onions soften and are translucent.

Add the tomatoes and garlic and let break down, about 5 minutes.

Add the 1/2 cup of reserved pork stock and the bagoong alamang paste.

Bring to a boil and simmer for about 5 minutes.

Add the fried pork pieces and toss to mix.