---
It was one of those glorious Saturday mornings where I got up before the Hubby and was able to watch my cooking shows, before he got on and played hours of Destiny. Don't get me wrong, I love watching the game (I just can't play as any modicum of thumb to brain coordination I have is taken up by cooking and flipping the pages of a book.) But I like to get my cooking shows in a bit more. This morning a few episodes of The Latin Kitchen was playing and in one of them Chef Luis Valenzuela made a Mexican chili with potatoes – and five guajillo peppers. It looked so rich, thick, and tasty, it was immediately put on my "make soon" list.
Luckily we have a little Latino grocery where I picked up more guajillo peppers (I'd run out) and some oaxaca cheese for some chiles rellenos (it's hard to find Chihuahua cheese) that are in the near future. The stew does take a bit of time to simmer and come together, but is very easy to make. Stewing the mix for long lets the small cubes of stewing meat become tender and the potatoes practically dissolve on your tongue.
I like to start out my cooking by having everything chopped and ready to use. For new recipes, I try and read through them first a couple times so I don't screw up too spectacularly. When I read through the recipe, I noticed it was done a bit differently than shown on the show and in the video. So I altered it a bit and have written the instructions as to how he did it, not how its written. The recipe, with all the measurements, can be found at the bottom of this post.
Take the 5 peppers, toasting a bit in a hot pan, then place in a bowl, covering with boiling water. While they re-hydrate, time to get everything chopped and ready to go, splitting the tomatoes, onion, and garlic into 2 separate bowls.
Start by heating some oil in a deep cast iron pan. Add the tomatoes, onion, garlic, and the whole peppers to the pan. A tip – when taking the peppers out of the bowl, hold the bowl over the pan as water can rush out of the pepper, all over your counter. Not only making a mess, but wasting some of that precious and delicious flavoured water. Just saying. Pinch off any stems on the peppers. As the ingredients begin to soften, add just a splash of the water the peppers were in and then set that bowl aside. Give a light dusting of salt and pepper and let simmer until the liquid has been mostly absorbed.
Remove from the pan and place in a blender or food processor. Heat a bit more oil in the pan, give the cubed stewing chuck a sprinkling of rub and add to the pan. Once browned, add the other half of the tomatoes, onion, and garlic, another dash of salt and pepper, and stir to mix. Let cook down about 4-5 minutes, stirring occasionally.
While it has begun the magical journey to tasty town, give the peppers mix that have been waiting in your blender or food processor. Another tip – if you're using a blender, remove the fill cap that is generally found in the lid of the blender. Hold a folded paper towel very gently over the hole. If the mixture is a bit thick, add a few tablespoons of that reserved soaking liquid.
Now you can add that chilies soaking liquid you'd put aside, the potatoes, oregano, and 3 cups of beef broth and water to the pan, give another light application of salt and pepper, stir to mix, and bring to a simmer. When it has reached that point, stir in the chilies from the blender. As an after note, you could add 2 cups of beef broth and a cup of water used to rinse out the blender.
At this point it will look like soup and you're probably thinking you've put way too much liquid in, that your pan is going to overflow and make an even bigger mess than you've already made of your kitchen, with possibly a slight dash of panic hidden from your husband.
Don't fret, just gently stir to mix all the ingredients and stick a lid on. Leave it alone for about 20 minutes, give it another gentle stir, put the lid back on and leave it alone for another 20 minutes. After yet another stir, give the broth a taste to make sure the salt and pepper amounts are to your liking. Give it another 20 minutes covered and it'll be ready to serve.
Chef Luis recommends garnishing with sour cream and cilantro. I used a light sprinkling of white cheddar. Use what you like!
This is NOT a spicy chili, not even a 1 on the heat scale, more of a stew in that regards. Feel free to serve this Mexican Chili with Potatoes to anyone who is remotely scared of spice – and we all have a friend or family member in that category – without the fear of any repercussion.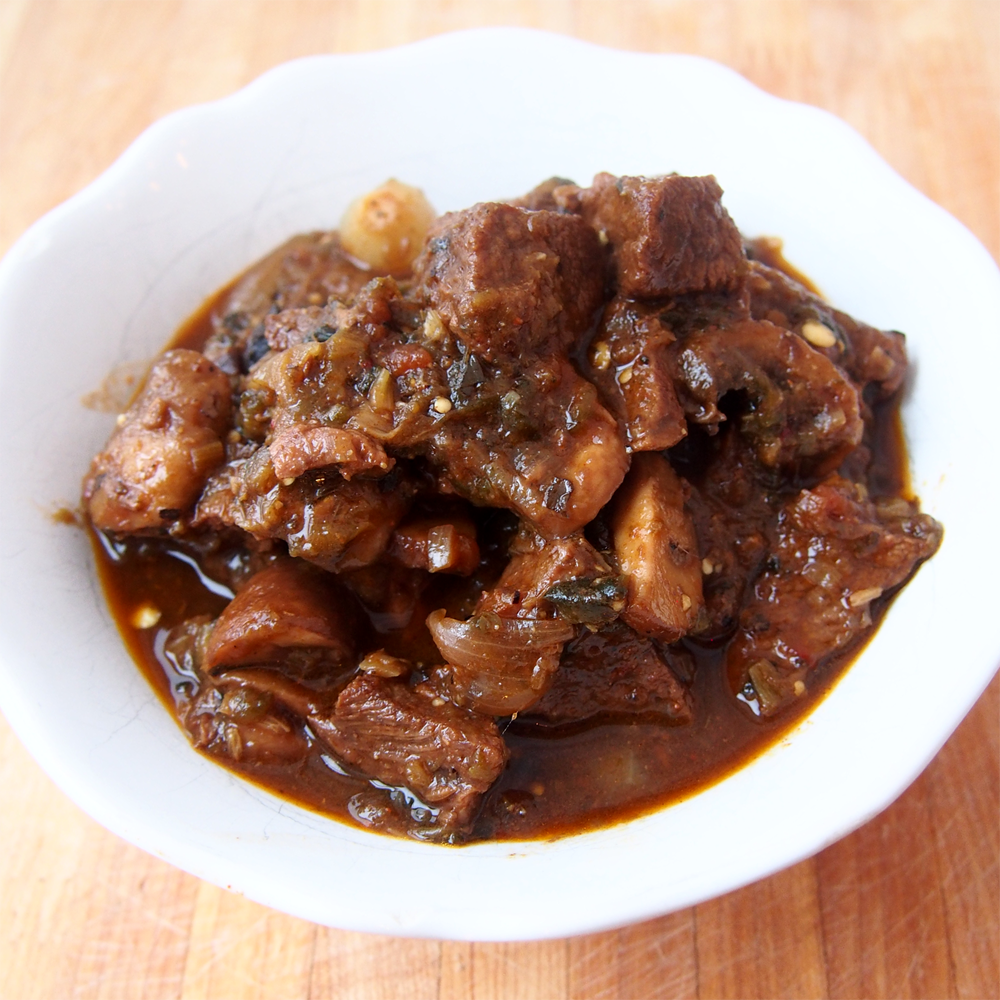 Print
Mexican Chili with Potatoes
Ingredients
5

guajillo chilies

dried and roasted

3

tbsp

olive oil

All purpose rub

1½

lbs

beef chuck

cut into 1/2 inch cubes

1

white onion

roughly chopped, divided

2

large tomatoes

roughly chopped, divided

2

tablespoons

crushed garlic

divided

3

large Yukon gold or white potatoes

peeled and cut into 1/2 inch cubes

2

tbsp

30 ml fresh oregano, chopped

3

cups

liquid

mix of beef stock and water

salt and pepper
Instructions
Rehydrate the chilies, cover chilies with hot water and soak for 20 minutes.

Heat olive oil in cast iron pan or dutch oven over medium-high heat.

Add half of the tomatoes, onion, and garlic, the chilies (remove from soaking liquid) and saute until they begin to soften. Add a splash of the chili water and let cook down for about 5 minutes.

Remove from the pan and put in a food processor or blender.

Give the beef cubes a bit of a dusting with the all purpose rub.

Add a splash of oil to the pan and put the beef cubes in to sear, stirring occasionally, for 5-6 minutes, until all sides are browned.

Stir in the other (uncooked) half of the onions, tomatoes and garlic. Give a light dash of salt and pepper.

Continue cooking for 4-5 minutes, stirring occasionally.

Give the ingredients in the food processor or blender a whiz until a smooth paste forms. Add a few tablespoons of the reserved soaking liquid if too thick.

Stir in the remaining reserved soaking liquid, potatoes, oregano, and 3 cups of stock and water and bring to a simmer. Salt and pepper again, lightly.

Transfer the chili mixture to the simmering chili and mix well.

Continue simmering chili for 1 hour, stirring every 20 minutes, until potatoes and meat are tender.

Season with salt and pepper at the 40 minute mark, if needed.
MEXICAN CHILI WITH POTATOES