---
I've always been scared to try madeleines. They always gave the impression of being hard to do, in the way that fancy French desserts are wont to do. But with a birthday dinner for my mother and one of my sisters coming up, where I was to bring dessert, I decided to take the plunge, ordered myself a non-stick madeleine pan and picked out one of the many recipes.
I think the key is to chill the pan, chill the batter, and make sure the each of the molds are thoroughly buttered. For one of the batches, I realized I'd forgotten to flour the pan as well, but each cookie slipped out just fine. I would still recommend flouring the buttered pan, though. Another point – when you place the batter in the mold, do not spread or tap pan to even out!
Madeleines are like individual, cookie-sized, pieces of lemon pound cake. Fluffy and light, and nothing texture-wise like a cookie. The recipe I found stuffed them with lemon curd, which I tried doing, but it didn't get enough of the curd in the middle. So I glazed them with a simple lemon glaze instead and it ended up being the perfect touch. On the other hand, the lemon curd was good just using a spoon.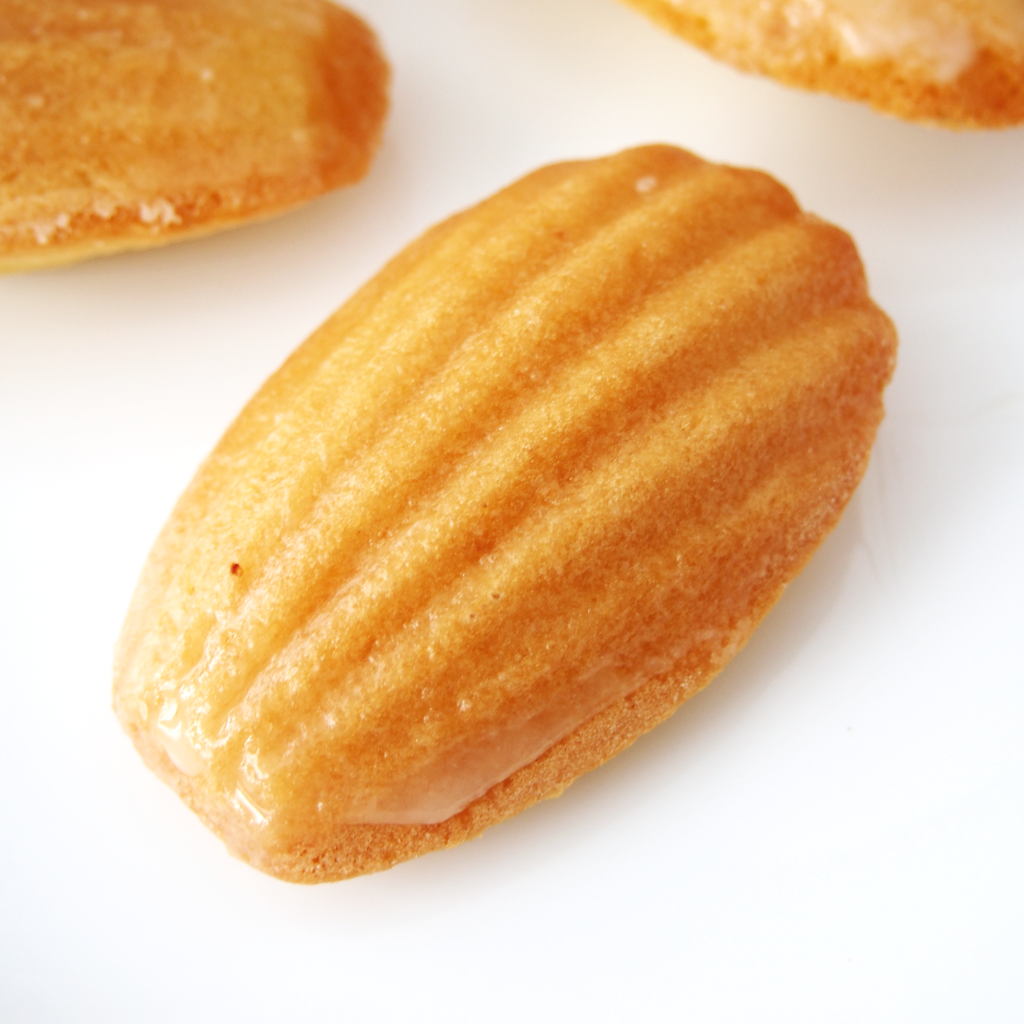 Print
Madeleines
Ingredients
3

eggs

2/3

cup

granulated sugar

151 grams

1

cup

all-purpose flour

120 grams

1/2

teapspoon baking soda

3 grams

1/2

cup

unsalted butter

plus more for greasing pan

1

teaspoon

grated lemon zest

2 grams

1

teaspoon

vanilla extract

4 grams
Instructions
Preheat the oven to 350°F.

Melt the butter and set aside to cool.

Plan mold pan into freezer while you make the batter

Whisk the sugar and eggs in a large bowl until pale and foamy.

Add the flour and baking soda to the batter, whisking to combine.

Add the lemon zest, vanilla extract, and the cooled melted butter.

Stir everything to mix; batter will be thick.

Chill the batter for about 15 minutes in the fridge.

Brush softened butter onto a madeleine pan and lightly flour, knocking off excess.

Put a small cookie scoop worth of batter into the center of each mold (about 1 tablespoon). Do not spread or tap pan to even out!

Bake the madeleines for about 9 to 10 minutes, until they're golden along the edges and spongy to the touch.

Turn the madeleines out onto a wire rack to cool completely.
If you like this recipe, please share!