---
I am in love with my new cookbook (Saffron in the Souks) and have been picking out recipes like crazy. My latest selection was the sumac and seven-spice roast chicken. It was very good and I'm positive if I had marinated it as long as they suggested, it would have been even better. Roast chicken is usually a pretty bland affair, but this was downright delicious.
It was only minutes to whip up the marinade and I used it on a spatchcocked chicken, rubbing it over every inch and under the skin on the breast and legs. At first, I thought I had overdone it and burnt it, but when looking at the image in the cookbook, it actually looked the same. Rather like a blackened (non-spicy) chicken.
I have to admit that I deviated from the cooking temperature of 425F for 40 minutes. I am able to fit a chicken in my Ninja so bake at 350F until done, since the heat is so concentrated. The recipe also called for squeezing a lemon over the finished chicken, but the Hubby wasn't a huge fan of it, so will omit it in the future.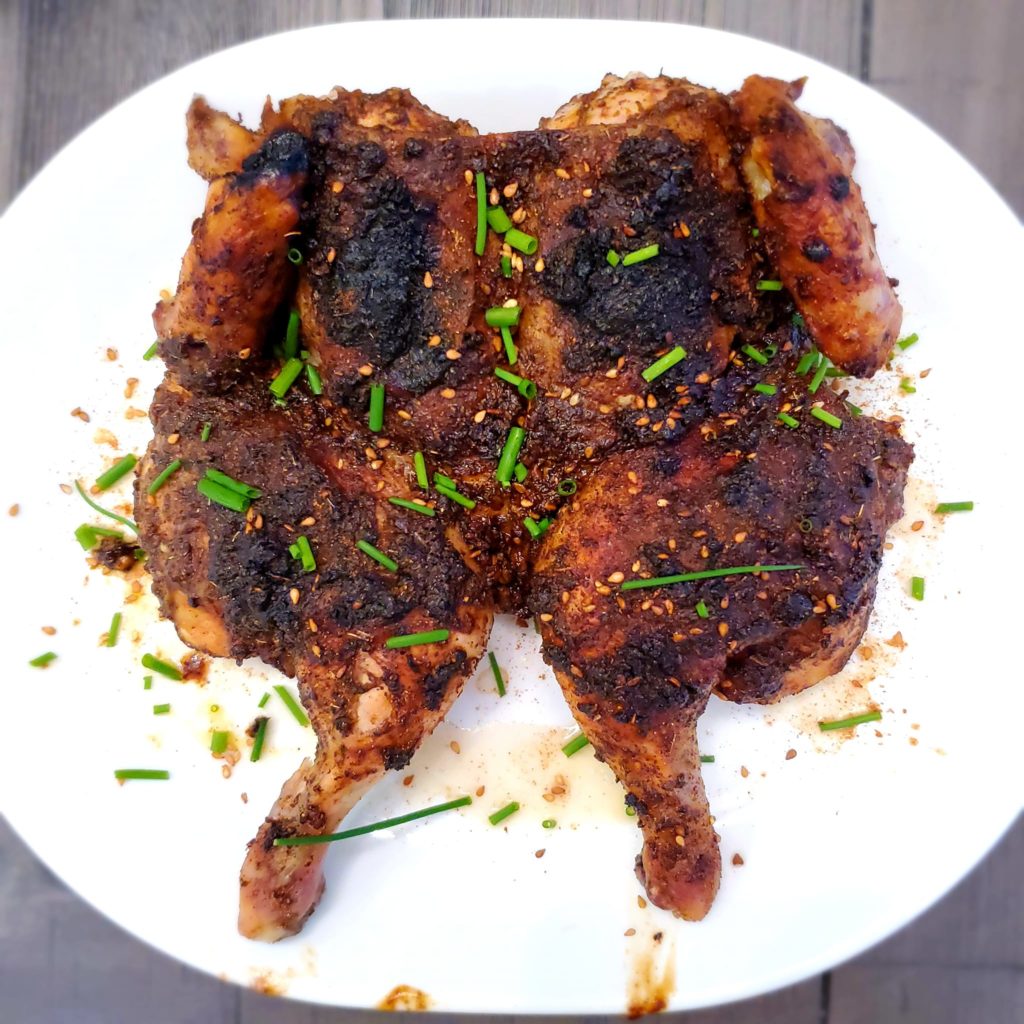 Print
Sumac & Seven-Spice Roast Chicken
Ingredients
1

tablespoon

minced garlic

2

tablespoons

olive oil

2

teaspoons

Lebanese 7spice or baharat

2

teaspoons

dried oregano

1

teaspoon

sweet paprika

1

teaspoon

sumac

2

cardamon pods

crushed, pounded fine

juice of 1 lemon

salt

2

teaspoons

za'atar

1

chicken
Instructions
Cut the backbone out of the chicken and flatten. Pat dry.

Combine all ingredients except the salt. Smear all over the chicken, including under the skin of the breasts and the legs.

Cover and refrigerate for 3 hours or overnight.

Bake at 350F for 45 minutes to an hour, until the meat is 165F.

Sprinkle with salt and the za'atar.
If you like this recipe, please share!
SUMAC + SEVEN-SPICE ROAST CHICKEN