---
I wanted to use up some ingredients in the fridge, freezer, and cupboard for lunch today. I came up with this nasi goreng inspired rice because I had some shrimp paste to use up, wanted something spicy, and had some leftover lamb from yesterdays supper. I love nasi goreng and although its not 100% authentic recipe, its definitely heavily inspired and packed with flavour. You can make it as spicy as you like by adding dried chilies, more sambal oelek sauce, or fresh chilies. I just used what I have.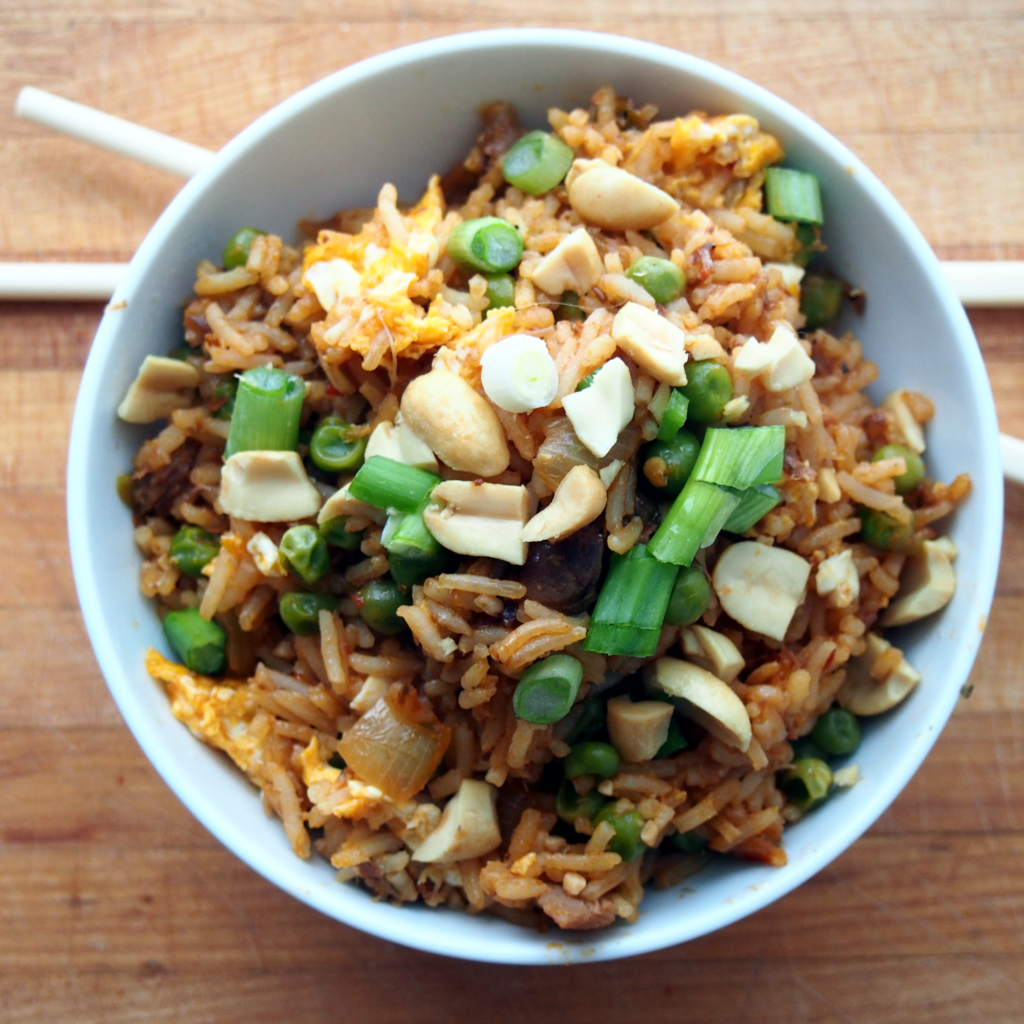 Print
Nasi Goreng Inspired Rice
Ingredients
1

onion

chopped

1

cup

of basmati rice

cooked according to instructions

2 1/2

tablespoons

bagoong paste

1

tablespoon

minced garlic

1

tablespoon

sambal oelek

1

tablespoon

tomato paste

1/2

cup

water

1 1/2

cups

frozen peas

1/2

tablespoon

lemon juice

1

egg

lightly beaten

Water

4

green onions

Chopped salted peanuts for garnish
Instructions
Rice
Bring 1 cup of bismati rice and 1 1/2 cups of chicken stock to a boil, stirring occasionally. Turn down heat to a simmer, cover, and cook for approximately 8 minutes. Pull off of heat and set aside until needed.

Heat a tablespoon or so of avocado oil in a large frying pan and saute the onion until translucent.

Add the garlic, bagoong paste, tomato paste and sambal oelek and saute for a minute or two.

Add the water and simmer until it begins to thicken.

Add the peas and let cook until it begins to simmer again.

Add the lemon juice and stir to mix.

Add the rice and stir to combine. Let fry, stirring occasionally, for a few minutes.

Shove the rice to the side, clearing about 1/3 of the frying pan.

Drizzle with a touch of oil and add the egg. As soon as the egg is cooked through, combine with the rice.

Serve garnished with chopped peanuts and green onion.
NASI GORENG INSPIRED RICE