---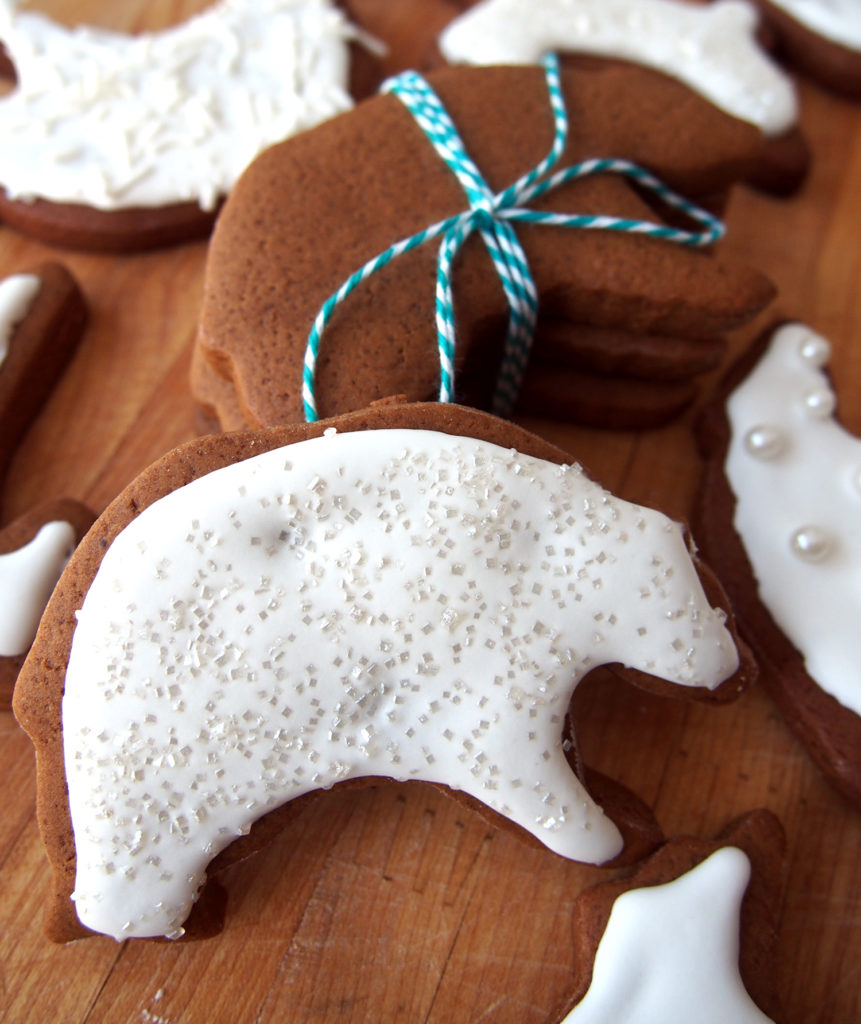 When I saw these on a facebook post from The View from Great Island, I knew immediately that I wanted to try making them. I adored the idea of polar bear cookies! These were my first gingerbread cookies (the traditional snappy type vs. a soft ginger cookie) and my first attempt at a flooding-style royal icing. I thought they turned out really well. I wasn't able to get an actual polar bear cutter, but figured that white icing on a standard bear shape would work just fine.
The only issue I had with the cookie was the fault of my oven, as it's gone on the fritz and would not keep a consistent temperature. But, as mentioned in the original post, the dough is great to work with.
The royal icing was a bit of an adventure, as it took some time to get it to a consistency that would pipe nicely. Especially being the first time I've tried to make and decorate with it. But it only takes a bit of tweaking until it's good to go, and the end result is actually the perfect touch of sweetness to the cookie, which on its own is not that sweet.
The dough really is easy to work with and the gingerbread men type of cookie is quite popular at Christmas. It's just the icing that is daunting, for me anyway. I suppose it just takes practice to get a steady and invariable outline.
This year I picked up a set of rolling pins and used the 1/4″ roller for the cookies. They came out perfect, each being the right and consistent thickness.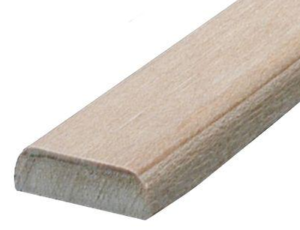 If you don't have a rolling pin with depth settings, place a large silpat on the counter, then place two pieces of screen molding (cut into two 24″ strips) down, about the width of your rolling pin apart, then place about half of one disk of dough in between. The screen molding is a perfect tool since they're flat on the top and you can rest the rolling pin on them (vs using a round dowel). Top the dough with a piece of parchment paper and flatten a bit with your hands. Then roll out the dough, using the molding to keep the thickness consistent.
Before using a cookie cutter, dip the cutter in flour, knocking the excess off. To lift the cookie off the parchment paper and place on the baking tray, dip a small spatula in flour, again knocking off the excess, then use the lightly floured spatula to move the cookie.
For decorating, I use cookie stamps and embossed rollers. (I also used the roller on my shortbread cookies.) When using the stamp, make sure that the dough isn't super cold, though chilling the stamp itself is a good idea. When using the roller, give a light spray with baking spray first.
Use a thin glaze for the snowflake cookies, it may take a few cookies to get it to the right consistency, but I liked how it filled the impressions.
I also cheat and buy the icing pouches. They work decently, albeit I couldn't get a lot of detail from them, but it is easier than trying to get the royal icing right.
RECIPE NOTE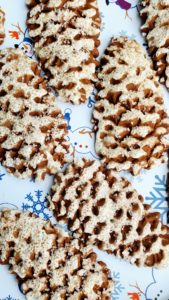 So I have tried making cookies in my Ninja 8-in-1 Foodie Air Fryer and it's amazing! Lower the temperature to 325°F and bake for 5 minutes, turn the tray around 180°, and bake for another 5 minutes. The cookies came out perfectly. In fact, I will bake my cookies in the ninja from now on. It does take a little longer as the Ninja is only so big, but it does a great job. I even used it to make my shortbread this year!
I've made another update to my recipe. This time I used a wooden pine cone mold to make the cookies. Just lightly spray the mold with cooking spray, use a pastry brush to make sure that all the nooks and crannies are coated. Dust with flour, tapping out the excess. Press the dough into the mold and using a sharp knife (I used my filleting knife), cut off the excess. I baked as normal in my Ninja.
Make a glaze with 1 cup of icing sugar and 2-3 tablespoons of water. You want it quite runny. Brush across the cookie to ice the edges and sprinkle with sparkling sugar. Set aside to dry for 4 hours before layering in an airtight container.
They make an extremely pretty cookie!
Print
Gingerbread Cookies
Ingredients
Dry Ingredients
4 1/2

cups

all purpose flour

1

teaspoon

baking soda

1

teaspoon

salt

2

tablespoons

ground ginger

1

tablespoon

unsweetened cocoa powder

1

tablespoon

cinnamon

1

teaspoon

cloves

2

teaspoons

allspice

1/2

teaspoon

freshly grated nutmeg
Wet Ingredients
3/4

cup

unsalted butter, at room temperature

(1 and a half sticks)

3/4

cups

light brown sugar

(packed)

1

large egg

(at room temperature)

1

cup

molasses
Instructions
Sift the dry ingredients in a bowl and whisk to blend.

Cream butter and sugar together until light and fluffy, about 3 minutes.

Beat in egg and molasses and mix until smooth.

Gradually add the dry ingredients, while mixing on low, and mix until the dough comes together.

Turn out onto a floured surface and knead the dough a couple of times until it becomes smooth. Divide in two and form into disks.

Wrap in plastic and chill for at least 3 hours, or overnight.

Preheat oven to 350°F.

Place a piece of parchment paper onto your counter

Roll the dough out on to about 1/4 inch thickness.

Cut out your cookies and place on a parchment or silpat lined baking sheet.

Bake for 10 minutes, (rotating the tray halfway through if your oven cooks unevenly).

Let the cookies cool on the baking sheet for a few minutes before moving them to a cooling rack.
Print
Royal Icing - For Flooding Cookies
Ingredients
1/4

cup

meringue powder

1/2

cup

cold water

to start

4

cups

confectioner's sugar

sifted
Instructions
To make the royal icing, put the egg white powder and water in the bowl of a stand mixer fitted with the whisk attachment.

Beat until soft peaks form.

Then add the sifted sugar gradually and beat until the frosting is spreadable and glossy. If the frosting gets too thick you can add a bit of cream, milk, or water to thin.

Keep adding water until it flows smoothly, yet still thick, off the whisk.

Spoon some of the frosting into a squeeze bottle, pastry bag, or baggie if you would like to pipe it around the outline of each cookie.

Then roughly fill in the lines, spreading the icing out with a toothpick or the tip of a butterknife.

Decorate your cookies with sprinkles, etc, while the icing is still wet. It will harden as it dries.
Notes
You can easily freeze royal icing, putting into an airtight container. Bring to room temperature and rewhip if necessary.
If you like this recipe, please share!