---
I recently held a high tea for my sisters (my mom was supposed to come as well, but had to decline due to a bad cold). Everything went over well and as usual, I made way too much food. I made:
Raspberry and White Chocolate Scones (scroll down for recipe)
Mini Turkey & Brie Croissants with greens tossed in a homemade herb and garlic balsamic
Cucumber with Herbed Cream Cheese and Fresh Dill Finger Sandwiches
Curry (mild!) Egg Salad Sliders
Store bought macarons
Store bought mini cream puffs (I <3 Costco!)
Mini Key Lime Cupcakes with

Buttercream Icing

Blackcurrant Tea and Orange Dreamscicle Tea
Of course during the rush of getting everything on the table, I forgot the Devonshire Cream. I found the jar of it yesterday so thought I would put it to good use and make some scones for breakfast. As I'd just picked a small bowl full of strawberries, from the plants on the deck, I added those. I took about half a cup of whipping cream, whipped it up and added the Devonshire Cream and whipped again until blended. Soooo yummy. I wish I had some essence of strawberry to put in it, I think that would have been just the perfect added touch. Alas, I only had vanilla.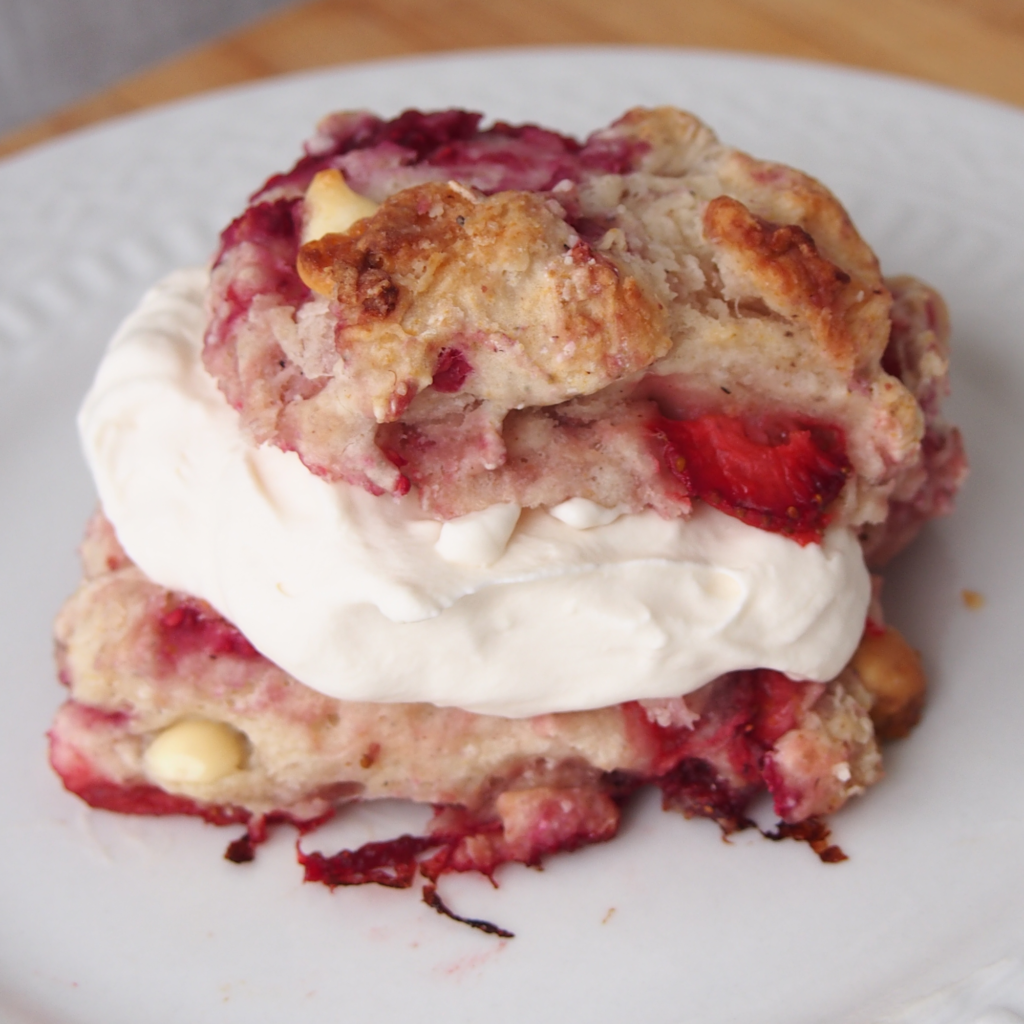 Print
Strawberry Scones
Ingredients
Basic ingredients
2

cups

all purpose flour

2

teaspoons

baking powder

1/2

teaspoon

salt

1/2

tablespoon

white sugar

1/4

cup

COLD butter

3/4

cup

buttermilk*

For Berry Scones:**

Fresh strawberries

1/4

cup

white or dark chocolate chips

1/2

whole nutmeg

grated
Instructions
Combine the dry ingredients and grated nutmeg in a medium sized bowl.

Cut in the butter and crumble quickly with your fingers until it forms a rough granular texture.

Add the berries and chips and toss to mix.

Add about two thirds of the buttermilk and begin to form a dough. Add the rest slowly until a ball has JUST formed. (It may be a bit lumpy and unwieldly due to the berries. Get it to the point where it all sticks together without overworking the dough.

Form into a flattened circle about the circumference of a dessert plate.

Cut in half, form each half into another circle.

Cut each circle into quarters.

Place on a silpad on a baking sheet and bake for 18-22 minutes at 425°F until they are browned and when tapped sound a bit hollow.

Remove from oven and let cool for a couple minutes before serving with some Devonshire Cream that has been blended into some whip cream.
Notes
* If you don't have buttermilk, put 1 tablespoon white vinegar into 1 cup white milk and set aside
** If you would like a berry scone, add just before you add in the milk. If you want to use raspberries, I would use frozen so they don't get mushed.
If you like this recipe, please share!