---
Za'atar Man'ouche (Lebanese breakfast pita) is another recipe from the cookbook Saffron in the Souks. It's ridiculously easy to make and tastes delicious. Another keeper from this cookbook and I can't sing its praises enough. The za'atar man'ouche recipe in the cookbook makes 8 pieces. As it was just the two of us, I halved it and it worked perfectly. (This is reflected in the recipe.)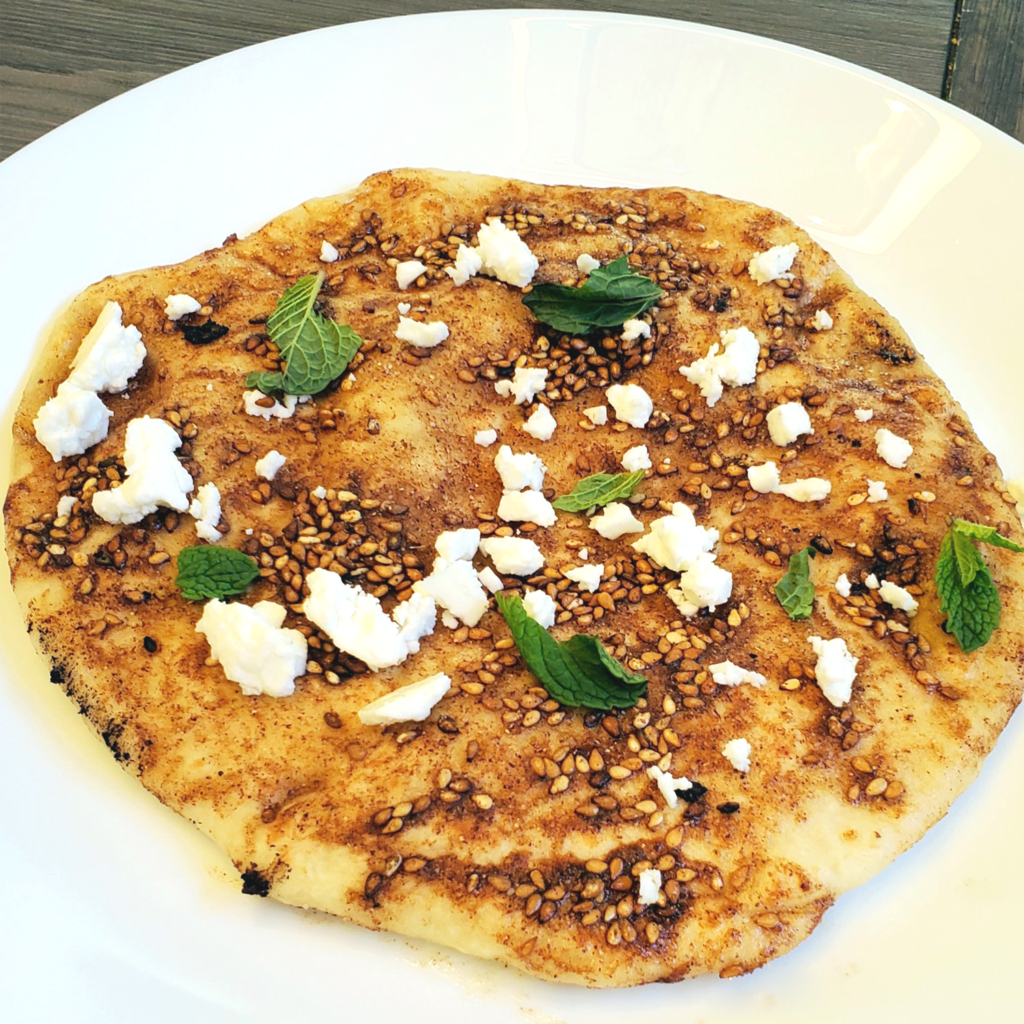 Print
Za'atar Man'ouche - Lebanese Breakfast Bread
Ingredients
The Bread
1 1/2 | 3

cups

all purpose flour

extra for dusting

1/2 | 1

packet

fast-action yeast

2.25 teaspoon per packet

1 | 2

teaspoons

salt

1/2 | 1

teaspoon

sugar

1 | 2

tablespoons

sugar

1/2+ | 1 to 1 1/4

cups

water
The Topping
4 | 8

tablespoons

olive oil

2 | 4

tablespoons

za'atar

2-3

ounces

feta cheese*

handful

mint leaves

pinch of salt
Instructions
Add the flour, yeast, salt, and sugar to a mixing bowl and mix well.**

Make a well in the center and pour in the oil and most of the water. Mix together until the dough forms (add more water if the dough is too dry). **

Knead for 6-7 minutes until smooth.**

Place into an oiled mixing bowl, cover, and leave to rest for 1 hour, in a cool dark spot.

Divide the dough into 4 | 8 portions. Flatten a portion, sprinkle with flour, and roll into an 8-inch circle.

Mix the topping ingredients together.

Heat a non-stick fryingpan over medium high heat and add a circle of dough. Brush liberaly with the za-atar oil. Turn down the heat to medium-low and cook the dough for 2 to 2 1/2 minutes until the bottom is lightly charred and the top is cooked. >>>WATCH THE HEAT CAREFULLY!<<< You will need to constantly adjust.

Remove from the pan and garnish with feta and the mint leaves and serve immediately.
Notes
* I love feta cheese, but the husband does not, so the amount of the feta cheese is totally dependent on how much you want.
** I put the ingredients into a stand mixer, add the oil and water, and mix by hand until the dough is roughly formed. I then set it on low, using the dough hook, for 6-7 minutes, occasionally stopping if the dough needs some help grabbing all the flour. 
I had a couple of rounds leftover and reheated them by popping them into a toaster oven for just a couple of minutes.
If you like this recipe, please share!