---
This weekend I was able to convince the Hubby to take me to the bookstore and let me roam. Besides a weakness for scifi, I have one for cookbooks. This time it was Pickles, Pigs & Whiskey. I was flipping through the book and saw a few recipes I wanted to try. One of them being a whole grain Guinness mustard. I generally take a recipe from a cookbook and end up only following it about halfway, adding my own spin to it, but as I've never made a mustard before I thought I'd better follow the recipe exactly. The recipe was very easy to make. The only thing I had a problem with was finding black mustard seeds. But a bit of research said I could use the regular mustard seeds without too much impact to the taste.
Unfortunately, I cannot attest to the flavour as it recommends letting it sit for at least a week. As I wanted this for the ham at Easter, it will have a couple weeks. It keeps for up to a year (refrigerated).
To see if anyone actually reads this post… I have a couple extra jars if one of my friends would like to claim one, just comment here. There are no guarantees that this will taste good, though I didn't make any changes to the recipe and it did look very tasty in the books' photo. 😉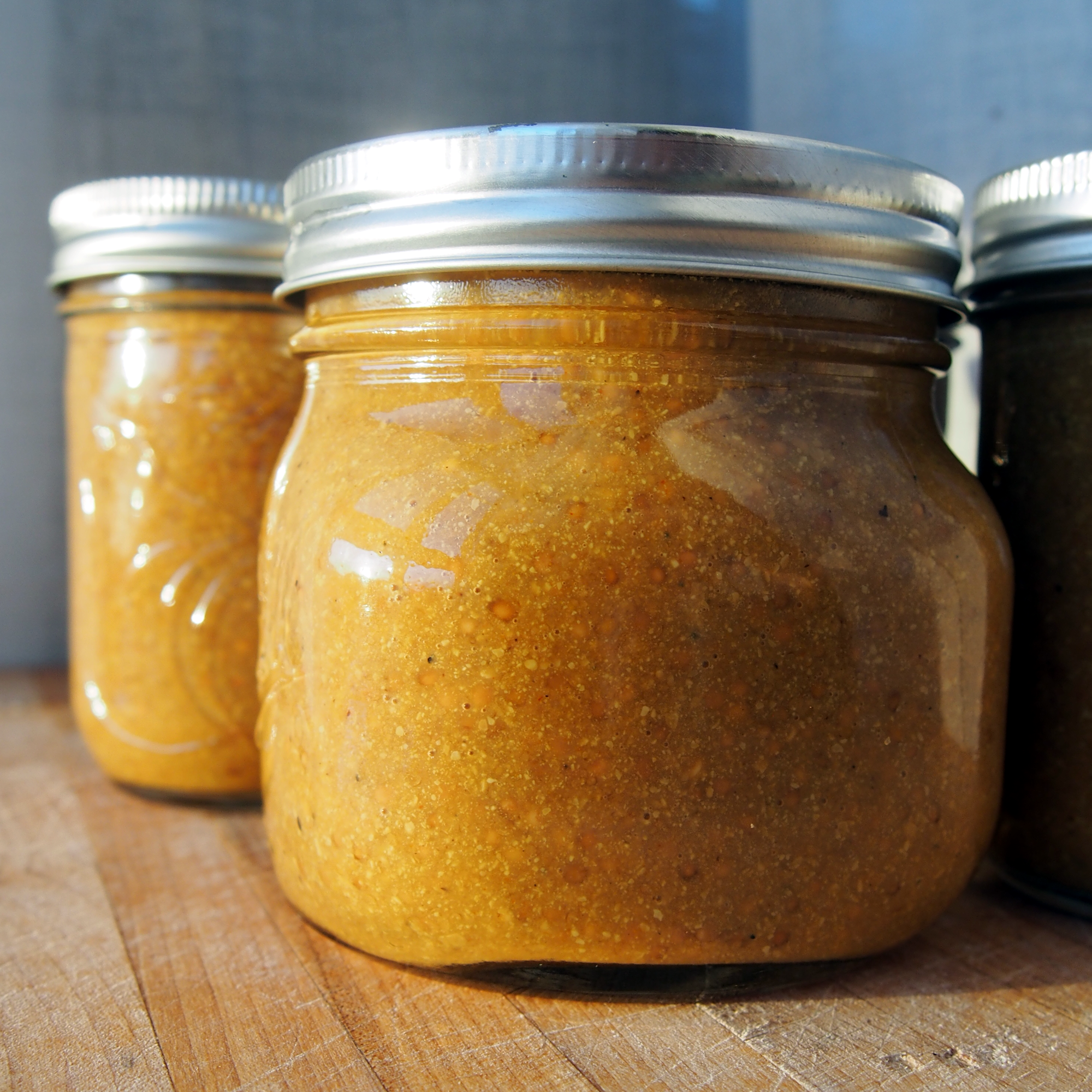 Print
Whole Grain Guinness Mustard
Ingredients
1/2

cup

black mustard seeds

1/2

cup

yellow mustard seeds

1 1/2

cups

malt vinegar

2

cups

Guinness

1 large can

1

cup

dry mustard powder

5

teaspoons

all-purpose flour

3

tablespoons

honey

1/2

cup

dark brown sugar

2

teaspoons

salt

2

teaspoons

freshly ground black pepper

1/4

teaspoon

ground tumeric

1/4

teaspoon

cayenne

1/8

teaspoon

ground cloves
Instructions
In a stainless steel bowl, combine 1/2 cup Guinness, 1 cup malt vinegar, and the mustard seeds. Cover with plastic wrap and refrigerate overnight.

Combine the remaining ingredients in a saucepot and bring to a simmer.

Add the mustard seed mix.

Simmer for an additional 5 minutes, stirring constantly.

Give a couple pulses in a blender and pour into clean glass containers, sealing well.
Notes
Let sit for at least a week before trying.
Adapted from Pickles, Pigs & Whiskey Cookbook
If you like this recipe, please share!
WHOLE GRAIN GUINNESS MUSTARD