---
I went to double check my dumpling recipe and realized I hadn't transferred it over yet. But because I didn't go to make the dumplings until the last little bit, I of course didn't measure the stew ingredients. So I'll list the ingredients that I used for the stew and next time I make it, I'll put down the proper measurements.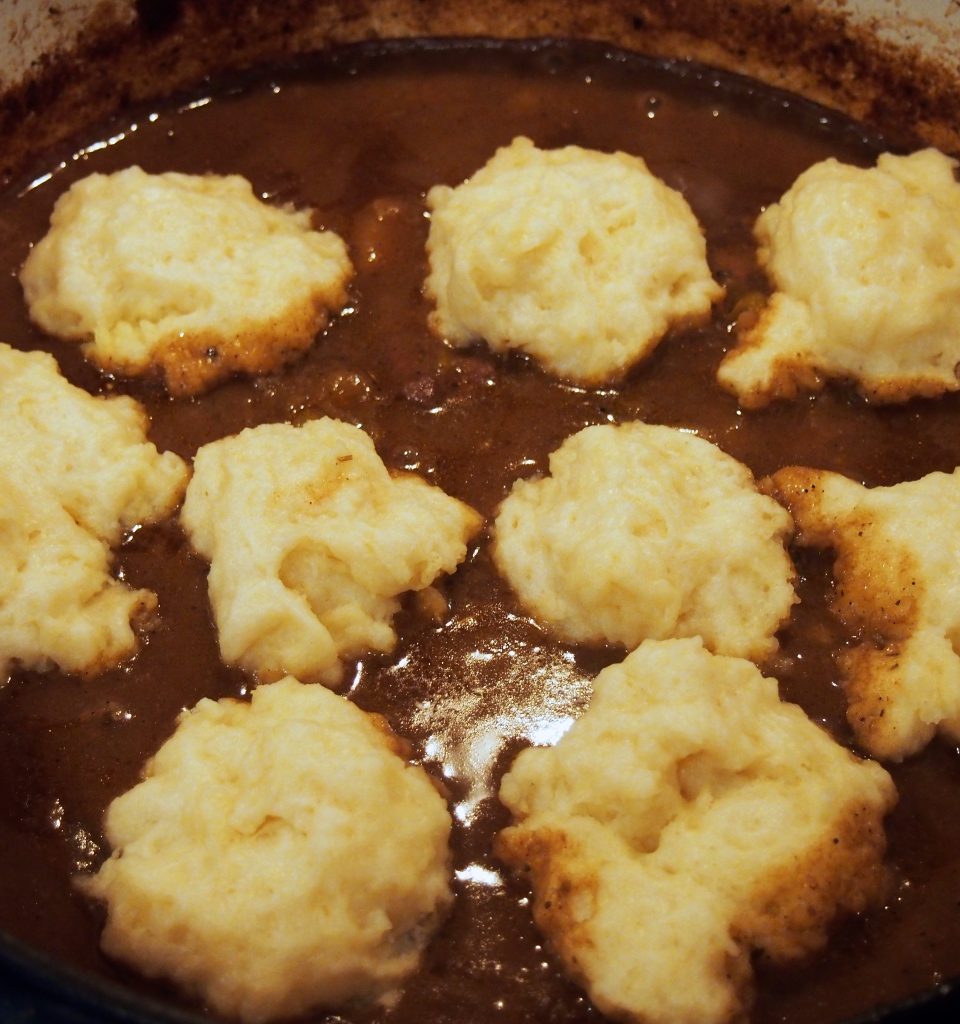 Print
Beef Stew
Ingredients
5-6

white potatoes

2

small leeks

2

lbs

beef cubes

1

small container of fresh button mushrooms

1

package of pearl onions

Garlic powder

Onion powder

Cumin powder

Smoked paprika

Dried oregano

Small bunch of fresh oregano

Few dashes of worcestershire sauce

1 650

ml

bottle of heavy stout beer

Angry Scotch Ale or Guinness works nice

3

c

beef stock

4

strips of bacon

chopped
Dredge
1

c

flour

Paprika

Garlic powder

Onion powder

Cumin

Pepper

Salt

Dried oregano
Instructions
Deskin the pearl onions and chop the larger ones in half

Slice the leeks (rinsing in water to clean)

Brown the bacon in a large dutch oven, add the pearl onions and half of the leeks. Sprinkle with a dash of salt and pepper.

Saute the onions until they begin to soften. Scoop out and set aside.

Place the cubes of beef in the dredge and brown in the bacon fat (you may need to add some vegetable oil as you do the batches). Don't crowd the pot!

Add a hearty splash of the beer and deglaze the bottom of the pan.

Add the beef, onion mix, other half of leeks, mushrooms, spices, potatoes (peeled and cubed), worcestershire sauce, rest of beer and stock.

Mix and let cook for about 1 1/2 - 2 hours at 350F.

When you remove from oven, test for flavour and add a bit of flour slurry if needed.

Drop dumplings on stew and cook for another 15 minutes (lid on).
Notes
I'm not a fan of cooked carrots and detest cooked celery, but add whatever veggies you like in your stew!
Print
Dumplings
Ingredients
1

tbs

butter

1/2

c

milk

1

c

flour

2

tsp

baking powder

1/2

tsp

salt
Instructions
Stir dry ingredients together.

Cut in butter until crumbly.

Stir in milk to make dough.

Drop in heaping spoonfuls onto cooking stew.

Cook for last 15 minutes with lid on.
If you like this recipe, please share!