---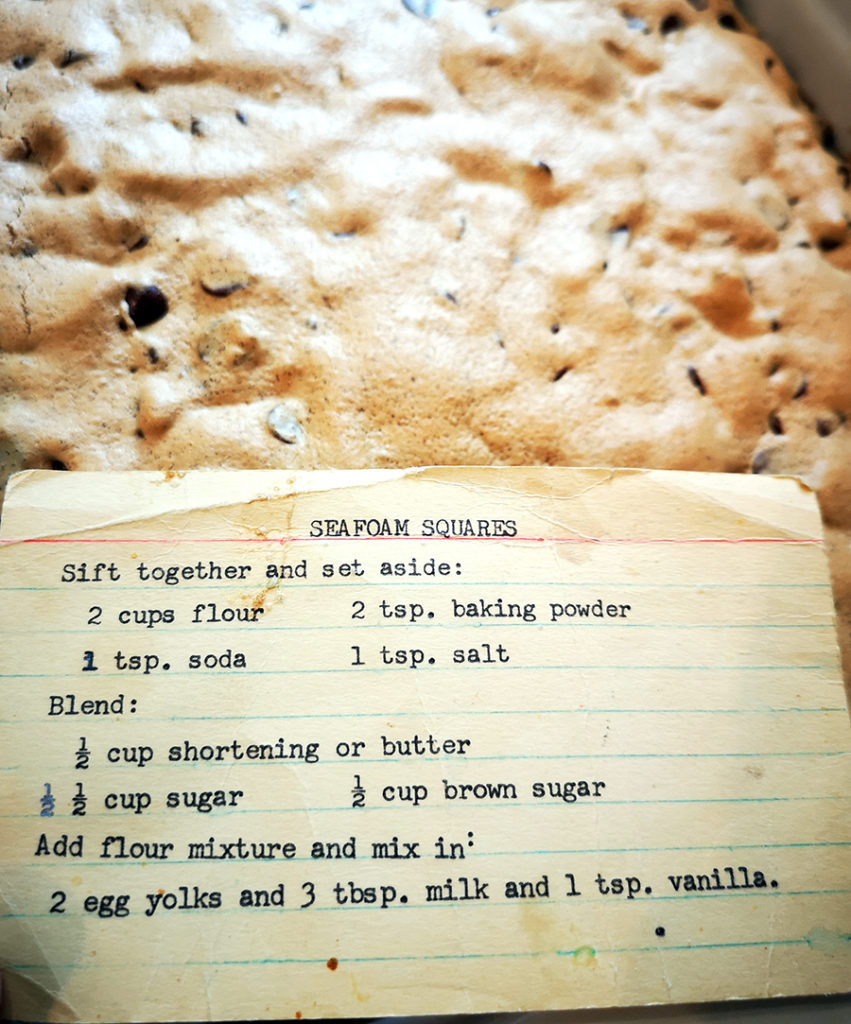 I was in a sentimental baking mood today and decided to make a dessert from my mother-in-laws' recipes. I had the Hubby go through her squares and bars recipes and he picked out seafoam squares. My mother-in-law was a very old school cook and baker. In the sense of cooking everything to death. All meat was well done, all the veggies cooked to an inch of their lives before dissolving, not much more seasoning than salt and pepper. But her baking? She knew how to turn out amazing towering poppyseed chiffon cakes, rhubarb cream pies with the fluffiest pie crust, a wide variety of squares, you name it. All the old fashioned desserts. Seafoam squares were one of her staples.
As with every recipe handed down, there were always changes made that weren't marked down on the recipe card. This was no exception, but to find out what those changes were, I stuck to the recipe as it was laid out.
Once out of the oven, both the Hubby and I realized what the change was. She doubled the egg white layer. For my next batch, I will add 2 more egg whites, leaving the amount of brown sugar the same.
As this treat is intensely sweet, I will be making another change – using dark chocolate chips instead of semi-sweet. Both of these edits are reflected below.
As a side note, to keep this dairy free, I used unsweetened cashew milk and good ole margarine for the butter.
Taste-wise, you could compare this to a cookie in a sheet pan form. Rather like an amped chocolate chip cookie, specially with that crunchy top layer!
Print
Seafoam Squares
Ingredients
Dry Ingredients
2

cups

all purpose flour

1

teaspoon

baking soda

2

teaspoons

baking powder

1

teaspoon

sea salt
Sugar and Butter
1/2

cup

butter

(softened)

1/2

cup

granulated sugar

1/2

cup

brown sugar
Wet Ingredients
2

egg yolks

3

tablespoons

milk

1

teaspoon

vanilla
Other Layers
4

egg whites

1

cup

brown sugar

320

grams

dark chocolate chips
Instructions
Preheat the oven to 325F.

Sift the dry ingredients together in a medium bowl and set aside.

Using a hand blender, beat the butter and sugars together until light and creamy.

Whisk the wet ingredients together and add to the butter and sugar, blending until smooth.

Add the flour mix, in batches, beating in until incorporated. You will end up with a large-chunk dough.

Butter or cooking spray a 9x13 pan and press the dough into a flat layer.

Sprinkle the dough with the chocolate chips in an even layer.

Beat the egg whites until stiff peaks form.

Add the brown sugar 1/3 of a cup at a time, beating until smooth.

Drizzle over the chocolate chips as evenly as possible. At this point, I spread out as evenly as possible using a combination of a small spatula and my fingers.

Bake for 30-35 minutes, until the top is hard and sounds hollow when lightly tapped.
If you like this recipe, please share!