---
I love sausage gravy and biscuits. I'm pretty sure that I've mentioned before, but I love gravy or sauces. Turkey gravy, beef gravy, au jus, mushroom gravy, salad dressing, Indian sauces, the mysterious space Swiss Chalet sauce, etc.  If I can, my plate is generally gravy with a side of meat (or whatever it goes on). My salads drown. I will spoon out the sauce from butter chicken and ignore all the chicken. Having a sausage gravy over a fluffy biscuit more than meets the saucy love.
As Hubby is not a fan of sausage gravy over biscuits, but is a big one of the biscuits (specially with gooseberry jam), I will generally make a one person portion of sausage gravy.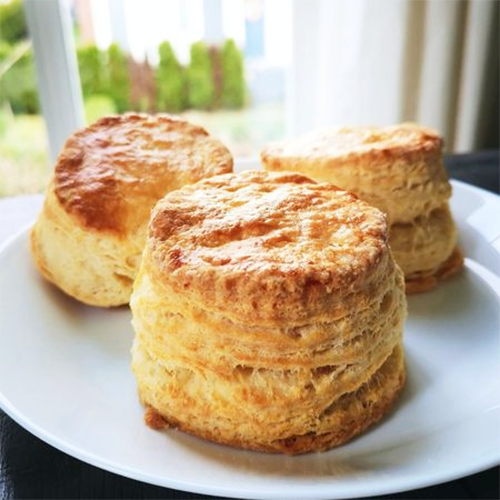 Print
Ingredients
2

cups

all-purpose flour

4

teaspoons

baking powder

3

teaspoons

sugar

1/2

teaspoon

salt

1/2

cup

shortening or unsalted butter

1

egg

2/3

cup

milk
Instructions
Preheat the oven to 450°F.

In a medium bowl, combine the flour, baking powder, sugar, and salt and whisk together.

Cut in shortening until the mixture resembles coarse crumbs.

Beat the egg with milk, then stir into the dry ingredients until it just moistened.

Turn onto a well-floured surface, knead 10 times.

Roll to inch thickness, fold over.

Roll to inch thickness, fold over.

Roll to 3/4 inch thickness.

Cut with a floured 3 inch biscuit cutter.

Place on lightly greased baking sheet, or a baking sheet lined with a silpat mat. Edges can touch.

If you desired a browner top, give the biscuits a light eggwash.

Bake at for 8-12 minutes or until golden brown.
This recipe for sausage gravy is just an estimate as it was just for one person. Feel free to omit the shallots, I add them if I have them, but otherwise the main ingredient is the sausage. I've used breakfast sausage, chorizo, farmers sausage, any sausage that has a lot of fat.
Print
Ingredients
1

cup

sausage

chopped small

1

small shallot

chopped small

2

tablespoons

flour (heaping)

Bacon fat

or butter (if there isn't enough fat from the sausage)

1/8

teaspoon

cayenne pepper

1/2

teaspoon

garlic powder

salt & pepper

to taste

1/2

cup

milk

room temperature

1/2

cup

water
Instructions
Saute the sausage (and shallot if you have it) until the fat has rendered out.

If you don't have about 2 tablespoons fat total, add bacon fat.

Add the flour and spices and mix together. Sauteing briefly.

Add the milk and whisk until it begins to thicken.

Add the water and whisk until it begins to thicken.

Add additional salt and pepper to taste. Pour over the biscuits.
If you like this recipe, please share!
SAUSAGE GRAVY AND BISCUITS