---
I've watched Jamie Oliver make sausage cavatelli before, but rewatched the episode the other day and was inspired to make it. I picked up some semolina flour and sausage and got to work. Sausage cavatelli isn't a quick recipe, though it is an easy recipe.
I really enjoyed making the pasta, feeling like a little Italian Nonna as I made it. And the dried roasted red pepper? Packed with so much flavor. Crumbling it up and frying it a bit made it even tastier.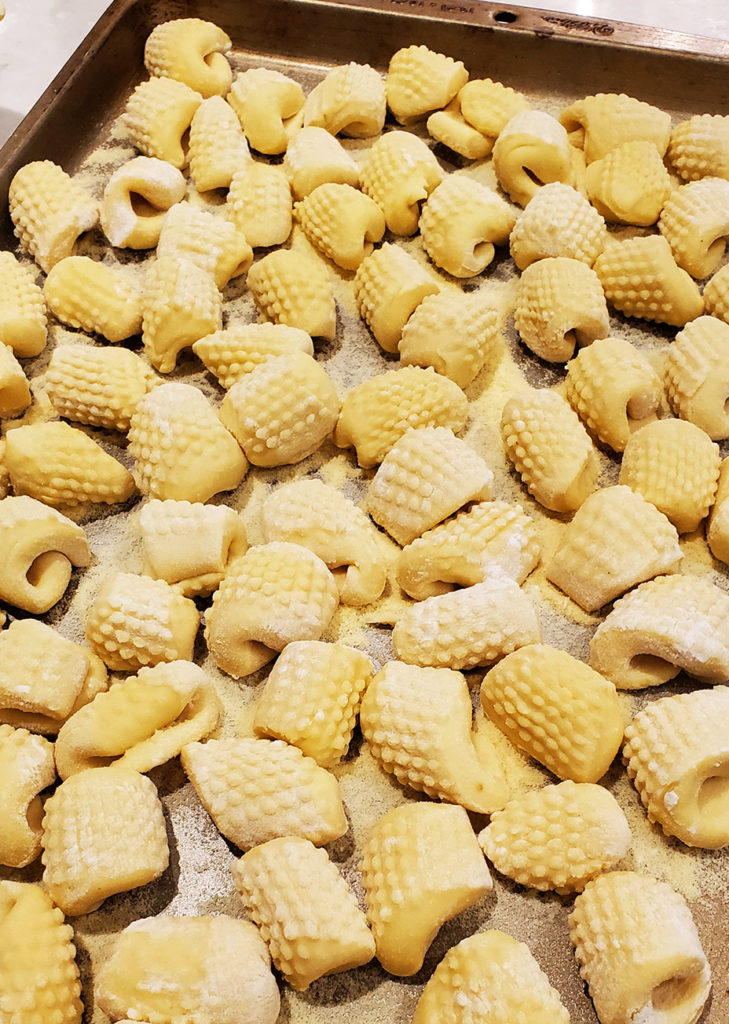 The Hubby thought the sauce was absolutely fantastic, but thought the pasta itself could have been smaller. I made it according to Jamie's instructions and it does make for a very hearty hunk of dough (tip of the thumb sized). On the other hand the shape makes for the best way of holding onto the delicious sauce. Next time I'll make the balls smaller.
Print
Dried Roasted Red Pepper
Instructions
Cut the peppers so they lay flat like a large filleted steak. Pat both sides dry with paper towel.

Line a cookie sheet with parchment paper and lay the peppers out. Put a few drops of olive oil on the peppers and spread out over each pepper (both sides).

** Bake in the Ninja at 250F for 2 hours.
Notes
** Jamie's instructions were the following, but I didn't want to boot  up an oven for 4 hours and 250 was the lowest the Ninja 8 in 1 would go.
Print
Cavatelli Pasta
Ingredients
3

cups

fine semolina flour

plus extra for dusting

3/4

cup

+ 5 teaspoons warm water
Instructions
Pile the flour on to a clean surface and make a well in the middle.

Gradually add 200ml of warm water, using a fork to bring the flour in from the outside until it forms a dough.

Knead on a flour-dusted surface for 10 minutes, or until smooth and elastic.

Cut the dough into four so you can work with it a quarter at a time.

Cover the rest with a clean damp tea towel while you work, to stop it drying out. Roll your first quarter into a long sausage shape about 1cm in diameter, then cut it into 1/2 inch chunks.

Lightly flour the back of a fine grater, gently squash a chunk of dough against it with your thumb, then roll it off to create a nubbly, textured shape.

Place on a semolina-dusted tray and repeat.
Notes
Boil for 4 minutes in salted water, until they float to the top.
To store: dust with semolina flour, let dry on the tray for an additional hour, gently place in a bag and put in freezer.
Print
Sausage Cavatelli
Ingredients
2

dried red chilies

½

a bunch of fresh thyme

(15g)

4-5

sage leaves

1

teaspoon

smoked paprika

1

large higher-welfare quality spicy sausage

1

large shallot

minced

2

cloves

of garlic

minced

1/2

cup

southern Italian white wine

or vegetable stock

1

x 400 g tin of quality plum tomatoes

40

g

pecorino

or Parmesan cheese

chives for garnish
Instructions
Place a large frying pan on a medium heat with 3 tablespoons of oil.

Remove the stalks and seeds from the chilli and dried roasted red pepper, tear into flakes and add to the pan.

Strip in the thyme leaves, rip the sage leaves into pieces, and fry for 30 seconds, or until crisp, then spoon out and save for later, leaving the pan on the heat.

Add the sausagemeat and mash it up.

Add the minced shallot and garlic and the paprika, then fry gently for 15 minutes, or until soft, stirring occasionally.

Add the wine (or stock), cook away, then crush the tomatoes in with your hand.

Season and simmer for 15 minutes.

Cook the pasta in a pan of boiling salted water for 4 minutes, or until tender, then drain, reserving a mugful of starchy cooking water.

Toss with the sauce, finely grate over most of the pecorino and toss again, loosening with a splash of reserved cooking water, if needed.

Sprinkle the chilli pepper mix and chopped chives over the pasta, and finely grate over the remaining pecorino, to finish.
If you like this recipe, please share!