---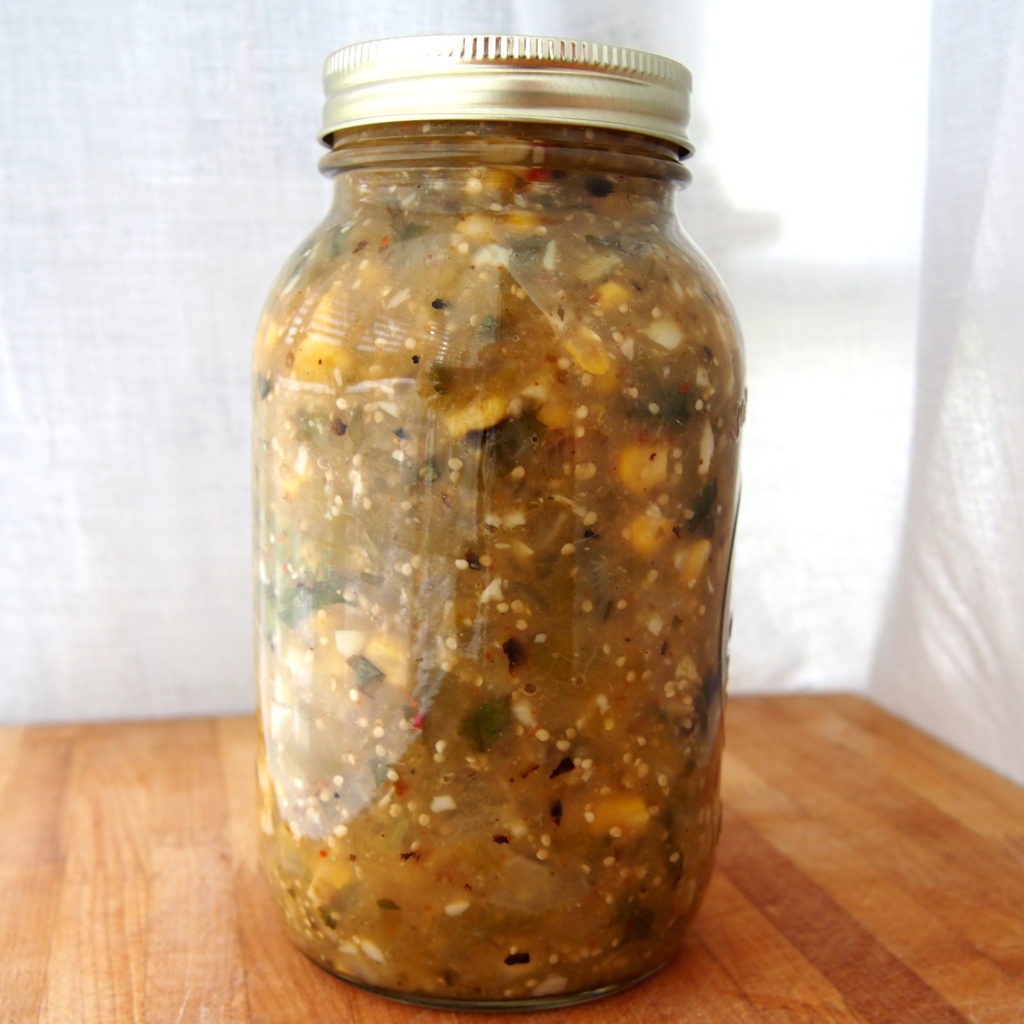 Just giving this post a bump as I just made it again for company. I served it with grilled bbq snapper and it turned out to be another hit. My sister liked it so much that we decided to make another batch of it and can a big jar so she could take it home with her. For this batch I added the kernels from a leftover corn on the cob, the lonely remains from a crab boil. I love roasted tomatillo salsa, more than regular tomato style salsa. The slight char on all the ingredients adds a nice depth, the lime juice and salt brighten and intensify the flavours and the citrus hints compliment fish very nicely.
Dec 2013 post: I thought I would add this salsa recipe since I have just posted the fish. It makes for a super tasty combo with the fish or just a big bowl of nachos, and is a favourite of a few friends (and me!).
Print
Roasted Tomatillo Salad
Ingredients
7-8 to

matillos

husked and rinsed

1

onion

2

jalapenos

8

cloves

of garlic

a couple small bulbs or one large**

Small bunch of cilantro

Juice of a lime

Salt to taste

1

teaspoon

cumin

1/2

teaspoon

tajin
Instructions
Either place the items on a the bbq (I cut the onions into 3 ring slabs) and char slightly or line a cookie sheet with tinfoil, place the tomatillos, onion, garlic and jalapeno's on it, set under broiler until the jalapenos blacken. Take pan out, flip everything over. Set back under broiler until the jalapeno's darken.

Remove from bbq or the broiler and scrape most of the skin of the jalapenos off and deseed them. Dump the peppers, tomatillos, onion and garlic into a food processor.

Add the cilantro, salt to taste, cumin, lime juice, tajin and blend.
Notes
** If you don't have any whole bulbs of garlic, just the prepeeled cloves, place on a piece of tinfoil, drizzle with olive oil, and make a packet out of it. Throw that on at the same time as the rest of the items.
If you like this recipe, please share!