---
So I was walking through the grocery store one day and walked by a row of tomato sauce jars. Then I paused and walked back. One of the jars was puttanesco sauce. It looked dark, rich, and very tasty. But because they always add sugar and other ingredients you can barely pronounce, I wanted to make my own.
What makes a great puttanesco sauce is the olives, I like to use pitted kalamatas as they are packed with flavour. And puttanesco sauce has more uses than just mixing with pasta! Use it for a baked chicken parmesan or tossing with tender slices of squid / octopus.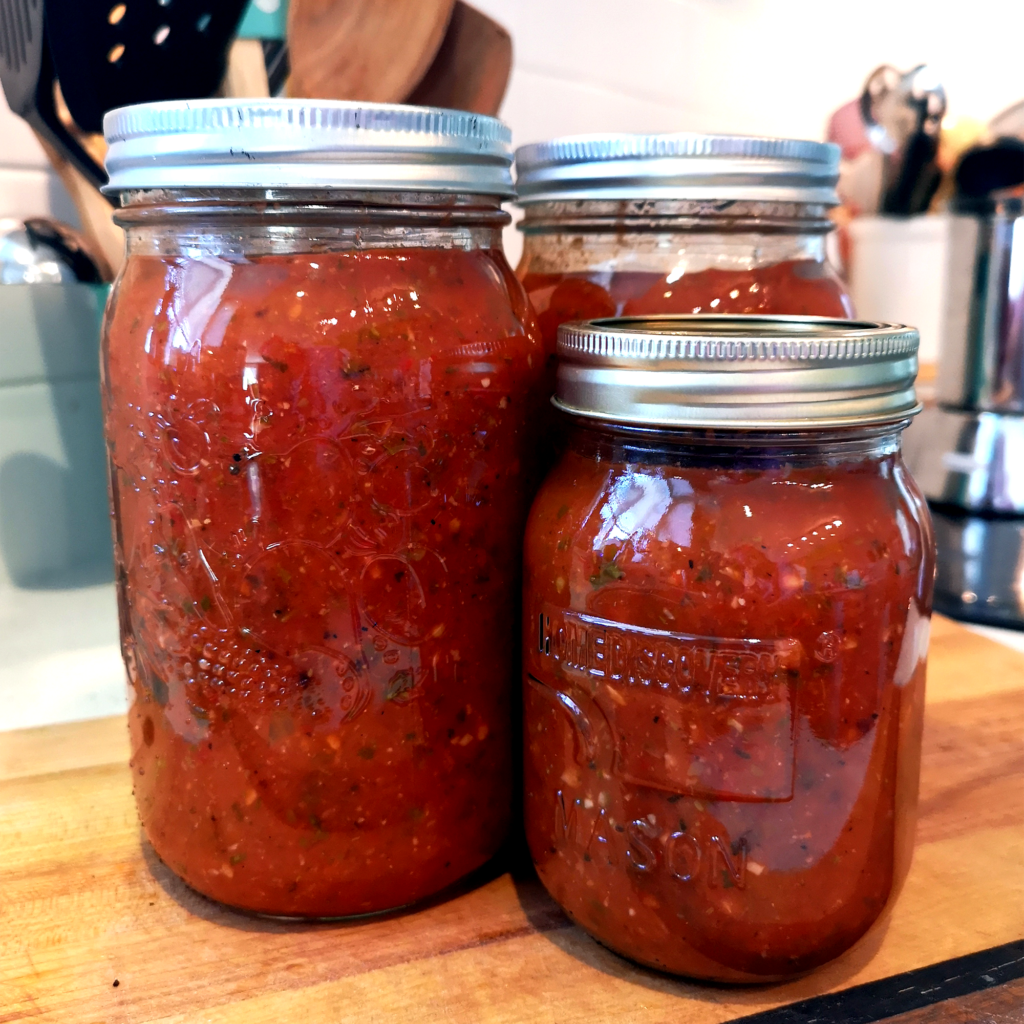 Print
Puttanesco Sauce
Ingredients
1

onion

cut into steaks

10-12

small-medium tomatoes

1

cup

chopped kalamata olives

3

large roasted red peppers

1

tablespoon

dried oregano

2

tablespoons

fresh oregano

chopped

1/2

tablespoon

dried basil

2

tablespoons

fresh basil

chopped

1

small bulb of garlic

2

tablespoons

Italian tomato paste

double concentrated

2

tablespoons

capers

1

teaspoon

granulated garlic

1

teaspoon

onion powder

2

teaspoons

garlic Mrs. Dash

1

can anchovies

chopped

1

can Roma plum or diced tomatoes with juice

1/2

teaspoon

chili flakes

2

teaspoons

fresh cracked pepper

Salt to taste

after simmering and blending
Instructions
Coat the onion steaks and tomatoes with olive oil, cut the top off the garlic and drizzle with olive oil. Roast, turning/flipping occasionally on a hot BBQ until lightly charred. Place the garlic in the coolest area of the grill and don't worry about it until you remove everything from the grill.

Let the tomatoes cool a bit then remove the green stem core and skins.

Rough chop the tomatoes and onions and place in a large sauce pot.

Add the rest of the ingredients (except salt!)

Bring to a simmer and bring out the hand blender (or food processor or blender)

Bring back to a simmer and taste for any needed salt and add if needed.
If you like this recipe, please share!