---
So in the summer of last year I ended up getting a very nasty sinus infection. Which essentially destroyed some nerves in my nose. I lost my sense of smell for a couple months and when it started to return I ended up with the loss of tasting sweet. Its been great for the waistline, but terrible for any creative baking. Hubby has become a huge source of taste testing for me. After just over a year, I can finally eat slightly more savoury sweets like pumpkin pie (no whip cream) or peanut butter or cinnamon based dishes.
I had a loaf of homemade bread to use up and thought I'd check into a cinnamon bread pudding. Then it came to mind that PUMPKIN bread pudding would be even better. And it is.
I took a base recipe I found for bread pudding and kicked it up a few notches. Know the pumpkin muffins with cream cheese centers from StarBucks? Those were the inspiration. So in went cream cheese chunks, nuts, a bit more spices, and the cream cheese drizzle. Which is so good I plan on using it for my No Fruit, Nutty, Christmas Cake.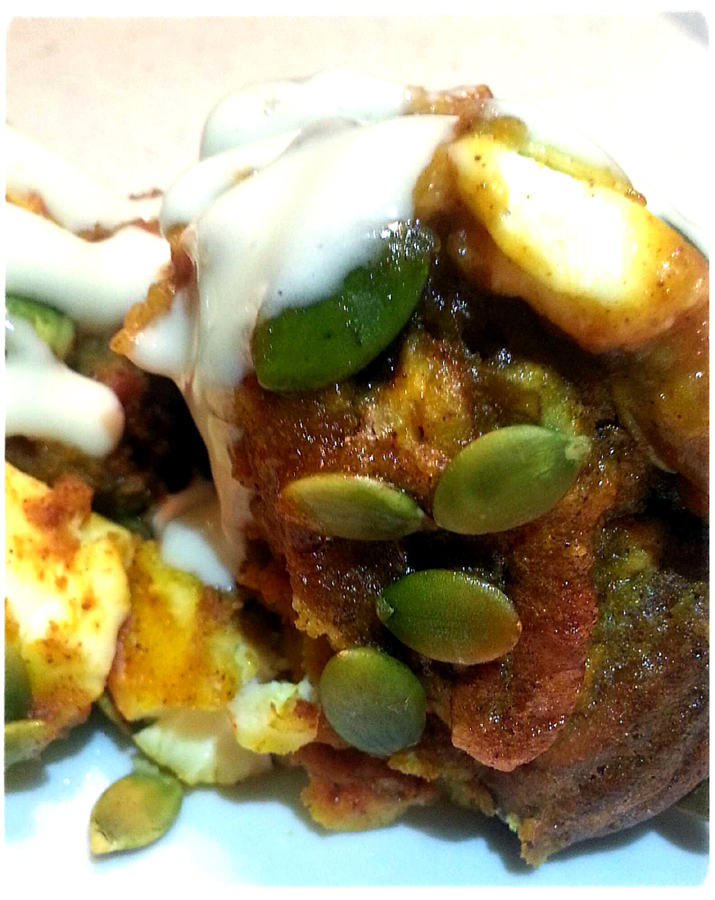 Print
Pumpkin Bread Pudding
Ingredients
Approx. 5 c

French bread cubed

1 ½

c

heavy cream with ½ c water

3

large eggs

2/3

c

granulated sugar

2/3

c

brown sugar

15

oz

/ almost 2 c pumpkin puree

1

cup

pecan halves

3

tbsp

melted butter

2

tsp

ground cinnamon

1

tsp

ground nutmeg

1

tsn ground ginger

1/4

tsp

cloves

4

oz

cold cream cheese

cubed (1/2 brick)

Pumpkin seeds
Instructions
Baking PAM spray a large casserole dish

In a bowl, cover the torn bread with the half-and-half; set aside

Once soaked up, toss in pecan halves

In another bowl, blend eggs, sugars, pumpkin, melted butter, spices

Pour pumpkin mixture over soaked bread and stir to blend

Mix in cubed cream cheese

Pour mixture into casserole dish

Sprinkle with pumpkin seeds

Bake at 375° for 45 (or until set)
Print
Cream Cheese Drizzle
Ingredients
4

oz

cream cheese

room temperature (1/2 brick)

1/2

c

powdered sugar

3 to 4

tbsp

dark spiced rum
Instructions
Beat cream cheese until very creamy

Beat in powdered sugar until well blended

Add rum until thickness desired
If you like this recipe, please share!
PUMPKIN CREAM CHEESE BREAD PUDDING WITH CREAM CHEESE DRIZZLE