---
So we've been trying to do our best to use what we have in our freezer before restocking it with meat. So after eating everything except a whole coho salmon, we were left with a slab of pork shoulder I had picked up for a bbq. I had 15lbs of meat at the start, used half on the bbq, and another chunk trying out a Phillipino fried pork dish (which it looks like I apparently forgot to post). I am just not a fan of pork, except for the universally loved heaven food called bacon. Which makes coming up with ideas to cook with it a bit challenging.
On the other hand, I do love a good al pastor or pork carnitas. So when I was perusing a local Mexican supplies store and found small bricks of achiote / annato powder and a variety of peppers, I knew of a way to use up that pork. And to keep it low carb, I used lemon juice instead of orange, which I know affects the flavour, but didn't want to add the sugars from oranges.
Note that out of the literal basket of spices I have, I am out of chili powder. So I used a couple of 2 large dried ancho chilies, gave them a quick roast off in a pan and ground them into powder.
While at the store I also picked up some Mexican cumin and some Mexican oregano. I wasn't expecting much of a difference, but the cumin had quite a different aroma, almost like anise. The oregano was very much like a Sicilian oregano that is sold on the stalks, wonderfully pungent and very granular.
Oh, secondary note, I didn't know how much pork I really had. I'd have to say at least 5lbs? Maybe 6? Alot anyways. Regardless, it made a boat load and we'll have enough for supper tomorrow as well as some for the freezer.
To keep it low carb, I not only used lemon juice, but served it with lettuce wraps to put the pork into.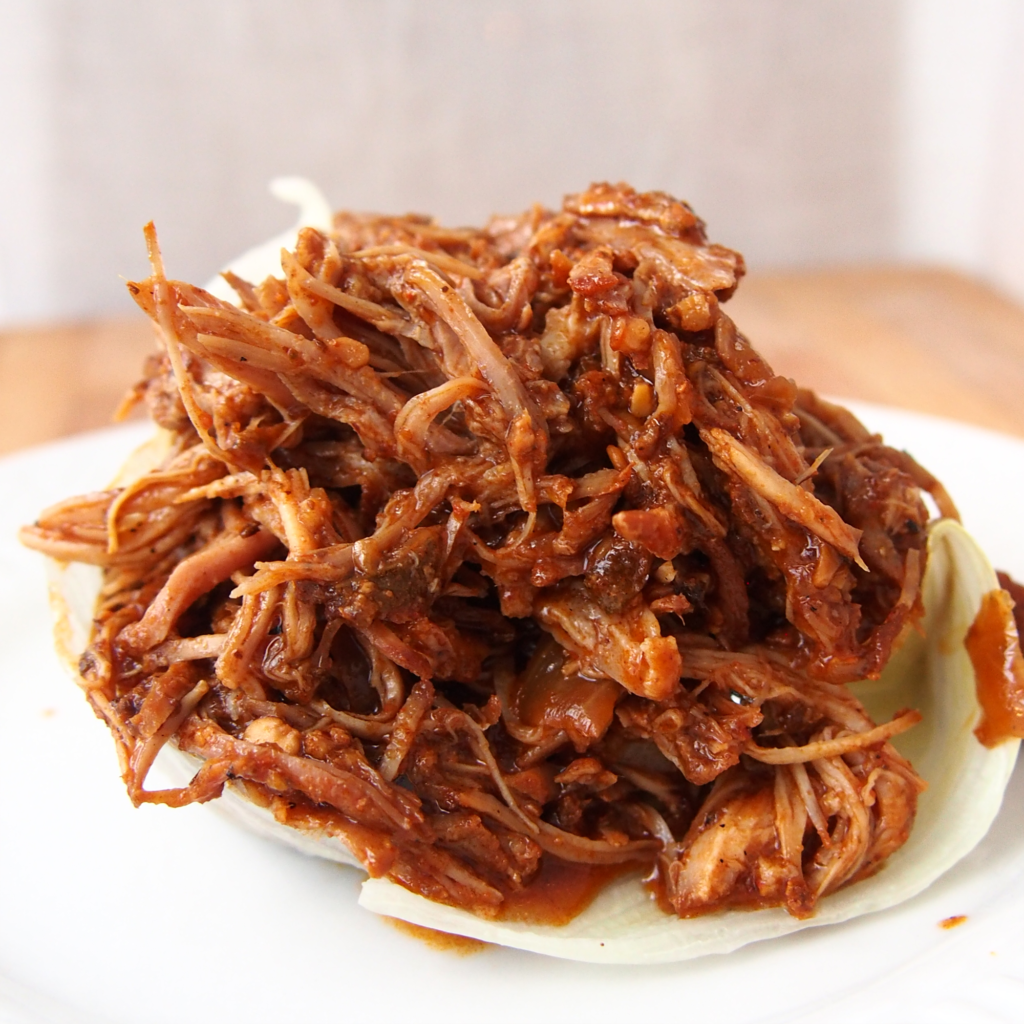 Print
Pork Carnitas
Ingredients
Spice Mix
3

tablespoon

chili powder

3

teaspoons

ground Mexican cumin

1

teaspoon

ground Indian cumin

4

teaspoons

dried Mexican oregano

4

teaspoons

salt

or more, to taste

3

teaspoons

ground black pepper

1

teaspon Tajin
Other
All purpose rub

5-6

pound

pork shoulder

excess fat trimmed and sliced into thick strips

4

tablespoons

minced garlic

1

large onion

chopped

1/2

cup

lemon juice

1/4

cup

lime juice

2

fresh thai red chilies

lightly charred (done when toasting the ancho chilies)

1 to

asted ancho chili

stem removed
Instructions
Prepare the spice mix by combining the spice ingredients in a small bowl.

Once the bulk of the fat has been trimmed from the shoulder, cut into thick strips, and give a very liberal dusting of an all-purpose rub.

Place the meat, onion, garlic, whole ancho pepper, thai chilies in a crockpot / slow cooker, dust with half the spice, and toss to mix it all up.

Sprinkle the rest of the spice mix on top and give another toss.

Pour the juice in and set the crockpot to cook for 8 hours on low or 5 hours on high.

Once complete, remove the meat from the pot and pour the juices into saucepot.

Bring to a boil, and reduce, boiling for about 5-8 minutes.

Shred the meat with 2 forks.

Pour the sauce over the meat until its your desired wetness.
Notes
I gave everything a toss about half way through, just to make sure everything was evenly coated by the juices. Adapted from
Damn Delicious