---
Years ago, we used to frequent an awesome philly cheesesteak place at the mall food court. I know, I know. It sounds so… plebeian, but who am I to turn down something tasty just because it comes from a food court. We all know the allure of those giant cinnamon buns, am I right? Anyhoos, back to the philly cheesesteaks. The restaurant would make traditional cheesesteaks, along with flavour combinations of choice. I really missed my favourite which was steak with the Italian seasoning, sauteed onions, cheese, with a squirt of mustard and mayo. The Hubby's generally involved the addition of the usual green peppers.
Now I'm not a fan of cooked green peppers, but love the taste of charred anaheims or poblanos. We had picked up some low carb pita's from our local Low Carb Grocery store and I not only had a couple steaks to use up, but also some beautiful looking anaheims I'd picked up at the market.
This recipe is so simple and just involves a handful of fresh ingredients tossed together. I tried the pita's two ways: a pita placed on top of the gooey tasty mess and scooped off the flattop and then the pita opened and the ingredients shoveled inside. I preferred the shoveled method. It just held everything together a bit more.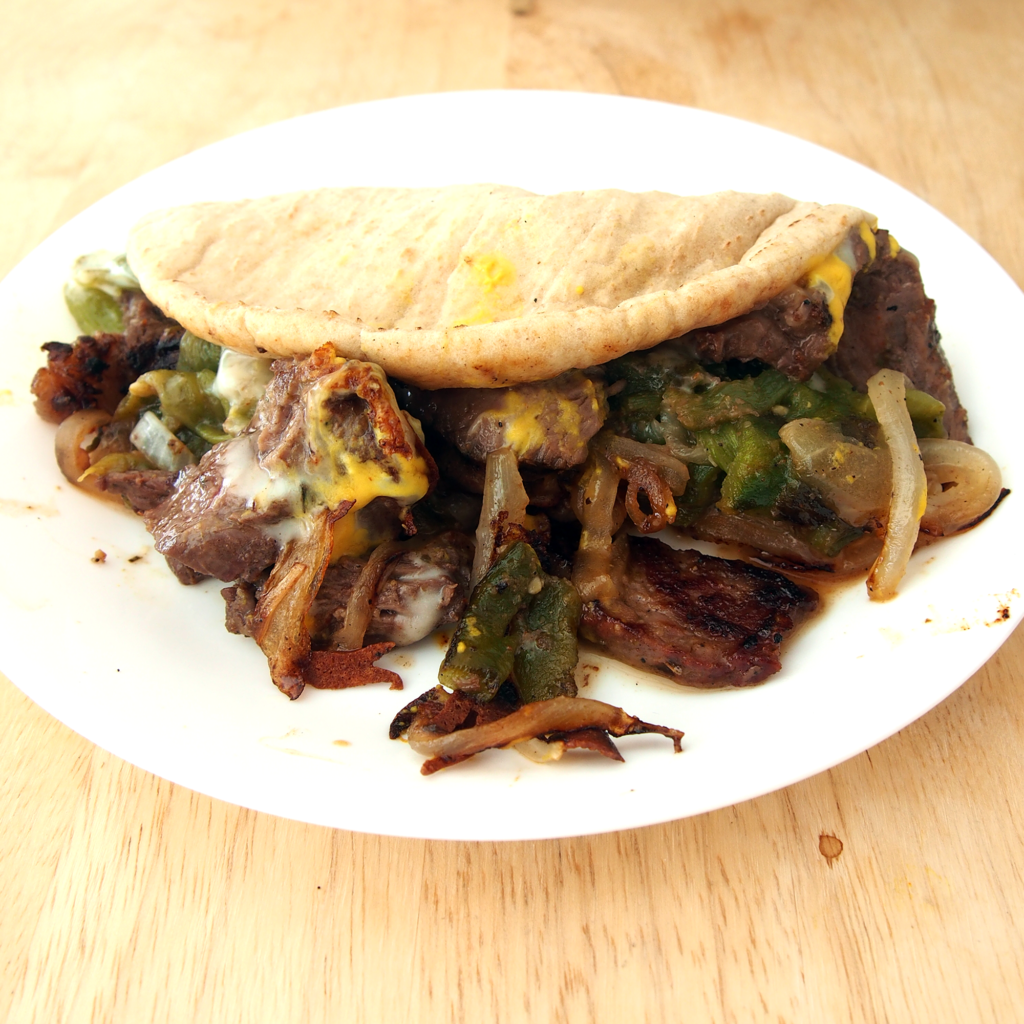 Print
Philly Cheesesteak
Ingredients
2

sirloin tip steaks

salted and sprinkled with a rub

3

anaheim peppers

charred and skins removed

1/2

large onion

sliced thin

Small pitas

Yellow mustard

Mayo

Shredded mozzarella

Garlic Mrs. Dash

Salt and pepper
Instructions
Once the anaheims have been charred and the skins removed, slice into 1 inch strips. Set aside.

On a griddle, saute the onions on medium low heat in bacon fat, seasoned with salt and pepper.

Grill the steaks until rare to medium rare.

Slice the steaks into 1/4 inch thin slices and place on the griddle, sprinkle with Mrs. Dash.

Add the onions and sliced peppers and toss to mix.

Separate into 4 rectangular piles.

Drizzle with mustard and mayo.

Sprinkle with cheese.

Put a splash of water between the piles and cover with a domed lid.

Let it steam for about a minute, then scoop into the pitas and serve!
If you like this recipe, please share!