---
So we're having a fundraiser for the SPCA & Humane Society at work tomorrow. And since its National Cupcake Day, people are to bring cupcakes. Since I wanted to limit the temptation to eat the cupcakes, while we're being good, I offered to bring homemade dog biscuits for those with furbabies. It is funds for the SPCA after all.
I also have had this dog cookie cookbook and 3 sizes of cookie cutters sitting in my cupboard for a few years. I chose the peanut butter ones because we have a jar of natural (unsalted, no sugar) peanut butter that needed some using up.
The recipe did mention that the dough was a "little tricky to work with"…. what I did not realize, was that it should have said "a royal pain in the ass to work with." Its dry. Really dry. I had to add water, little bits at a time to make it stick together. It was very crumbly as a texture and there was no kneading for 2 minutes as recommended in the recipe. Once it was wet enough it was okay, though still had to give a verrrry light dusting of flour so the roller didn't stick and keep ripping chunks out.
I know its totally against the grain for a dough which you usually want cold, but I am seriously thinking of giving just a 10 second nuke next time just to get the pb warm and a touch melty.
I know all that sounds like I'm trying to discourage you from making them, but once you get over the weirdness of working with crumbly pb dough, they do make a nice cookie, and frankly Maggie loved them, and I would make them again for that reason alone.
Print
PEANUT BUTTER DOG COOKIES
Ingredients
1 1/2

c

whole wheat flour

1/2

c

all purpose flour

1

tbsp

baking powder

1

c

peanut butter

smooth or chunky was mentioned, I used natural chunky

3/4

milk

water to moisten as you go along
Instructions
In a large bowl mix the flour and baking soda

In a small bowl, whisk the peanut butter and milk until smooth and combined (or as smooth as it gets using a chunky peanut butter)Add the pb mix to the flour, mixing until well combined

At this point it says to work into 2 pliable balls. This is where I had to sprinkle with a bit of water to get it to stick together to actually make a ball.

Roll out to 1/4″ to 1/2″ thick and cut with cookie cutter (I used a small bone shaped cutter and got about 65 cookies out of it), placing on a cookie sheet lined with foil or a silpad

Bake at 400F for 15-17 minutes

Cool on a rack and store in sealed bags in refrigerator. Or just feed directly to your furbaby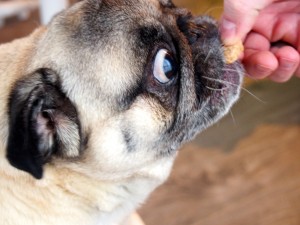 If you like this recipe, please share!
PEANUT BUTTER DOG COOKIES