---
While watching one of the many Christmas baking shows on tv this time of year, I saw a commercial for a dessert that looked like a dark rich Turkish Delight. Thankfully I caught the episode that this dish was made on when watching One World Kitchen Bakes the World with Vanessa Gianfrancesco. Its called panforte and its an Italian dessert. When watching her make it, then take a bite, with a stretchy caramel looking bite, I knew I had to try making it. Also, Hubby said I haven't made anything "weird" for a few years, so it was about time.
I dug up the recipe and picked up a few missing items that weren't in my cupboards. Mainly the fruit. But I couldn't find dried figs anywhere! For those wondering, figs and dates are NOT the same thing. So after looking at other recipes for panforte, I felt okay making a few adjustments. I candied just pineapple and cherries, and didn't add figs. If you look at other recipes you'll notice that you can add a variety of candied fruits and a variety of nuts. Since both the Hubby and I hate raisins and 90% of dried fruit, I went with just the two. Instead of pistachios, I used walnuts. Mainly because pistachios are ridiculously expensive and walnuts were on sale. I already had the hazelnuts and almonds in the freezer.

Another change I made was reserving the simple syrup from the candying process. Which, please be forewarned, candying the fruit takes a loooong time! I had planned to whip this up over an afternoon and instead had to change it a whole days production. You can always candy the fruit ahead of time to cut down on prep time.
When it came time to strain the fruit, I strained the syrups into separate containers and set it aside to cool. I also used the cherry simple syrup instead of the honey in Vanessa's recipe. Not only was it packed with flavour, but it was as thick as honey.
I would call this recipe a partial success. The reason is that although they tasted great, it came out hard as a rock. Well, hard as candy. To bring some clarity to the confusion, I looked at other recipes and discovered that although ingredients were mostly the same – the cooking time wasn't. By a lot. Whereas the original recipe called for 60 to 75 minutes of baking time, other recipes were more in the realm of 30! I have changed that time on my recipe, but have not confirmed it yet. Since I loved the taste, I'm going to try making it again and will keep this post updated.
Print
Panforte Fruit
Ingredients
2

cups

sugar

2

tablespoons

vanilla

4

tablespoons

corn syrup

1

540ml can

pineapple

(keep the juice)

1

398ml can

cherries

(keep the juice)

1/2

cup

sugar

(for dredging after drying fruit)
Instructions
Place 1 cup of sugar, 1 tablespoon vanilla, 2 tablespoons corn syrup, one of the fruits, and a total of 1 cup of juice (add water if needed) in a saucepan. (Do the pineapple and cherry in separate saucepans.)

Bring each pot to a boil, turn down to a simmer, and let lightly boil for an hour, stirring occasionally.

Strain the fruit from the syrup, reserving the syrup (in separate containers).

Place the fruit on a rack, placing the rack over a parchment lined cookie sheet.

Place in oven and bake at 250°F for 4-6 hours until the fruit has become dry.

Take half a cup of sugar and toss the fruit in the sugar, removing from sugar and setting aside.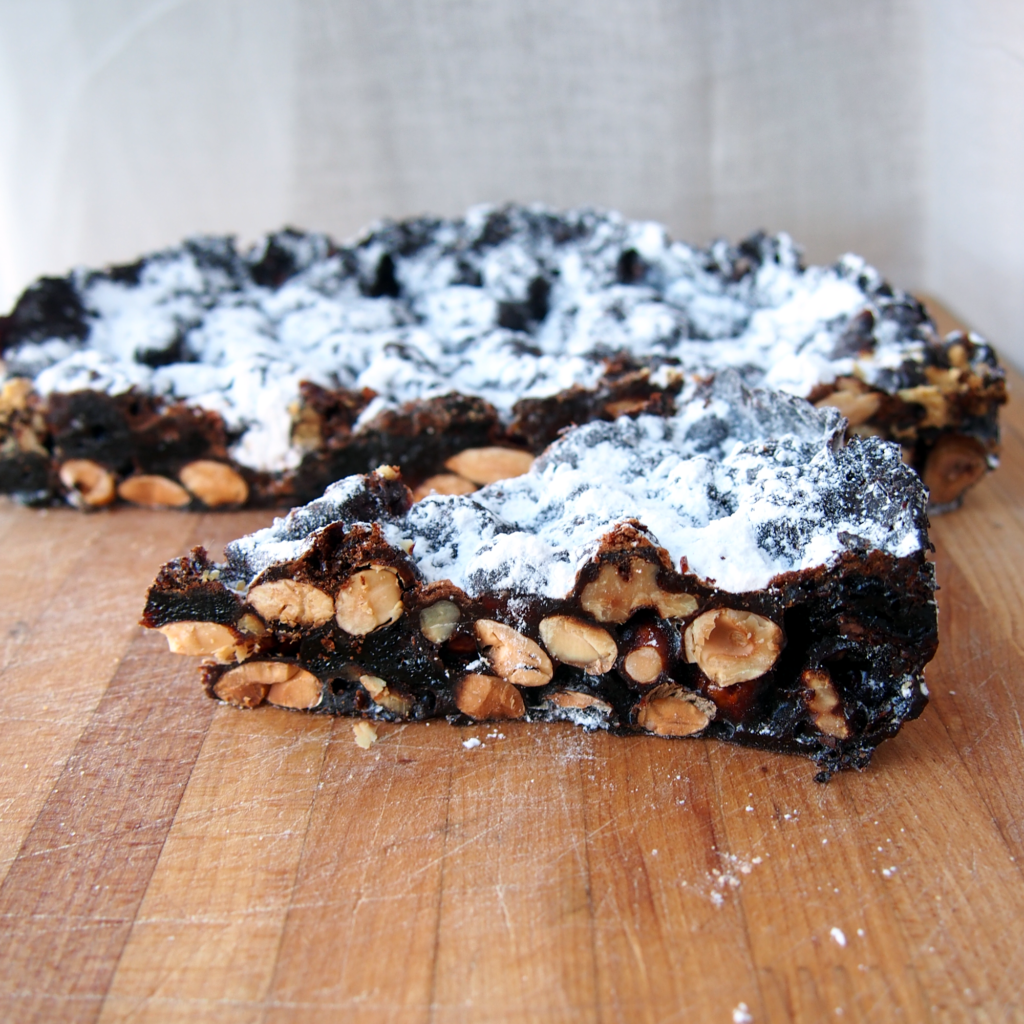 Print
Panforte
Ingredients
2/3

cup

160 ml hazelnuts, toasted

2/3

cup

160 ml almonds, toasted

2/3

cup

180 ml walnuts, toasted

Dried fruit from above

1/2

teaspoon

3 ml cinnamon, ground

1/2

teaspoon

3 ml nutmeg, ground

1/2

teaspoon

3 ml cloves, ground

1/2

cup

120 ml flour

1/2

teaspoon

3 ml of salt

1

tablespoon

15 ml) unsweetened cocoa

1/3

cup

3 oz/85 g semi-sweet chocolate chips

2/3

cup

160 ml reserved cherry simple syrup

2

cups

480 ml icing sugar, for dusting
Instructions
PAM spray an 8 inch round pan, and line completely with parchment paper. Give the parchment paper a very light spray of PAM.

In a large bowl, mix the nuts, candied fruit, cinnamon, nutmeg, cloves, flour, salt, cocoa, and chocolate chips.

In a small saucepan, warm the cherry simple syrup and 2/3 cup of white sugar. Once the sugar is melted, pour over the dry ingredients.

Mix all ingredients thoroughly. It will be a bit stiff while mixing.

Place batter into prepared pan, pat down with a spoon, pressing down to flatten.

Bake at 350°F for 30 minutes. The surface will be completely bubbly and dark brown.

Remove from oven, let cool.

Refrigerate for at least 2 hours to chill.

Remove from fridge, remove parchment paper, and cover entire surface with icing sugar.

Serve cold (or room temperature).
If you like this recipe, please share!