---
On the weekends, I sometimes luck out and get to hog the tv while the Hubby is still in bed and get to watch my fill of cooking shows. This weekend was one of those lucky times. I was watching the Barefoot Contessa and she made a pan roasted lemon chicken that filled all sorts of criteria for a must-make recipe. It was easy to put together. It looked Greek inspired in flavour – which means yummy. It was baked in one dish, meaning easy cleanup.
I added a bit more herbs and garlic than was in her recipe, but otherwise it was almost the same. I love doing one pan dishes and I love lemon and chicken. I'm not a huge fan of roast chickens, but this one pretty darn good. I had a mini bottle of dry champagne so I used that instead of wine and it worked well. Don't use a sweet champagne, though!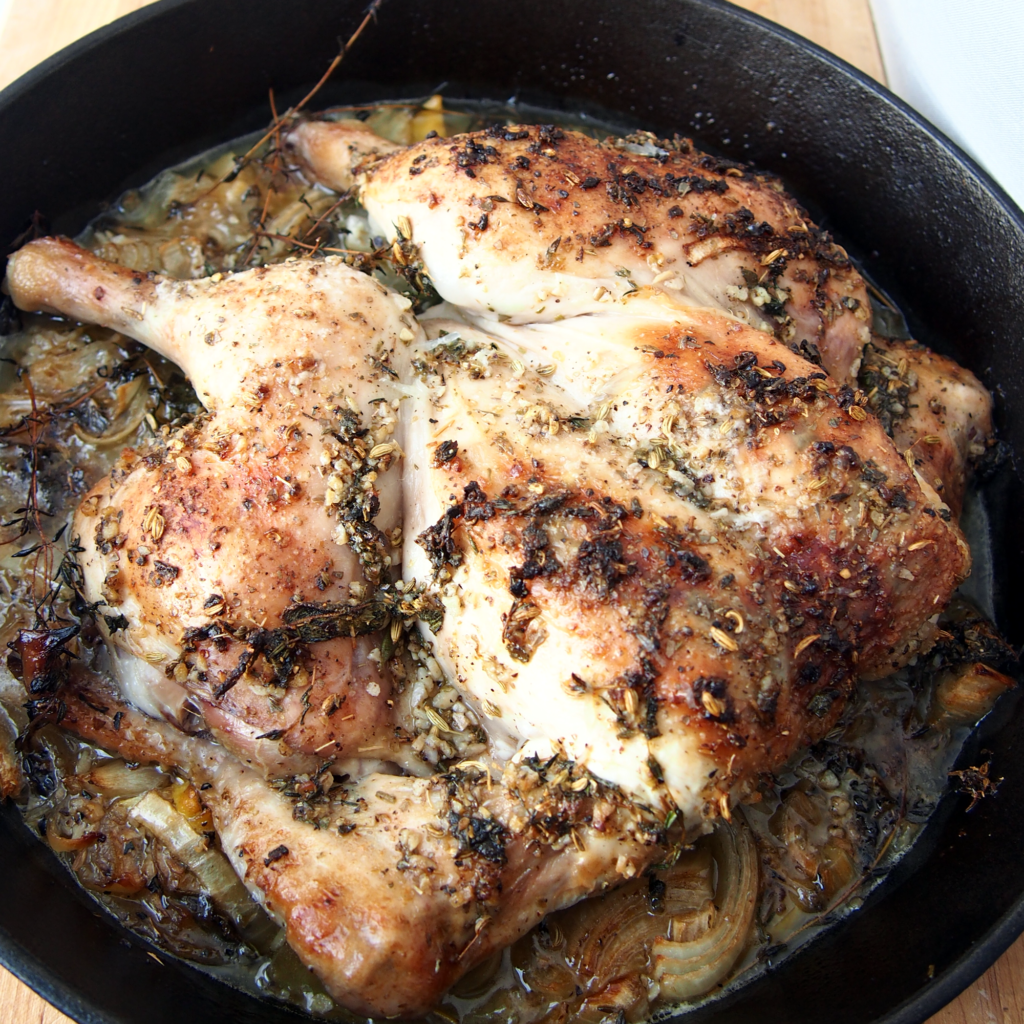 Print
Pan Roasted Lemon Chicken
Ingredients
2

teaspoons

fresh thyme leaves

2

teaspoons

fresh sage

chopped small

1

teaspoon

whole fennel seeds

1

tablespoon

dried oregano

Kosher salt and freshly ground black pepper

1/3

cup

good olive oil

1

lemon

quartered and sliced

1

yellow onion

quartered and sliced

2

tablespoons

minced garlic

1

4-pound chicken, backbone removed and butterflied

½

cup

dry white wine or dry brut champagne

Juice of 1 lemon

Mediterranean salt

Fresh ground pepper
Instructions
Preheat the oven to 450°F.

Spread the lemon slices in a cast iron skillet

Spread the sliced onions on top of the lemon.

Sprinkle 1 tablespoon of the minced garlic over.

Lay down sprigs of sage and thyme, and give a sprinkling of oregano over everything.

Place the thyme, fennel seeds, oregano, 1 tablespoon of salt, and 1 teaspoon ground pepper in a mini food processor and process until ground.

Pour the oil into a small glass measuring cup, add 1 tablespoon of minced garlic, and the herb mixture, stir to mix and set aside.

Place the butterflied chicken breast side down and brush with the herb oil.

Flip the chicken over, pat dry with a paper towel and lift the skin off the breast. Brush with the herb oil on the skin as well as under it.

Place the skillet in the oven and bake for 30 minutes.

Pour the wine/champagne around the chicken and bake for another 30 minutes.

Remove from the oven, pour the lemon juice over the chicken and set aside to rest for 10 minutes.

Serve the chicken with the pan juices.
If you like this recipe, please share!
PAN ROASTED LEMON CHICKEN