---
So Christmas cake seems to be a must-have staple for the holidays. Unfortunately, it's horrible. The main thing that ruins a Christmas cake are those nasty maraschino cherries and fruit. Followed closely by that even more nasty, sugary, crusted icing on top. Not only is it hated by me, but luckily the hubby too. So since I refuse to make things neither of us like, I decided to change things a bit and make my own version of the boozy Christmas treat, and now make a No Fruit, Nutty Christmas cake.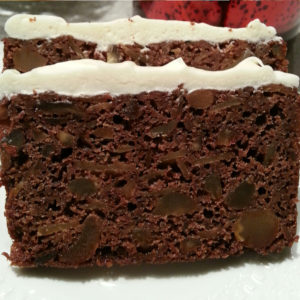 It's basically loaded with nuts. I usually make the cakes at the end of October and do a weekly basting with the years' liquor choice. I try and change the booze every year. For example, one year I used a maple whisky liqueur called Sortilege and topped the cakes with amazing Rum Cream Cheese Butter Icing, that not only has the bonus of looking like the traditional icing, but tastes 10 times better.
I've used bourbon, dark rum, whiskey, and it all depends on what flavour you're going for.
My most recent batch of No Fruit, Nutty Christmas Cake actually included fruit. Crazy, I know. It wasn't horrifying maraschino cherries, but rather bourbon soaked dark pitted cherries. I had made candied cherries for panforte last year and they tasted fantastic. Although candied cherries would be way too crunchy and hard for this recipe, boozy-soaked dark cherries are more than acceptable. Now to wait a couple months to see how it truly tastes, although the bit of batter I scooped out of the bowl, was mouth-watering all on its own.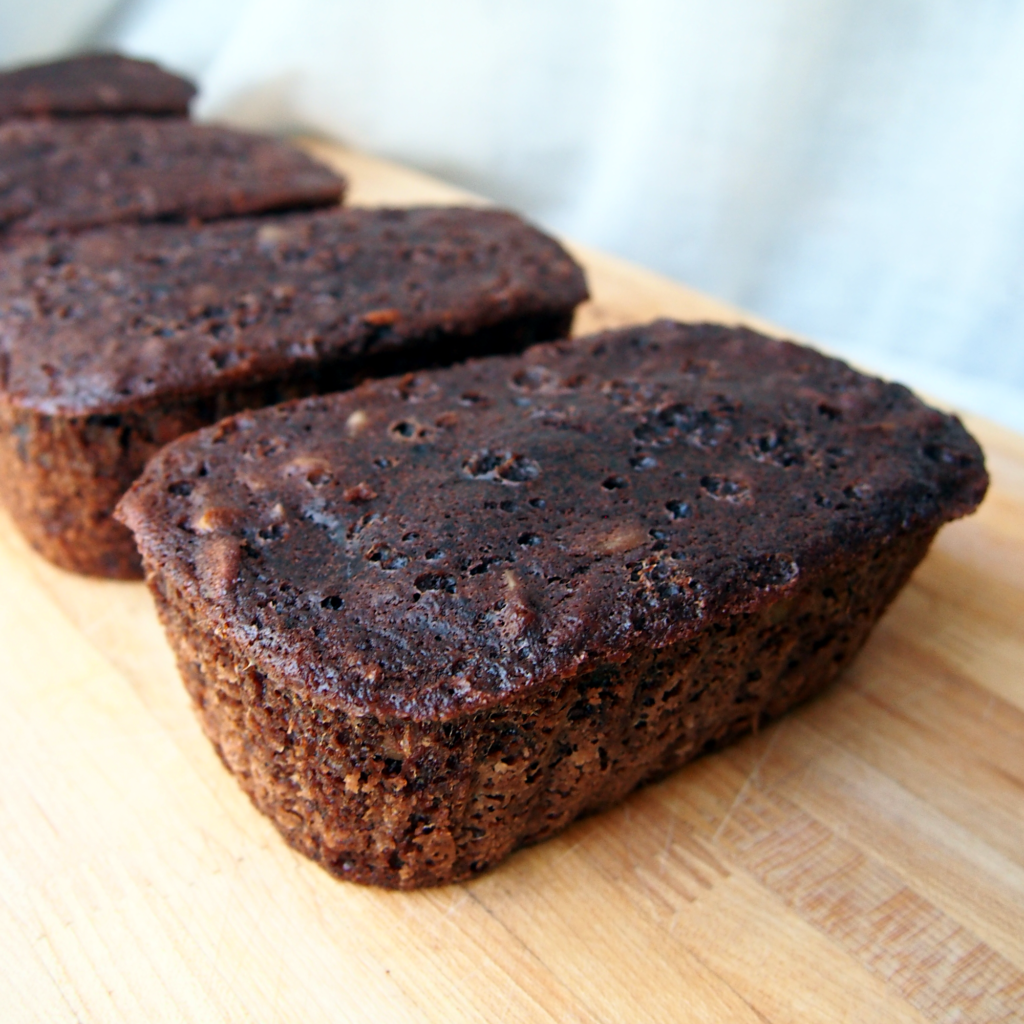 Print
No Fruit Nutty Christmas Cake
Ingredients
1

c

dark muscovado sugar

i used demerara

1

c

unsalted butter

softened

4

medium eggs

2/3

c

applesauce

2

tbs

cocoa

1

c

flour

2

tsp

baking powder

1/2

tsp

baking soda

nutmeg

cinnamon, cloves, allspice to taste

1/2

tsp

salt

1/3

c

dark rum

or booze of choice

100

g

walnut halves

chopped

100

g

slivered almonds

100

g

brazil nuts

chopped

100

g

pecans chopped
Instructions
Spray 2 tins with Baking Pam. Place on a baking sheet. Preheat oven to 300°F.

Mix flour, other dry ingredients, and spices and set aside.

Beat the butter and sugar together in a large bowl until pale and fluffy.

Beat in the eggs one at a time, until well combined.

Add applesauce and mix.

Add half the dry mix, mixing until just combined

Add half the liquor of choice and mix until well combined.

Add the remaining half the dry mix, mixing until just combined

Add the remaining half the liquor of choice and mix until well combined.

Fold in the nuts / cherries.

Spoon into the prepared tins. Tent the tins with tinfoil. Make sure to TENT slightly and not cover them flatly as the cakes will rise

Bake for about 2 1⁄2 hours.

Uncover, baste with more rum/whiskey, and bake for a further 30 minutes or until a skewer inserted into the middle comes out clean. Remove from the oven and cool in tin.

Once cooled, baste all over with rum/whiskey (removed from the tins). Wrap in parchment paper then tinfoil, store in fridge, basting once a week. When ready to serve, feel free to use topping of choice.
Notes
NOTE 1: For a small amount of fruit, both the hubby and I like pitted cherries. Use 75gm of the four nuts, instead of 100gm.
Drain the syrup from a 398ml can of pitted dark cherries, place in a jar and cover with the booze of choice. Let sit overnight. Strain the liquor off, setting aside to use in the cake batter. Give a rough chop and add with the nuts.
NOTE 2: If using mini pans, bake for 1 1/4 hours, remove the tents, bake for an additional 15 minutes (until a skewer comes out clean).
If you like this recipe, please share!
NO FRUIT, NUTTY CHRISTMAS CAKE