---
I was going through my spice cabinet the other day and noticed a packet of Moroccan seasoning. Later that week, I pulled a whole chicken out of the freezer and put the packet to good use for some Moroccan chicken with preserved lemons, olives, and potatoes, all baked in a tagine and served with a herb and preserved lemon yogurt sauce.
I love the Sadaf line of seasonings and have a variety. My favorite being sumac and now Moroccan seasoning. I used sabzi ash as well, but only had the Iranian brand Targol on hand. I found these seasonings at a local Turkish grocer. He not only has amazing olives and baklava, but olive oil, teas and coffees, preserved lemons, and some excellent breads (eg. lavash).
The yogurt sauce was excellent not only with the chicken, but the potatoes! I took the skin of the chicken and made chicken cracklins, along with air frying the wings.
Chicken Cracklins
Take the skin and spread out over a paper towel, pat dry. Sprinkle with seasoning if desired and salt.
Lightly spray the seasoned side with PAM spray.
Lay out in a basket seasoned side down and season the top.
Air fry at 425 for 7-8 minutes, flip over and air fry for an additional 7-8 minutes.
Print
Moroccan Tagine Chicken with Preserved Lemons, Olives, and Potatoes
Ingredients
1

whole

chicken*

skin removed, cut into pieces

1

small head

garlic

skins removed

1/2

cup

kalamata olives

2

preserved lemons

flesh removed, diced fine

30

grams

sun-dried tomatoes

rehydrated in 1/2 cup water

1/2

cup

chicken stock**

2

medium

potatoes

peeled and cut into small cubes
Seasoning Mix
2

tablespoon

Moroccan seasoning

2

tablespoons

sabzi ash

1

teaspoon

aleppo pepper

1

teaspoon

white pepper

1/2

teaspoon

salt

2

teaspoons

sumac
Instructions
Mix the seasoning ingredients together.

Preheat the oven to 375F.

Small chop the sun-dried tomatoes and place in the bottom of the tagine, along with the potatoes, olives, preserved lemon, and garlic. Sprinkle lightly with some of the seasoning mix, tossing to coat, and pour the stock into the tagine (along the outside so the seasoning doesn't rinse off.)

Liberally sprinkle the cut up chicken pieces with the seasoning and sear off in a frying pan. Place on top of the vegetables.

Add the lid to the tagine and place in the oven, baking for 90 minutes.
Notes
* I kept the wings whole and cut each breast in half. I made chicken cracklins out of the skin.
** I use the Knorr Chicken Stock and put the bouillon packet in the sundried tomato water.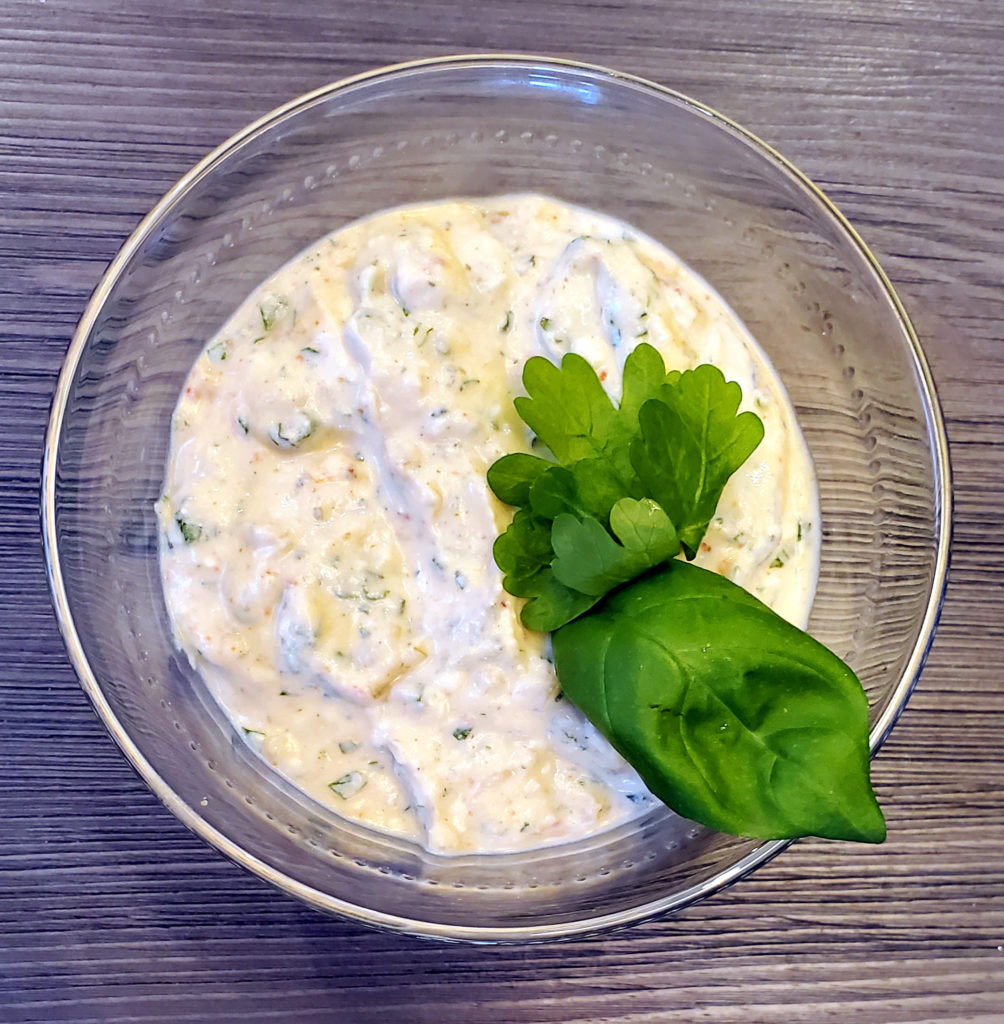 Print
Moroccan Yogurt Sauce with Preserved Lemon
Ingredients
1

cup

greek yogurt

1

preserved lemon

flesh removed, rind finely chopped

2

tablespoon

fresh lemon juice

1/2

teaspoon

harissa paste

2

tablespoons

fresh mint, basil, parsley, cilantro*

finely chopped

1/2

teaspoon

aleppo pepper

1

teaspoon

sabzi ash

1/4

teaspoon

white pepper

salt to taste
Instructions
Mix all ingredients in a bowl and set in the fridge for an hour or until needed.
Notes
* My husband is not a fan of cilantro, so I used this sparingly. The rest of the herbs were equally portioned.
If you like this recipe, please share!
MOROCCAN CHICKEN IN A TAGINE