---
Winter just will not die. Its so unusual here to begin with. This time of year the cherry blossoms should be going, the pansies starting to bloom, and people looking forward to planting their gardens in a month. El Nina is just kicking our butts and keeps dropping snow on us. In a place that in the last 5 years here, we've seen maybe 2 snowfalls a winter. So after waking up to more snow dusting the ground, I wanted to make something warm, filling, and homey like stew. We braved the slush and hit the grocery store and while loading up on veggies for the stew, I walked by the fresh peppers. The poblanos were so spectacular looking, I immediately switched my basic stew to a Mexican inspired stew.
I didn't want to make this chili, but a true stew, but with Mexican influences. So I used two fresh poblanos and one dried. Roasted tomatillos and tomatoes added depth, and the seasonings geared more towards Mexican oregano and cumin helped bring it together.
Of course it wasn't until after it was ready to eat, did the idea of using my recipe for a tequila marinade pop up. That would have added even another layer of flavour. Though truth tell, while the stew was cooking, the house already smelled like I was making tacos. If I had a tough cut of meat, I may do it next time. The stewing beef was fall-apart tender as it was and Hubby commented on how rich and dark the broth was.
I served with some garlic toast (low carb bread), but cornbread, tortillas, even a nice cheddar jalapeno biscuit would have been perfect!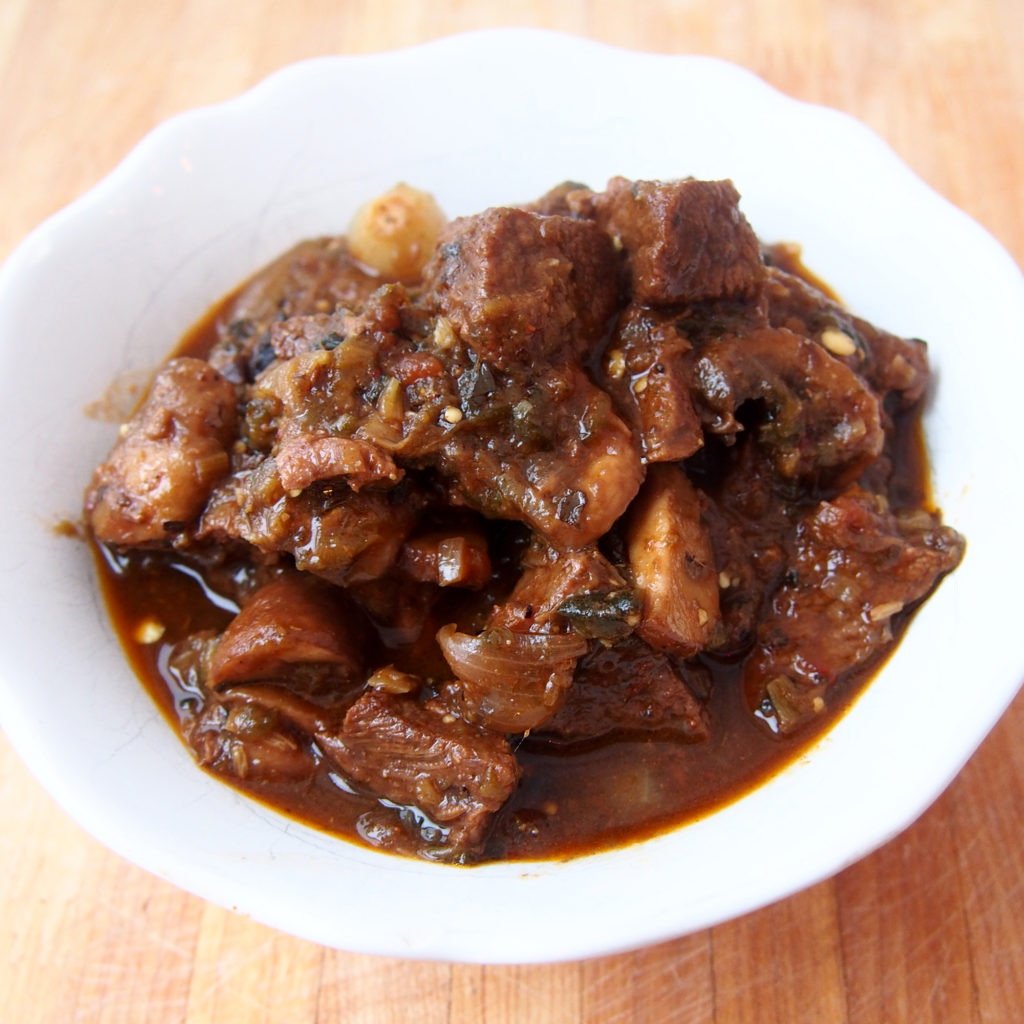 Print
Mexican Inspired Stew
Ingredients
2

lbs

stewing beef

cubed

All purpose rub

3

small leeks

1

cup

of pearl onions

3

roma tomatoes

2

fresh poblano chilies

1

dried ancho chili

4-5

small tomatillos

1

small head of garlic

1

small container crimini mushrooms

sliced thick

1

small container white button mushrooms

sliced thick

1

teaspoon

cumin seeds

2

cups

beef stock

2

bay leaves

Salt and pepper
Spice Mix
1

tablespoon

dried oregano

1

teaspoon

ground mexican oregano

1

teaspoon

ground cumin

1/2

teaspoon

ground corriander

1

teaspoon

smoked paprika

1

teaspoon

garlic powder

1

teaspoon

salt

1

teaspoon

ground pepper
Instructions
Foil line a cookie sheet and place a rack on top of it, for the tomatoes, garlic bulb, poblanos, and tomatillos, charring under the broiler until the skin has blackened. Start with about 7 minutes on high, flip the items over, then another 7 minutes. My poblanos took about 4 minutes extra.

Set aside to cool. Once cool, slip the skins off the tomatoes and the poblanos.

Place the tomatoes, poblanos, roasted garlic, and tomatillos in a small food processor and break down.

Add some oil to a dutch oven and generously dust the beef pieces with the rub and brown. Make sure to do it in batches and don't crowd the pan! Remove from pot and set aside.

Add a couple tablespoons of oil and add half the mushrooms, leeks, and pearl onions. Season with salt and pepper. Saute until the leeks soften and the mushrooms shrink a bit.

Move the mix to the side of the pan, add a bit of oil to the bare side, and brown the cumin seeds.

Mix everything together.

Add the rest of the mushrooms, stirring to mix. Saute for about another 5 minutes.

Add the beef, spices, tomato chili mix, and beef stock and stir to mix.

Nestle the whole dried ancho chili and bay leaves in.

Cover and cook for 1 1/2 hours at 350°F.
If you like this recipe, please share!