---
Well its that time of year again. Time to get ready for Thanksgiving and make all the plans and preparations, find out where everyone is meeting, and what everyone is bringing. I offered to host it, but its at one of my sisters' this time. And it was requested I bring a pumpkin pie. A plain boring pumpkin pie. I really don't think I've made simple pumpkin pie for years, my usual pumpkin pie is a maple pecan pumpkin pie. So I'm posting that recipe.
If you want just straight pumpkin pie, then just fill up the crust with the filling and don't worry about space for the topping! Its still a fine pie, just not the love child of a pecan pie and a pumpkin pie.
NOTES:
When making the pecan pumpkin pie, you don't use all the pumpkin pie filling and I generally just make a few tarts with the remainder.
For the pie in the picture I used a graham cracker crust.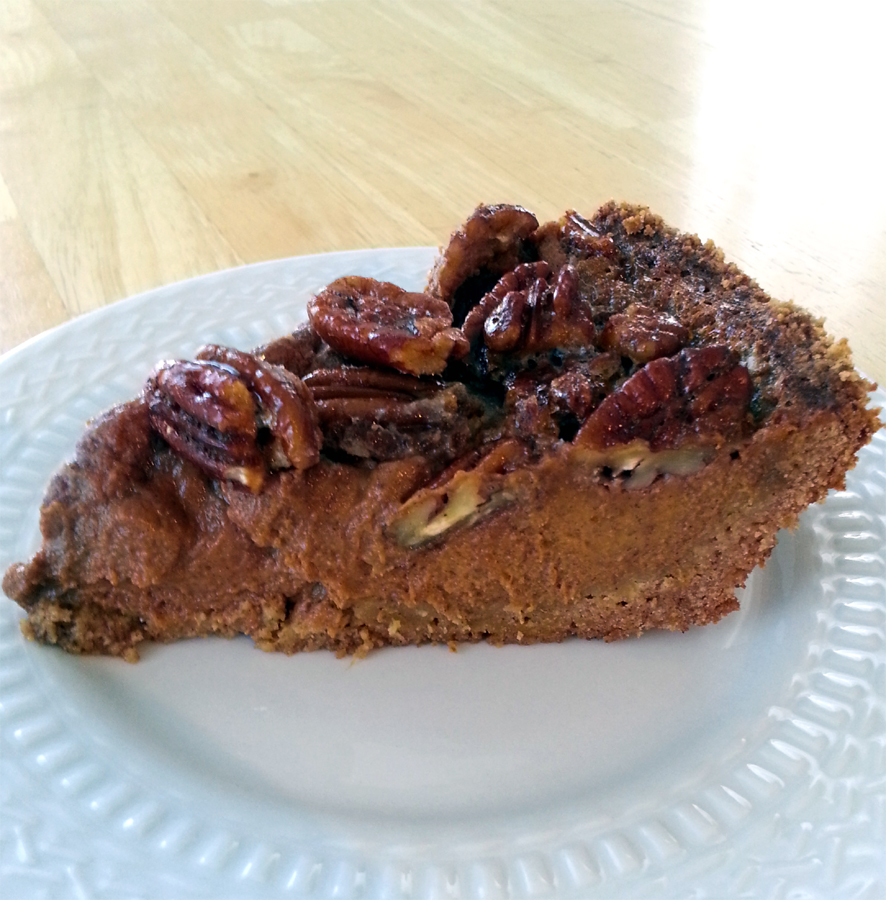 Print
Maple Pecan Pumpkin Pie
Ingredients
The Pie
1

can 540 ml pumpkin pie

4

tbs

maple syrup

1

tbsp

cinnamon

2

eggs

slightly beaten

1

tsp

freshly grated nutmeg

3/4

can Sweet & cond milk

300ml

1

tsp

ginger

1/4

tsp

ground cloves

1/4

tsp

allspice

½

tsp

salt

1 9

" pie shell or a graham cracker crust

see "crusts" on ingredient search
The Topping
2

eggs

2/3

c

corn syrup

½

c

sugar

3

tbs

butter

½

tsp

vanilla

1

c

pecans
Instructions
Mix the pie filling ingredients and fill the pie shell (of choice) about 3/4 full.

GENTLY spoon half the topping mix over the pumpkin mixture. Do not pour over as it will mix!Spooning gently will keep it nice and layered. Use a slotted spoon to scoop out the rest of the nuts and butter nuggets. You can then add any extra of the liquid after if needed.

Bake at 350°F for 45-55 minutes until a knife comes out clean.
If you like this recipe, please share!