---
Sometimes you want an old school dish, something that brings back good memories of the first time on your own or a cozy casual family dinner. This macaroni tuna casserole fits the bill in that category in all the tasty ways. I'd been craving it for a week before I finally had a chance to make it, so when I finally got to have a bit, it was extra delicious.
As a side note, I made this lactose free by using lactose free cheese and milk. I found the original recipe on My Recipes and pretty much followed it, with the addition of bacon and some seasoning. Hubby gave his stamp of approval and even had a couple servings of it for dinner and ate it again for lunch the next day.
The picture of the casserole was taken the next day and was still cold. It reheated wonderfully and Hubby commented how it tasted just a bit better, since it had time to soak everything up.
For the breadcrumbs on top, I used my homemade sourdough seasoned breadcrumbs.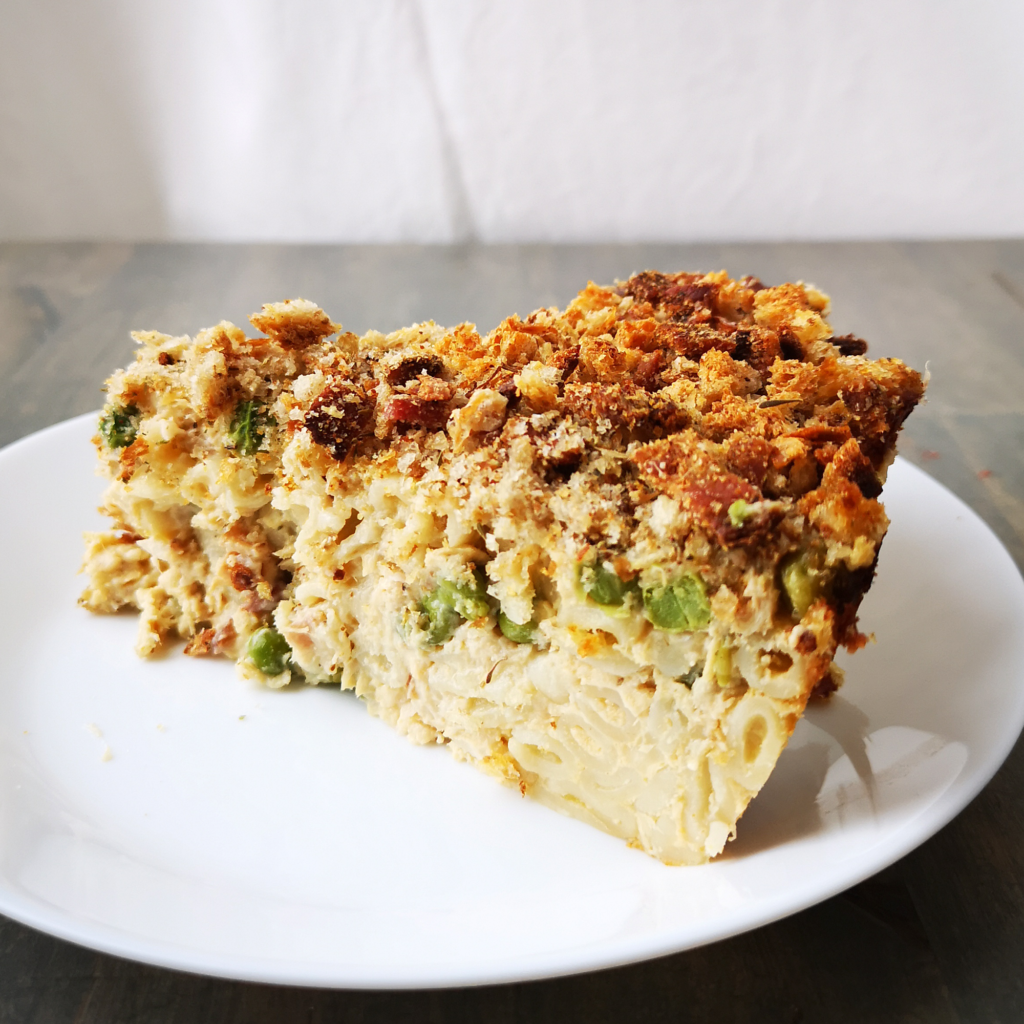 Print
Ingredients
8

ounces

uncooked elbow macaroni

2

tablespoons

canola oil

2

tablespoons

unsalted butter

1/3

cup

finely chopped red onion

1/4

cup

all-purpose flour

2 1/2

cups

milk

4

ounces

cheddar cheese

shredded

1/2

teaspoon

kosher salt

1/2

teaspoon

freshly ground black pepper

1/2

teaspoon

dry mustard

1

teaspoon

granulated garlic

5

strips cooked bacon

1

cup

frozen petite green peas

1

cup

breadcrumbs
Instructions
Preheat oven to 375°.

Pam spray a

Cook pasta according to package direction, drain and place in a large bowl.

Cut up 2 1/2 strips of the bacon and add to the bowl.

Add the peas and tuna to the bowl.

Heat oil and butter in a large sauce pot and melt the butter.

Add onion and sauté 3 minutes.

Reduce heat to medium. Sprinkle flour over onion mixture, stirring until blended; cook, stirring constantly, 2 minutes.

Gradually stir in milk, whisking.

Bring to a simmer; stir in cheddar cheese, and seasoning.

Cook 1 minute or just until cheese melts.

Pour over the ingredients in the bowl, stirring to mix.

Pour mixture into 11x7 inch pan (I used my mega 3 inch deep pie plate).

Cut up the remaining 2 1/2 strips of bacon and mix with the cup of breadcrumbs.

Spread evenly over the casserole.

Bake uncovered, at 375°, for 1 hour. **
Notes
Original recipe on

My Recipes

.
** Note it took an hour in my deep dish pie plate. The recipe called for 20 minutes, comments on the recipe said it took them around 35. I think it's very dependent on the size and color of the pan you use.
If you like this recipe, please share!