---
Hubby loves peanut butter cookies, and when we saw peanut flour at the low carb store, he immediately asked for some peanut butter cookies. Months later I finally unsealed the bag and made some.
I have to admit that I prefer the taste of Stevia over Splenda, so would make it with that next time. I used 90% lindt bar and zero carb cocoa nibs, which combined nicely with the peanuts. You get a nice crunch from the nibs and a dark chocolate taste from the bar. Texture wise, they are a bit dry like most peanut butter cookies are, but like a silky shortbread.
EDIT: I made these with almond flour in my latest batch (instead of peanut flour, just making to sure run through a sifter to get it extra fine) and instead of peanuts, I used toasted sliced almonds. I gave them to a friend who declared them delicious, along with keeping a few back for the Hubby and I. Hubby mentioned that they were very close in taste, and only liked the full peanut butter ones slightly better because he loves peanut butter.
I made them fully round, using a small cookie scoop and didn't flatten them. I cooked for about 10 minutes longer, but a few minutes at a time so they wouldn't over cook.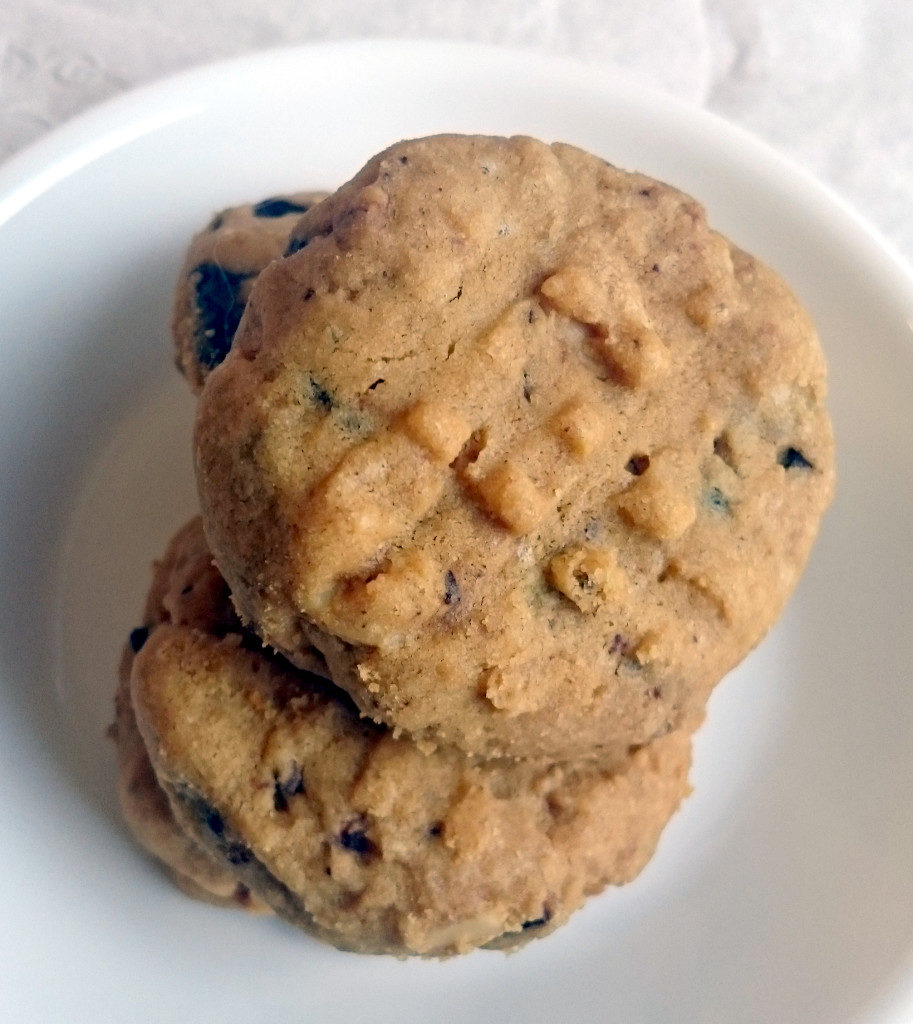 Print
Low Carb Peanut Butter Cookies
Ingredients
1/2

cup

butter or coconut oil

1/2

cup

creamy peanut butter

1/2

cup

Stevia

powder

1

tsp

vanilla extract

1

egg

1

tsp

baking soda

1

cup

peanut flour

1/4

tsp

sea salt

1/2

cup

chopped salted peanuts

2

tablespoons

of cocoa nibs

4

squares of 90% Lindt bar
Instructions
Roughly chop up the 4 squares of chocolate and place with the peanuts in a small food processor. Whiz until the peanuts are in small pieces. Add the cocoa nibs and set aside.

Sift the peanut flour, salt, and baking soda into a small bowl (I just put through a small mesh strainer into the bowl, using a spoon to gently push it through).

In a medium bowl blend the peanut butter and butter until silky smooth. Add the Stevia and blend for about 3 minutes until smooth and fluffy. Add the vanilla and egg and blend.

Add the dry ingredients in batches. Its a very fine powder texture so would just billow out of your bowl if dumped in all at once.

Fold in your nuts and chocolate bits mixture.

Form 1 to 1 1/2" balls and place on a silpad (or ungreased) cookie sheet. Press gently with a fork then turn the fork 90° and press down a little more to get the classic crosshatched look.

Bake for 10-12 minutes at 325°F.

Remove cookie sheet from oven and let cool for a couple minutes. Gently remove the cookies to a cooling rack and let complete cooking.
Notes
I didn't have presoftened butter, so just nuked the butter until it was soft with just a bit of melted butter. I like the texture it created versus just a softened butter.
If you like this recipe, please share!
LOW CARB PEANUT BUTTER COOKIES