---
I had quite a bit of fresh squeezed lemon juice to use up after zesting a bunch for cookies. So I went searching for recipes. Earlier this year, I had bought a small tin of lemon thins and really wanted to find a similar recipe. Lemon thins are basically lemon wafers, thin, with a pleasing snap. I found this recipe and only made a couple edits. They came out nicely, with a lovely zesty lemon zip, like a crispy shortbread.
I did notice that the timing was right down to the wire. When baking, start at 6 minutes and then go in 30 second increments. The perfect time for my stove (sea level, convection) was 6 1/2 minutes. At 7 minutes they turned a little too brown.
I also only rolled them out to 1/8″ and I used a Wilton rolling pin with the guide rings to get an even depth of cookie. It made about 50-55 cookies depending on your cutter.
I tried a twist on my cookies this year and reduced passionfruit juice down instead of lemon. It unfortunately didn't impart quite enough flavor, so I think I would try actual passionfruit pulp next time.
I also did them in my Ninja Foodie 8-in-1 and they baked perfectly at 4 minutes (turning the pan 180 degrees after 2 minutes) at 375F. I used a snowflake cutter this time and they came out perfectly at the 4-minute mark.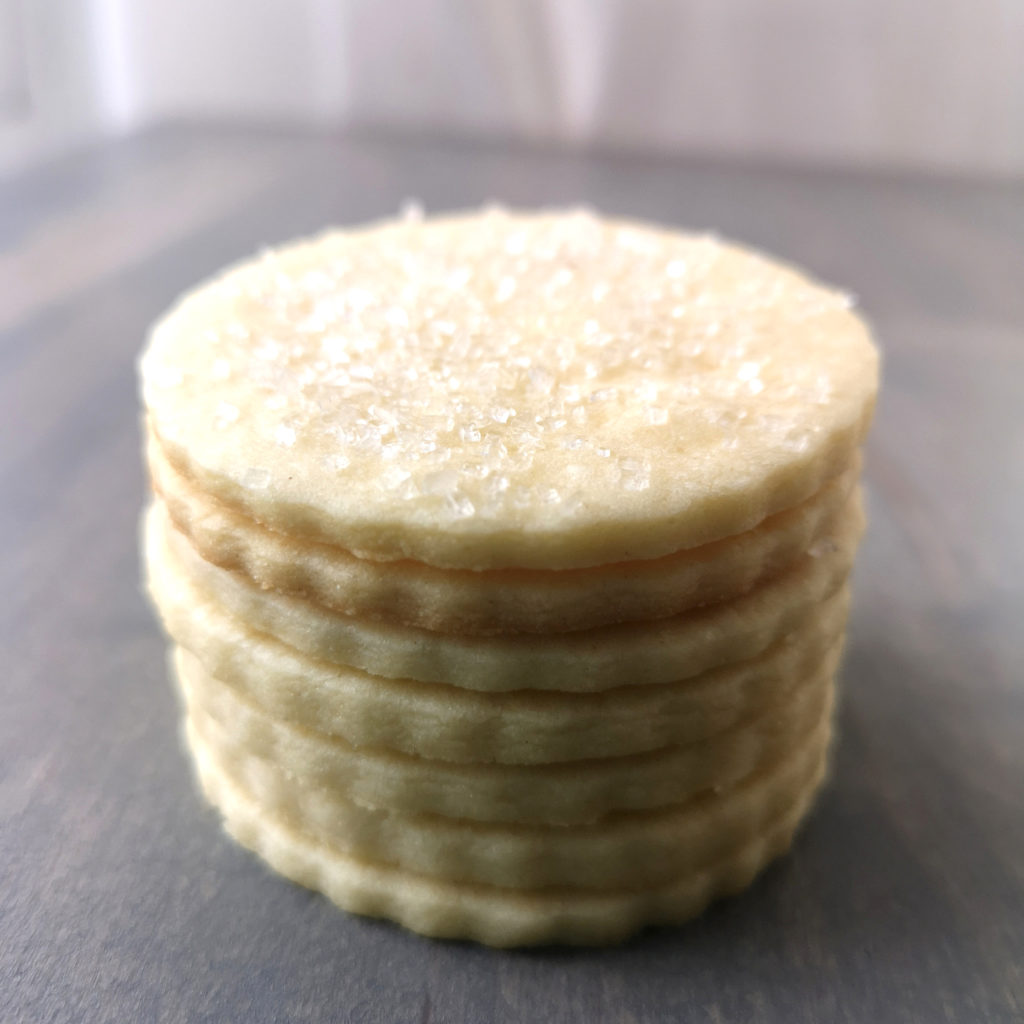 Print
Lemon Thins Cookies
Ingredients
1/4

cup

fresh lemon juice

3/4

cup

unsalted butter

cut into several pieces

2 1/2

cups

all-purpose flour

1/4

teaspoon

baking soda

1

large egg

1

large egg yolk

1

cup

sugar

1

teaspoon

lemon extract

1/4

teaspoon

salt

White sparkling sugar
Instructions
In a small ceramic pot, bring the lemon juice to a boil, whisking while it heats. Let it boil for about 5 minutes, until it reduces to about a tablespoon.

Turn down the heat to medium low and add the butter, a few pieces at a time. Whisking until the butter has melted.

Remove from the heat and set aside.

Sift the flour, add the baking soda and salt, and set aside.

Place the egg and egg yolk in a large bowl, and using a hand mixer, beat until the egg has combined.

Add the sugar and beat until the mixture is creamy and pale.

While beating on low, drizzle in the melted butter mixture, until everything is blended.

Add half of the flour mixture until everything is blended, add the other half and mix only until everything is blended.

Cover the bowl with saran wrap and set in the fridge for an hour.

Cut the dough into 4 equal portions.

Place a portion on a piece of parchment paper, press flat with your hand. Place another piece of parchment paper on top and roll out to 1/8" thick. Slip the parchment onto a cookie sheet and repeat with each portion, stacking each piece on top of each other.

Place the cookie sheet into the fridge for 30 minutes.

Line an insulated baking sheet with a silpat pad and preheat the oven to 400°F.

Cut with a 2 1/2" cookie cutter, remove from the parchment paper, sprinkle with the sparkling sugar and place on the silpat pad about an inch apart.

Bake the cookies for 6 minutes to start, baking for an additional 30 seconds at a time, until the cookies are baked, but NOT brown.

Remove from the oven and let cool for about 5 minutes on the tray then move to a cooling rack.
Notes
Optional: Add the zest of 3 lemons, finely chopped.
I rotated a couple insulated pans, rolling out excess, and putting it into the fridge.
Adapted from The Tummy Train
If you like this recipe, please share!