---
I love lemon desserts and so does a friend of ours, whose birthday was this month. Due to the whole quarantine situation we couldn't celebrate in-person. As I knew she loved lemon sweets, I decided to make a lemon pound cake to drop off (with a few other goodies).
I made her a classic lemon pound cake, with some frozen blueberries thrown in. When it cooled I drizzled it with lemon glaze and topped off with lemon zest. According to her (and her husband), it was delicious and half eaten by the evening.
The Hubby was a little saddened by the fact that we couldn't have hung around long enough to for a slice. So I decided to make another for ourselves. Same recipe, same ingredients, same process. And wow. Not sure where I slipped up. It was like it exploded and imploded at the same time, and then caught on fire.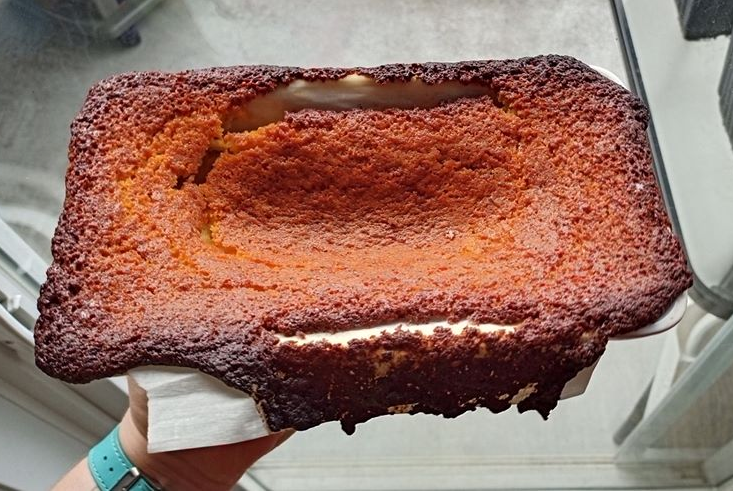 But as Julia Child said,
"No matter what happens in the kitchen, never apologize."
So I took my pictures and tossed the recipe. But of course both the Hubby and I were still craving a lemon
pound cake of our own. That day I stopped in at the pharmacy to pick up a few items and as I was standing 6-feet away in the line-up at the register, I looked to the side and there was a single copy of Taste of Home there. With a scrumptious and giant lemon pound bundt cake on the cover!
I grabbed the copy without even thinking about it and as soon as I got home, flipped to the recipe page. It sounded perfect!
I did make few small changes. I added the zest of 3 lemons (which was probably 2 heaping tablespoons), brushed on a lemon simple syrup as soon as it came out of the pan, and finally used a 2-ingredient lemon glaze instead of the sour-cream glaze.
It was delicious! As a bonus, it didn't explode or implode. It didn't catch on fire. It had the small crumb of a proper pound cake, yet still managed to be light, fluffy, and moist.
And it was lemony! When I looked at the amount of sugar in the recipe, I was worried that it would end up being an overly-sweet travesty, but it wasn't.
Now mind you, this recipe makes a large bundt cake. Probably more suitable to a brunch with friends, but not a huge obstacle for two people on the quarantine diet.
Print
Ingredients
Cake Batter
1

cup

butter

(margarine)

3

cups

granulated sugar

6

large

eggs

(room temperature)

5

tablespoons

lemon juice

zest of 3 lemons

1

teaspoon

lemon extract

3

cups

all-purpose flour

1/4

teaspoon

salt

1/2

teaspoon

baking soda

1 1/4

cups

sour cream
Lemon Simple Syrup
1/4

cup

water

1/4

cup

granulated sugar

2

tablespoons

lemon juice
Lemon Glaze
1

cup

icing sugar

(also known as confectioners sugar)

2-3

tablespoons

lemon juice
Instructions
Lemon Simple Syrup
Combine the sugar and water in a small saucepan and bring to a boil.

Add the lemon juice and let boil for 1 minute. Remove from the heat and set aside to cool.
The Cake
First you want to cream the butter and sugar. As I used margarine, I just beat the margarine for a few seconds and then added the sugar a cup at a time. Let it incorporate and get fluffy, then scrape down the sides of the bowl, add the next cup of sugar, and so on until all the sugar is incorporated. Let beat for an additional minute or so.

Add the eggs, 1 egg at a time. Beating until each egg is incorporated. Scrape down the sides of the bowl every couple of eggs.

Add the lemon juice, zest, and extract. Beat until just incorporated.

Combine the flour, baking soda and salt. Add the flour mix and sour cream to the wet mix, alternating ingredients and only mixing until blended. Scrape down the sides in between mixing.

Pour into a WELL greased bundt pan. Bake at 350°F for 55 - 65 minutes (until a skewer comes out clean). The wide range of baking time is very dependent on the stove.

Cool for 10 minutes and then remove immediately from the pan and set on a wire rack to cool.

Baste all over with the lemon simple syrup.

Let cool completely before glazing.
Glazing
Place the icing sugar in a bowl and add the lemon juice a tablespoon at a time, stirring until it turns a very thick consistency. You don't want it too runny or it will just run off the cake and pool at the bottom.

Using a spoon, drizzle over the cake.
Notes
The original recipe for this came from the April / May 2020 copy of Taste of Home.
If you like this recipe, please share!