---
We went to one of our favourite butchers today to stock up on some dinners for next week. Chicken, steaks, the usual. But he did have some lamb shanks on for cheap and they were a decent size. Because they do take a couple hours to cook, and it was the weekend, I decided to make ossobuco. As it can be made on the stovetop and left, mostly, to do its thing, its a good dish to make on a warm day. (Much warmer and supper would be done on the bbq.)
Shanks aren't the best cut of meat. And lamb tends to have a bit of weird fat. But cooked slowly in wine, you just work your way around those issues. And its a great method for doing a cut of meat like a small roast that requires a bit of cooking time.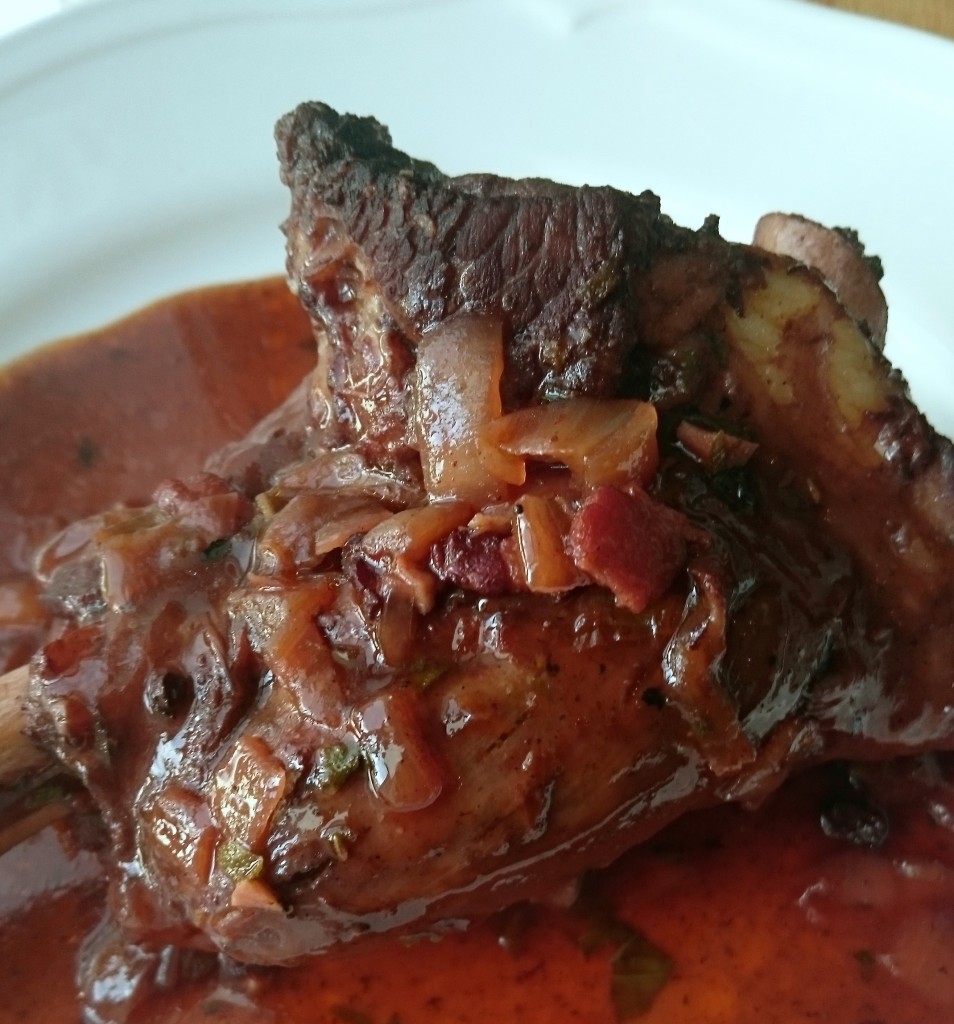 Print
Lamb Shank Ossobuco
Ingredients
2

lamb shanks

outer film removed

4

strips bacon

1

onion

finely chopped

Rub of choice

Garlic powder

Dusting of low carb thickener

1

cup

of dry red wine

1-2

cups

beef stock

4

cloves

garlic

minced

4

tablespoons

fresh oregano

chopped fine

Salt and pepper to taste
Instructions
Cut the bacon into small pieces and put in a large sauce pot (cold, not preheated) and brown.

Turn down the heat, and add the onion and minced garlic and cook on low until soft.

Make sure the sheathing is removed from the shank, stab randomly all over with a small knife, and give a dusting of rub and garlic powder. Brown on all sides in the pot, then remove.

Deglaze the pan with half a cup of wine. Add half of the fresh chopped oregano and let thicken. Add the remaining half cup of wine and 1 cup of stock and a dusting of your low carb thickener.

Let it just begin to thicken then add the bacon and onion mix back in, stir to mix.

Put the browned shanks back in, turning to coat.

Sprinkle with the remaining herbs and give a quick stir.

Cover with a lid and cook for 1 1/2 - 2 hours, turning shanks and adding more stock (or wine) as the liquid disappears.

Once the shanks have been cooked through and are ready to fall off the bone, remove and cover with tin foil. Bring the remaining liquid up to a boil and once it has thickened, pour into your gravy boat for a nice rich gravy!
If you like this recipe, please share!