---
I had taken a couple steaks out of the freezer for supper, but wasn't quite sure what to do with them (besides the usual salt and throw on the BBQ). I knew I had some cabbage I needed to use up, but didn't want sauerkraut or even coleslaw. A general steak and cabbage search started bringing up Korean recipes. As both the Hubby and I love spicy dishes, a perfect way to bring meat, kimchi, and veggies into one dish was Korean beef and kimchi!
I modified a recipe found on Williams Sonoma, using one of my favorite hot sauces – sambal ooelek (the other being Franks Red Hot) and Splenda instead of sugar. So it's low carb! I didn't have mushrooms, but next time I make the dish, I'll definitely add them. I also plan on picking up some gochujang (Korean hot sauce), as it will add a slightly different level of heat and taste.
We had the leftovers the next day and to heat up, I just tossed it back into a hot wok with a bit of oil, tossing until it was heated through. Even though the kimchi had a kick, I didn't find the dish overly spicy, even after sitting for a day. Next time, I may add a bit more hot sauce to give us more of a sweat.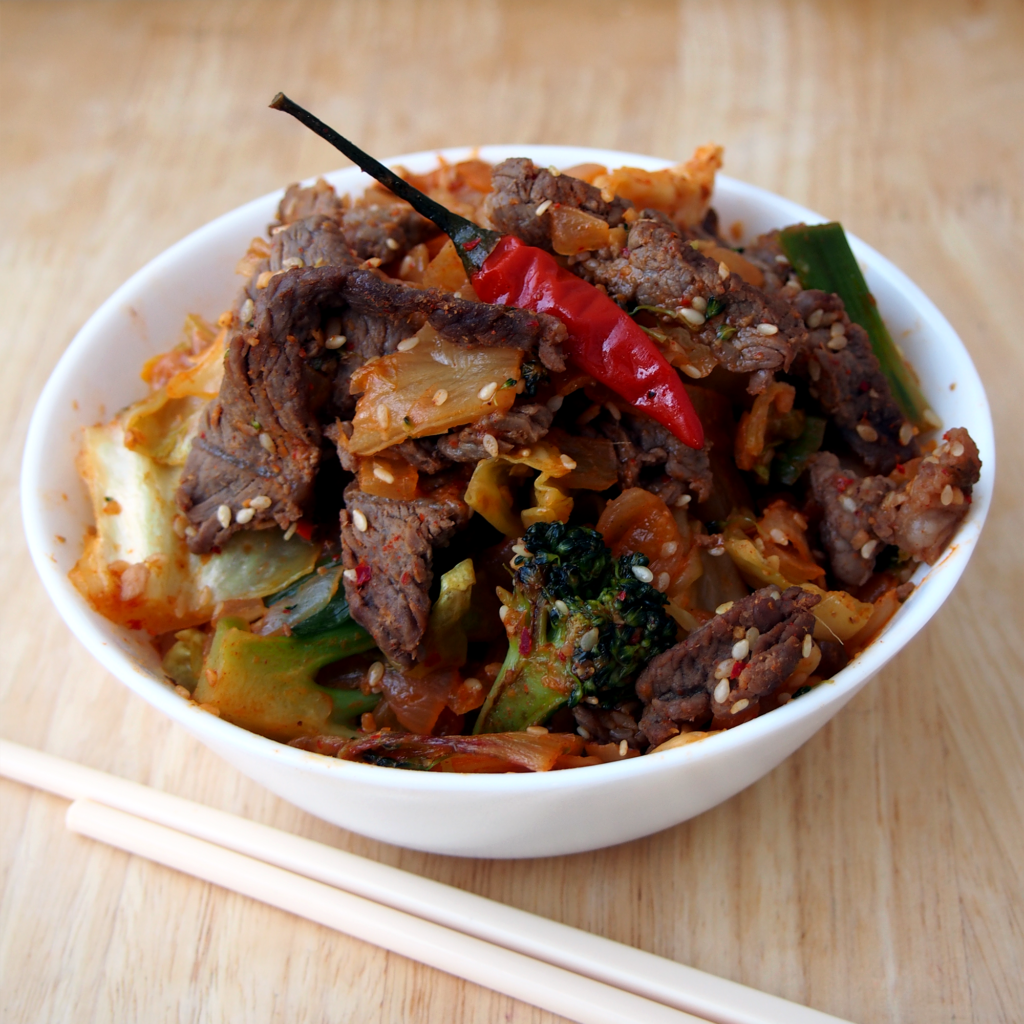 Print
Korean Beef and Kimchi
Ingredients
Marinade
3

tablespoons

sesame oil

1

tablespoon

soy sauce

1

tablespoon

mirin*

1

teaspoon

crushed garlic

1

teaspoon

ginger paste

2

teaspoons

sambal ooelek sauce or Korean hot sauce

2

tablespoons

toasted sesame seeds
Other
2

small steaks

sliced against the grain into thin strips

2

tablespoons

oil

1

tablespoon

ginger paste

or grated

1

tablespoon

crushed garlic

1

small pint of mushrooms

stemmed and thinly sliced

1

small onion

2

broccoli florets

sliced (about 1/2 cups' worth)

6

green onions

cut into 1 inch pieces

1

cup

kimchi

coarsely chopped**
Instructions
Take half the marinade and the steaks and place in a ziploc bag. Massage and let marinate for the day. (Cover the remaining marinade and set in the fridge until cooking.)

Warm a wok over medium-high heat and add 1 Tbs. of oil. Remove the meat from the marinade, letting any excess liquid drain off.

Add the steak to the wok and stir-fry just until it begins to brown, 2 to 3 minutes.

Remove the steak and set aside.

Warm the remaining tablespoon of oil in the wok, then add the mushrooms, broccoli, garlic, ginger paste, and onions.

Stir-fry until the vegetables begin to soften, 2 to 3 minutes.

Add the green onions and kimchi and stir-fry and additional 2 to 3 minutes.

Add the reserved sauce and the beef, stirring well to coat.
Notes
* I didn't have mirin, so I used 1 tablespoon of rice wine vinegar and 1/2 tablespoon of Splenda.
** If you don't like any spice, feel free to use regular green cabbage, or a mix of cabbage and kimchi. Add the cabbage at the mushrooms stage if you like it wilted and at the green onion stage if you like it a bit more crisp. Adapted from
Williams Sonoma