---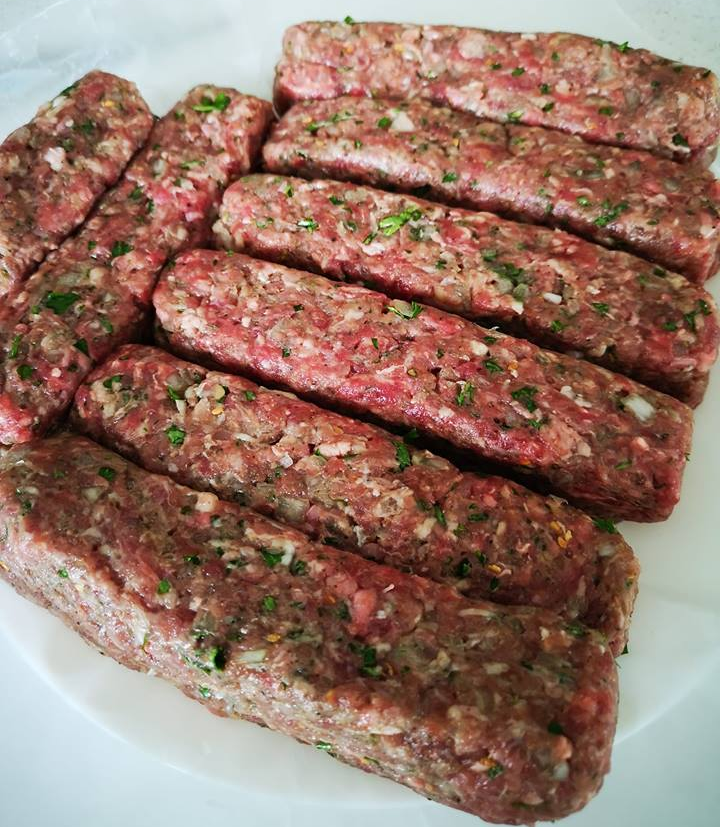 Inspired by one of my favourite shows: Diners, Drive-Ins and Dives! These Turkish meaty delights have a few variations on their spelling: Kebab, kabab, kebob, kabob. Anyway you say it or spell it, they still taste good.
Sometimes wrapped around a stick, I find forming a squared sausage shape and thrown on the BBQ works just fine. I like squaring them off as you can give each side equal time. Spares you from having to take them off a charred skewer, at the very least.
And of course, tzatziki is good on anything. Bread, meat, veggies, heck, I could probably eat an aquariums' worth of gravel with it smeared on top.
And it goes awesome with the Lebanese salad fattoush. The lemon zip of the salad pairs well with the meat. My latest edition included zatar spice mix, which I found awesome. A good sprinkling of sabzi ash would be good too, but I'd run out. I also found a low carb lavash bread that I buttered, sprinkled with sesame seeds, and gave a brief warm up on the BBQ. Grab a square of it, slather some tzatziki sauce on it, and roll it around a kabob, maybe add some Lebanese pickles? Devine!
Kofta Kabobs
2014-04-13 14:41:15
Ingredients
1lb ground beef
1lb mild italian sausage meat / ground pork
1 tablespoon minced garlic
1/2 tablespoon sea salt
3 tablespoons grated onion (juice squeezed out)
3 tablespoons chopped fresh parsley**
1 teaspoon ground coriander
1 heaping teaspoon ground cumin
1/2 teaspoon ground cinnamon
1 tablespoon dried oregano
1 teaspoon cayenne pepper
1 teaspoon grated ginger
1 tablespoon zatar blend
Freshly ground black pepper
Instructions
Mix the above ingredients well with hands, place in fridge for about 15 minutes to set
Divide into 6-7 large portions and form into equal long cigar shapes
Place in freezer for about 20 minutes
Brush lightly with a high smoke point oil (ex. avocado oil) and place on BBQ.
BBQ until crispy on the outside and cooked on the inside
** I used fresh parsley over fresh cilantro as the hubby doesn't like the taste of cilantro. Worked just fine
Cooking Is Like Love http://cookingislikelove.com/wp/
Tzatziki Sauce
2014-04-13 14:42:17
Ingredients
3 tablespoons olive oil
1 tablespoon fresh lemon juice
1 tablespoon minced garlic
Sea salt to taste
1 teaspoon fresh cracked pepper
1 cup thick Greek yogurt*
1 cup sour cream
1 small cucumber, peeled, deseeded, and grated or chopped fine
1 tablespoon chopped fresh dill
1 teaspoon oregano
1 teaspoon zatar spice**
Instructions
Mix all the ingredients and put in fridge.
Notes
* To keep it low carb, use a high fat percentage yogurt (6%, 11%, etc.). The carbs can be as low as 5 or 6 per 3/4 cup!
** Sabzi ash is also a nice mix. I would have used it, if I had any.
Cooking Is Like Love http://cookingislikelove.com/wp/
Tzatziki Sauce 2
2015-07-26 17:29:23
Ingredients
3/4 cup sour cream
1 1/2 tablespoons lemon juice
1 heaping tablespoon fresh dill, finely chopped
1/2 teaspoon dried basil
S&P to taste
1 tablespoon minced garlic
1/2 cucumber, grated and squeezed out
Drizzle of olive oil
Instructions
Combined all the ingredients in a bowl and store in fridge.
Notes
Nice alternative when there isn't any yogurt on hand.
Cooking Is Like Love http://cookingislikelove.com/wp/
KOFTA KABOBS WITH HOMEMADE TZATZIKI