---
This soup was one of three options for using up jalapenos, chicken, and bacon in my fridge. I went with soup as it gave me a bit more to work with, which meant more soups for my lunches.
I originally wanted to put cream cheese in, but it seemed to be the only cheese I didn't have in my fridge. So I used cream (light half n' half) instead and a bit extra cheese and it came out as a creamy tasty soup. I might try cream cheese next time just to see what flavour is added, but would make again with the cream no problem.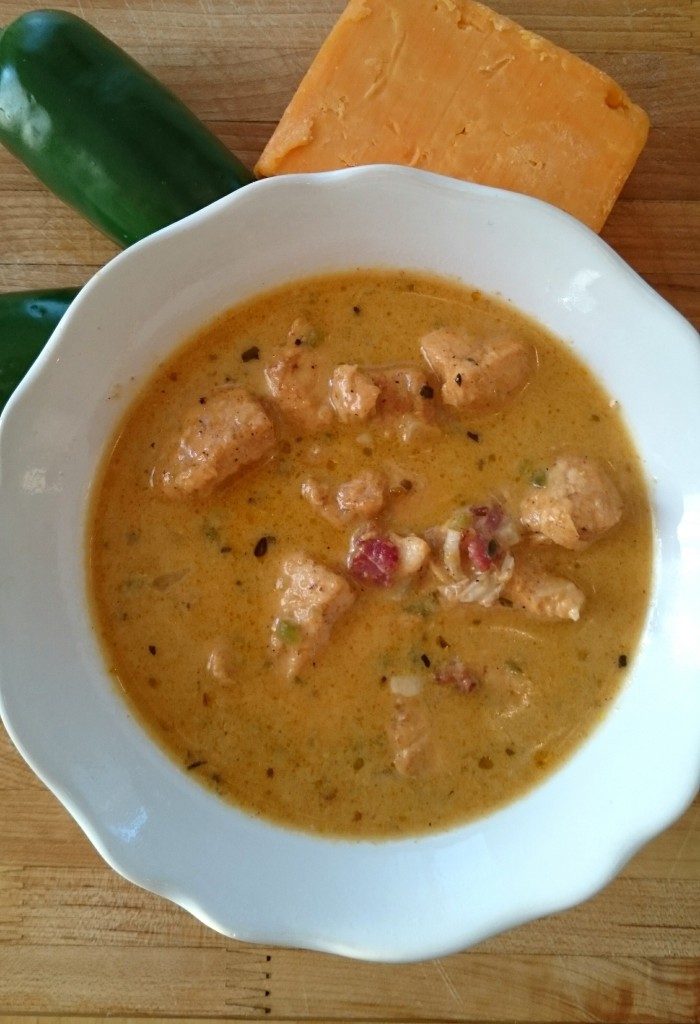 Print
Jalapeno Cheddar Chicken Soup
Ingredients
2

jalapenos

1

small onion

4

strips of bacon

cut into small pieces

Thickening agent of choice **

6

chicken breasts

sprinkled with garlic powder, onion powder, cumin, and paprika, then cut into 1" cubes

1

heaping tablepoon minced garlic

4

cups

stock

i used a blend of chicken and vegetable stock

1

cup

cream

1/2

teaspoon

yellow curry

1/2

teaspoon

cumin

1

teaspoon

smoked paprika

Few dashes of worcestershire sauce

S&P to taste

1/2

c

aged red leicester cheddar

1

cup

tex mex shredded

1/2

cup

grana padano parmesan
Instructions
Place the bacon pieces in a large soup pot and render down until the bacon is slightly crisp.

Whiz the onion and jalapenos in a small food processor and add to the bacon fat.

Saute until the onion is soft.

** At this point if you would like to add flour to make a roux, do so. As I used a low carb thickener, I add it at the end of cooking.

Remove the onion, jalapeno, and bacon mix and set aside. Add the minced garlic to the pile.

Add the chicken to the pot in the. Saute until browned and they have somewhat cooked through.

Add the jalapeno, onion, bacon mix back in.

Add the stock, cream, worcestershire sauce, and spices and bring to a simmer.

Add the cheese, letting simmer for about 15 minutes.

At this point I added my low carb thickener.

Bring to a boil
Notes
I found bringing it to a boil at the end caused everything to blend well instead of having the spices floating on the top.
If you like this recipe, please share!
JALAPENO CHEDDAR CHICKEN SOUP