---
I found this recipe in an old cookbook called Larousse Traditional French Cooking. It was mentioned as going with roast duck so thought I would try it.
Its very good, but very strong. Which I can see why it would be with good with a strong flavoured bird like duck. It would be excellent with steak or roast beef as its akin to a horseradish sauce.
I didn't realize that fresh green peppercorns were so pungent and am going to modify the recipe below. The original recipe called for 1/4 c of green peppercorns and it makes for a very strong sauce. I think that half the peppercorns for the liquid I used would make for a perfect sauce. As I mentioned, this sauce shouldn't be used as a gravy, more as a condiment. Dollop servings instead of flooding the plate. I also didn't have some of the ingredients on hand that they were calling for so had to make a change or two.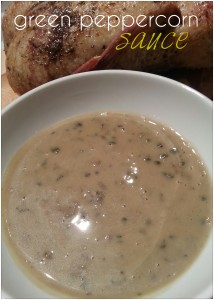 GREEN PEPPERCORN SAUCE
1/8 c fresh green peppercorns, crushed in mortar and pestal (original asked for 1/4 c)
3 tbsp dry white wine (original asks for 1 tbsp cognac and 2 of the wine)2 c stock (original asked for veal, I had beef or chicken on hand)
1/4 c heavy cream (original asked for creme fraiche)
Instructions
Place half of the crushed peppercorns in saucepan with wine.
Boil rapidly until reduced
Halfway through reducing add the other half of the peppercorns
When fully reduced, add the stock
Boil for 20 minutes
Lower head and add cream, stirring until smooth
At this point I added a flour slurry to thicken the sauce as well
If you like this recipe, please share!