---
The Hubby and I love dan dan soup, but unfortunately the dish isn't low carb. But looking at the recipe, the sauce is and I thought it would taste great as dan dan lettuce wraps. Topped with a few green onions and peanuts, they had a ton of flavour. And I mean a TON. Because the sauce is supposed to go in broth and have noodles to soak it up, instead of mixed with only meat and eaten with a bit of lettuce, it ended up being a very intense dish. Almost too overpowering, but that unique peanut butter and spicy peppers flavours were there. Also both the Hubby and I weren't that thrilled with the szechuan pepper, both in taste and heat, so I'll definitely cut down on it.
I'm posting the recipe because I liked the overall flavours, but I'm thinking of putting it with the pork, somewhat in the way you would make taco meat. Put a portion of the paste, along with some water, mixed in with the ground pork, and let it simmer. Also, if you don't detest shirataki noodles like I do, this would actually be really good with broth, the sauce and the meat. Like the ramen version of a kicked up pho.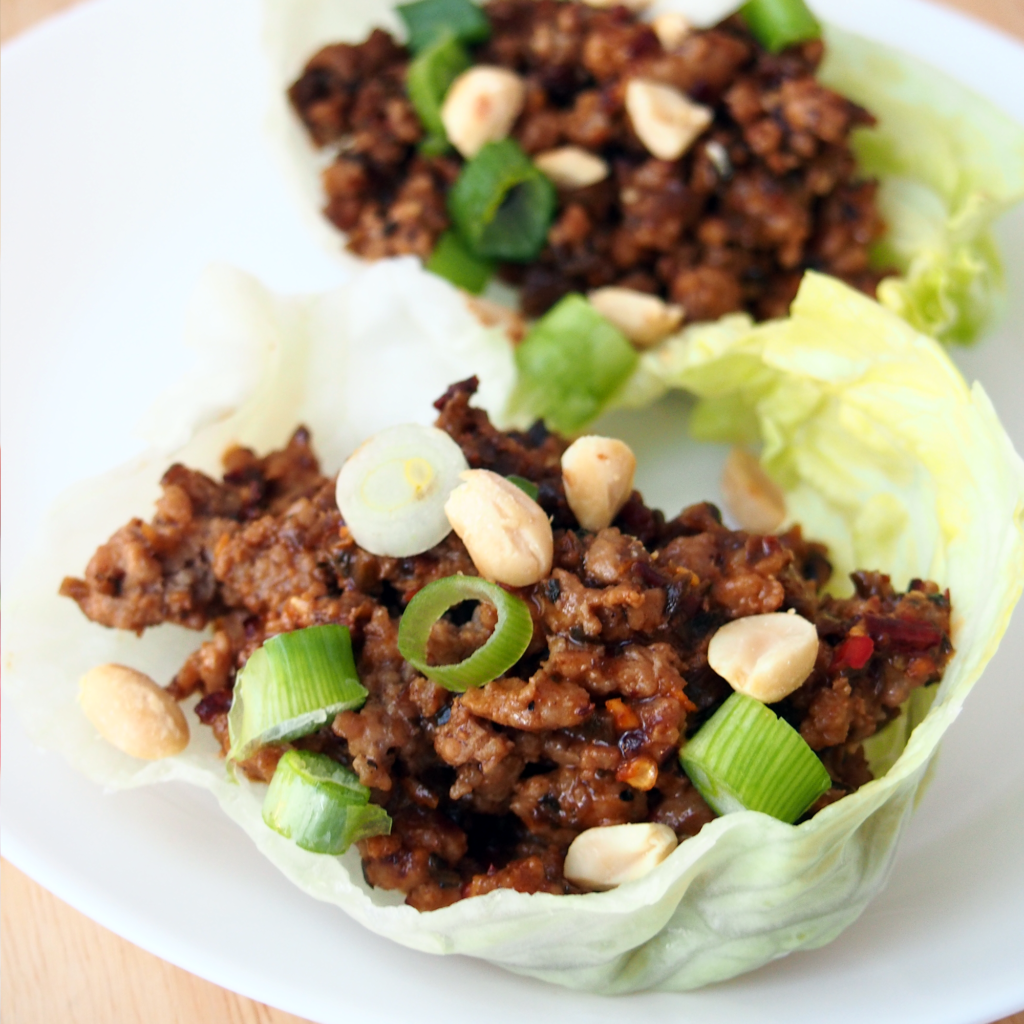 Print
Dan Dan Lettuce Wraps
Ingredients
The Pork
4

teaspoons

oil

1

lb

ground pork

3

teaspoons

oyster sauce

1

teaspoon

sugar free Teriyaki sauce

4

teaspoons

Chinkiang black vinegar

2

teaspoon

dark soy sauce

1

teaspoon

five spice powder

1/3

cup

sui mi ya cai

package of preserved mustard greens
The Sauce
3

tablespoons

Chinese sesame paste

3

tablespoons

soy sauce

1

teaspoon

Splenda

1/4

teaspoon

five spice powder

1/8

teaspoon

Sichuan peppercorn powder

1/2

cup

chili oil

4

cloves

garlic

very finely minced

1/4

cup

oil
Other
Head of lettuce

washed and cut into quarters

Scallions

chopped for garnish

Peanuts

pan roasted and chopped for garnish
Instructions
In a wok, heat a couple teaspoons of the oil and brown the ground pork.

Combine the five spice, teriyaki, oyster, and soy sauce, and pour over the pork.

Cook until the liquid has been absorbed.

Move to the side of the pan and add a couple teaspoons of oil to the bare side.

Add the package of the preserved mustard greens and saute for a couple minutes.

Combine the beef and suimiyacai.

Combine all the sauce ingredients in a small food processor.

At this point I added half the sauce directly into the meat and it was a bit too overwhelming. I plan on adding a portion of the sauce and about 3/4 cup water, stirring, and simmer until the liquid has been absorbed.

Serve with the lettuce wraps, and scallion and peanut garnishes.