---
Dalgona coffee (whipped coffee) is the latest craze and has it's origins in Macau, India and Pakistan. Although I'm not usually one to follow the trends that go whipping by (pun not 100% intended), if it involves coffee I am always onboard for at least trying it.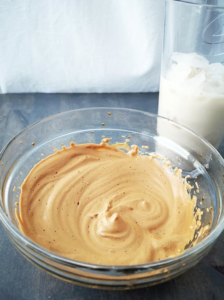 Dalgona coffee is amazingly simple to make and reminds me of a Vietnamese coffee in a quasi-milkshake form. When I made the whipped coffee portion, I gave it a tiny taste, and although intense, I think if you folded it into whipped cream or a lovely smooth vanilla buttercream, this would make out of this world icing!
I have tried it with less portions and even tried whipping it by hand. Trust me, although 2 tablespoons of espresso powder sounds way too much, once whipped up it works out to be smooth (albeit strong). Whipping it with a hand mixer is the quickest, and least tiring, method.
Note that unless you drink pots of coffee a day, this cup will more than make up for 2 cups of coffee. 😉
Print
Dalgona Coffee (Whipped Coffee)
Ingredients
2

tablespoons

espresso powder**

2

tablespoons

sugar

2

tablespoons

BOILING water
Instructions
In a soup bowl, add the espresso powder, sugar, and boiling water. Beat on medium speed with a handmixer, until it becomes light and airy. About 2 minutes.

Whip at high speed for about 30 seconds, until soft peaks form.

Fill a large glass halfway with ice, then fill halfway with milk of choice.

Scoop the whipped coffee mixture onto the iced milk. Admire for a moment. Then combine everything with some vigorous stirring of the straw.

Sit back and enjoy one of the best iced coffee's ever.
Notes
I love Nescafe Gold espresso powder. Vaguely mocha'ish and very smooth.
I've heard tell this is excellent scooped onto hot milk as well, but it really makes for an amazing cold coffee, that I haven't tried it that way. Yet.
If you like this recipe, please share!
DALGONA COFFEE (WHIPPED COFFEE)