---
We purchased an air fryer and have been air frying everything. Chicken wings, fish, sausages, whatever we have in our freezer. Hubby did a bit of Google work and found an air fried steak recipe from Gordon Ramsey. It had a coffee chili rub on it that sounded devine.
This morning we stumbled out of the bed and then with a cup of coffee in hand, proceeded to watch some cooking shows until I was awake enough to make some breakfast. The Pioneer Woman was making steak, eggs, and grits. I knew right then what I wanted to make. Steak with coffee chili rub and eggs, served with some low carb toast! We had one steak left in the freezer, so perfect for breakfast.
I didn't have the peppers in the recipe so made some substitutions. For the ancho chilies I used a combination of guajillo (smokey Mexican) and reshampatti (Indian) peppers. The rub is a lot stronger in taste than my usual rub, so I think it requires a hearty piece of meat. A thick steak, nice slab of brisket, that sort of thing.
The original coffee chili rub recipe called for sugar. As we eat low carb I didn't add any, even a substitute. I think I will pick up some of the brown sugar Splenda and use a discrete amount. I don't like adding sugars to my rubs and find that most of the time it's unnecessary, but I think this needs a wee bit just balance out the bitterness of the heat and the spiciness of the chilies.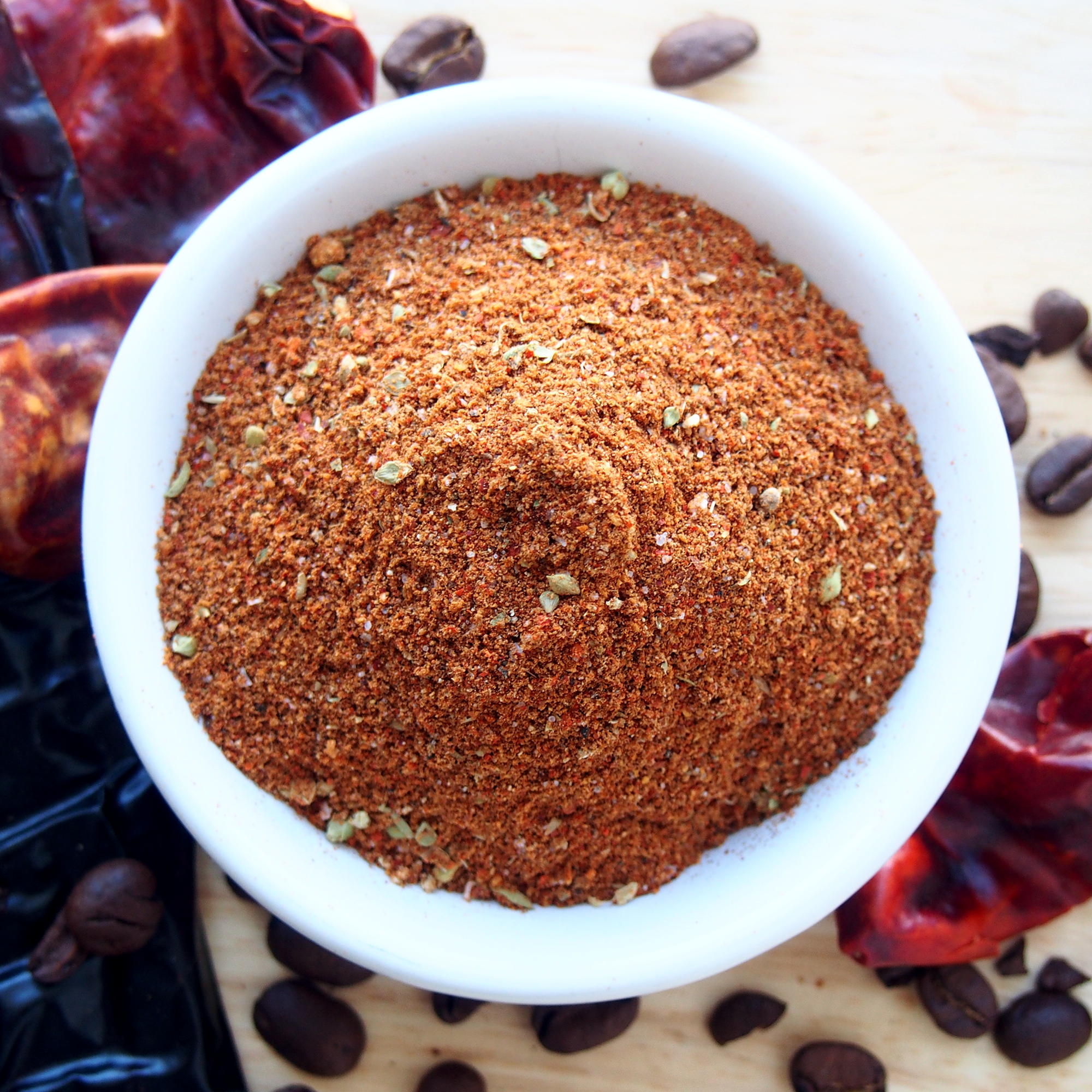 Print
Coffee Chili Rub
Ingredients
1/8

cup

of chili powder

2 Guajillo + 3 Reshampatti chilies ground

1/8

cup

espresso powder

1

tablespoon

paprika

1

tablespoon

Splenda brown sugar

1/2

tablespoon

dry mustard

1/2

tablespoon

kosher salt

1/2

tablespoon

black pepper

1/2

tablespoon

ground coriander

1/2

tablespoon

dried oregano

1

teaspoon

ginger

1

teaspoon

Aleppo pepper

or hot paprika or cayenne
Instructions
Combine all ingredients and store until use.
If you like this recipe, please share!