---
Another transfer over from my old site. I made some bread pudding today and it reminded me of the Pumpkin Bread Pudding I made last November, which then reminded me of this pumpkin shaped cake. Filled and drizzled with caramel, recipe HERE.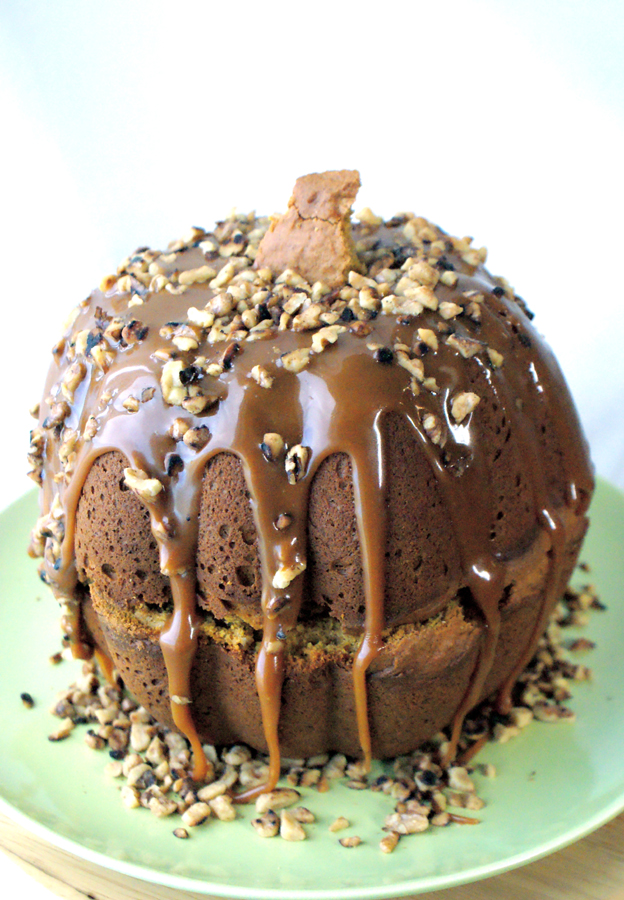 Print
Caramel Walnut Pumpkin Spice Bundt Cake
Ingredients
4

c

flour

4

tsp

baking powder

1

tsp

baking soda

1

tsp

salt

1

tbsp

ground ginger

2

tsp

cinnamon

1

tsp

nutmeg

1/2

tsp

ground cloves

1

c

2 sticks unsalted butter, room temperature

2 1/2

c

brown sugar

4

eggs

1

c

buttermilk

1 1/2

c

canned pumpkin puree

seasoned with cinnamon, ginger, cloves
Instructions
Baking Pam spray a bundt pan.

Whisk together flour, baking powder, baking soda, salt, ginger, cinnamon, nutmeg, and cloves. Set aside.

Beat butter and brown sugar together in the bowl of an electric mixer fitted with the paddle attachment, on medium speed until pale and fluffy, 2 to 3 minutes.

Add eggs, one at a time, beating well after each addition and scraping down sides of bowl.

Alternate flour mix and buttermilk, ending with buttermilk.

Beat until just combined.

Add pumpkin puree, and beat until combined.

Pour batter into prepared pan.

Bake at 350°C until golden and a wooden skewer inserted into the center comes out clean, about 55-60 minutes.

Let cool on a wire rack.
Notes
I used a pumpkin bundt cake mold. Once the cakes were completely cool, I leveled off the bottoms of each mold, Scooping out the middle of the bottom half a bit. I sprinkled the inside with roasted walnuts and some of the caramel sauce. Place the top on and drizzle the entire thing with caramel.
If you like this recipe, please share!
CARAMEL WALNUT PUMPKIN SPICE BUNDT CAKE