---
The Season of Pumpkin everything has arrived! Its a time I wait for all year long. And since I wanted to make cupcakes for a meeting I'm going to today, it was basically preordained that it would be pumpkin pie cupcakes. I saw this recipe on two peas & their pod and knew I wanted to give them a try. I combined their icing recipe with my rum buttercream icing and it was insanely good.
While making the browned butter, just be careful and keep an eye on it. Once browned, remove immediately from the heat. It smells absolutely devine. Almost as good as the caramel.
A side note, I found it best to make the caramel sauce and the cupcakes last night and just had to make the icing this morning. I put the caramel sauce into the fridge overnight, nuked for just 1 minute and found it came out to a perfect consistency for drizzling. Whereas after being freshly made it was quite thin.
Side note #2: This only made 13 cupcakes for me. I usually fill my cupcake liners almost full to get a nice BIG fluffy cupcake. These I had to only fill 3/4 full and still only got 13. I may double the batch next time to get a few more. Or just do mini cupcakes.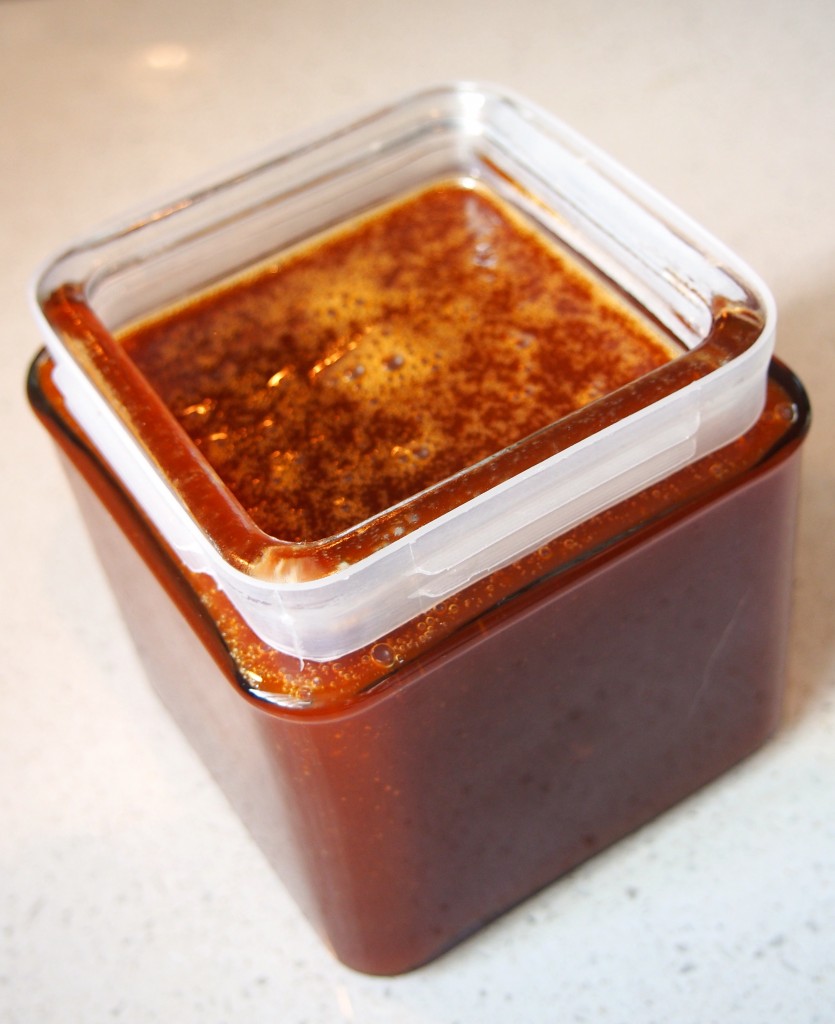 Print
Salted Caramel Sauce
Ingredients
2

c

granulated sugar

3/4

cup

1 1/2 sticks unsalted butter, at room temperature

1

c

heavy cream

at room temperature

1

hearty pinch of fine Mediterranean salt
Instructions
Get your candy thermometer out!

Heat the sugar over medium high-heat in the bottom of a heavy 2-3 quart saucepan.

As the sugar starts to melt, take a heat-proof rubber spatula and gently start scooping the sugar from the edges. As its melts more, stir gently with the spatula.

When the sugar is melted, stop stirring.

Insert the candy thermometer, don't let it touch the bottom of the pot.

You can swirl the pan to move the sugar around, continue cooking the sugar until it reaches a deep amber color and reach 350°F.

At this point I put on my long fingered oven mitts.

Whisk in the butter (it will foam and bubble!)

Remove from heat and add the cream (again, more foaming and bubbling) and whisk until smooth.

Pour into a mason jar (or thick glass container) and set aside to cool.
Notes
Make a day ahead of time and place in fridge (once cooled). When you want to use it, nuke for 1 minute, give a stir and its ready.
Store in fridge for up to 6 weeks.
Adapted from two peas & their pod
Print
Brown Butter Pumpkin Pie Cupcakes
Ingredients
3/4

c

unsalted butter

at room temperature

1 2/3

c

all-purpose flour

2

tsp

baking powder

1

tsp

salt

1

tsp

ground cinnamon

1/2

tsp

freshly grated nutmeg

1/4

tsp

ground cloves

1

c

canned pumpkin pie filling

1

c

lightly packed light brown sugar

1/4

c

granulated sugar

1

tsp

vanilla extract

2

large eggs
Instructions
The Butter
In a saucepan, melt the butter over medium-low heat and continue to cook, swirling occasionally, until butter turns golden brown

Skim foam from top, and remove from heat.

Pour into a bowl to stop the cooking, leaving any burned sediment behind.

Let cool.
The Batter
In one bowl, mix the flour, baking powder, salt, cinnamon, nutmeg, and cloves

In another larger bowl, whisk the pumpkin, sugars, eggs, vanilla extract, and brown butter.

Add the flour mix in batches and whisk until just combined.

Line a cupcake tray with liners and fill each cup 3/4 full.

Bake at 325F for 10 minutes, rotate, then bake for another 9-10 minutes.

Cool cupcakes completely before removing from tray.

Ice the cupcakes with the salted caramel icing (I prefer a bag with a nice fat tip)

For the drizzle, scoop some caramel into a sandwich bag and cut a TINY hole by snipping a bit of a corner off and go back and forth over the icing.
Notes
Cooking at sea level, I find that I need to add a bit more baking powder. I usually put in a heaping tsp and a regular level tsp.
Adapted from Two Peas & Their Pod
If you like this recipe, please share!
BROWN BUTTER PUMPKIN PIE CUPCAKES WITH SALTED CARAMEL CREAM CHEESE ICING