---
I love biryani. When it's good, it's stellar, and when it's not, it still tastes more than edible. We have a restaurant near the border that we stumbled upon, that makes the most amazing biryani. It's moist, seasoned, just the right amount of spice, and is everything that a biryani should be.
I went in search of a recipe for a wet biryani. During my search, I found too many that looked like dry rice, with the barest blush of color. I came across a recipe for lamb biryani on Panning the Globe. It had the good base to the recipe and all I did was kick it up with a few more Indian spices. I love the tang and zip that amchur powder gives dishes, so it was a must in the recipe.
I originally intended this to be lamb biryani, but the lamb that I had wasn't enough and the grocery store nearby didn't have lamb that wasn't insanely priced. So I picked up a pound of stewing beef instead. I also cut up the pieces of meat quite small – due to my Invisiline, my teeth are still tender when having to bite something. Peas don't usually make an appearance in biryani, but I love peas in rice, and it makes for a bright colorful and tasty addition.
This is one of the stellar dishes, just enough heat, packed with a ton of flavor. It is a touch labor intensive, but oh so worth it!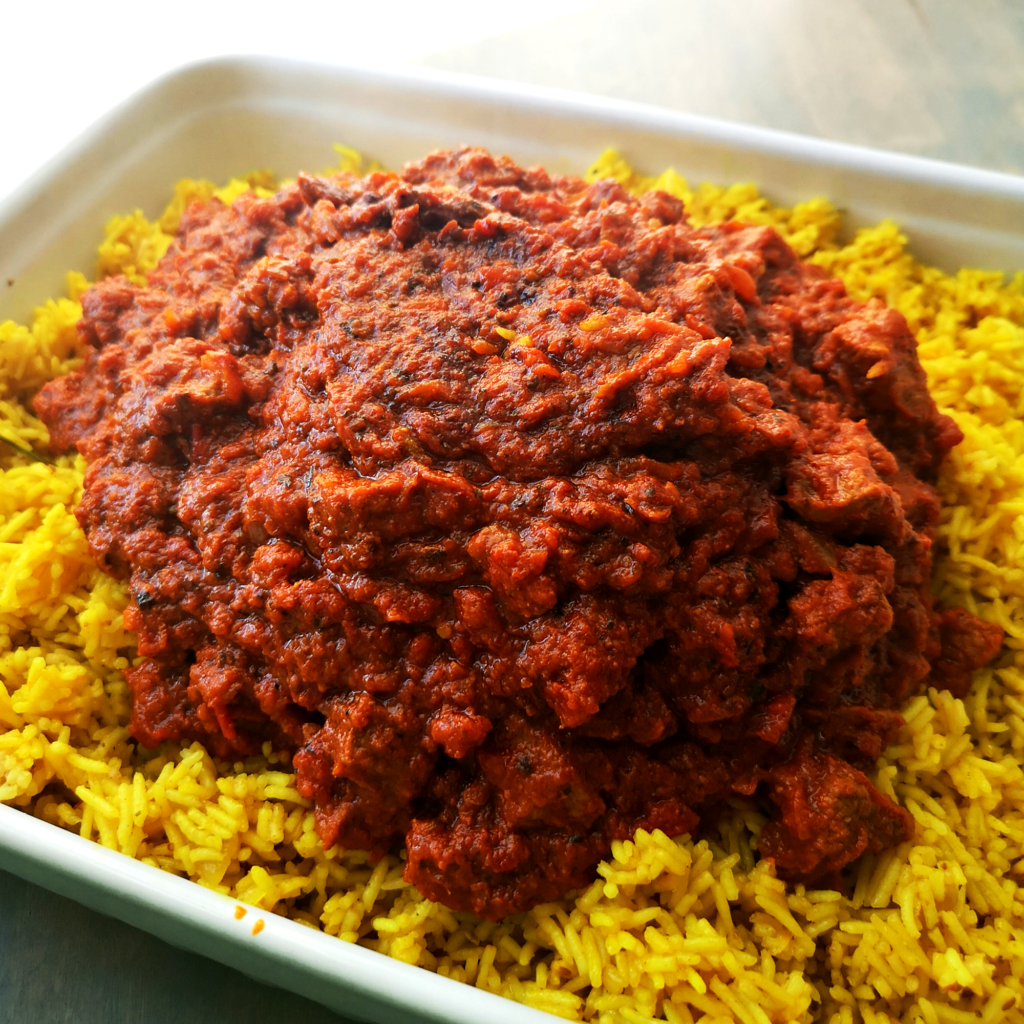 Print
Biryani Meat Curry
Ingredients
2

lbs

lamb or beef

(cut into 1" cubes)

2

yellow onions

(chopped small)

1

620ml

jar of crushed tomato sauce

olive oil for cooking
The Marinade
1

cup

coconut cream

1/2

juice of half a lime

2

teaspoons

garam masala

sea salt

(liberally sprinkled over the meat)

1

teaspoon

ground cumin

1

tablespoon

garlic puree

1

tablespoon

ginger puree
The Curry Masala
1.5

teaspoons

amchur powder

1

tablespoon

paprika

2

teaspoons

sea salt

1

teaspoon

tumeric

1

teaspoon

garam masala

1

teaspoon

ground cumin

1

teaspoon

corriander
Instructions
Mix the meat and marinade ingredients in a large ziploc bag. Massaging the marinade into the meat. Set into the fridge until needed.
The Curry
In a large frying pan, heat about 3 tablespoons of oil.

Add the onion (again, add oil if needed) and saute on medium heat until they have carmelized, turning a deep rich brown. Remove from pan.

Brown the meat in batches, adding more oil if needed. Don't throw away the marinade, rather cook the last batch of meat in it.

When the last batch of meat has finished browning, add the onions back into the pan, along with all the meat. Add the jar of crushed tomatoes, masala, and jar of tomato sauce (use a hearty splash of water to rinse out the jar). Stirring to blend

Cover and simmer for 30 minutes, until the lamb is tender and cooked through. It should be wet but not liquidy.
Notes
For the crushed tomatoes, I like to use Italian pasta sauce or the Italian crushed tomatoes, usually just herbs and tomatoes in it.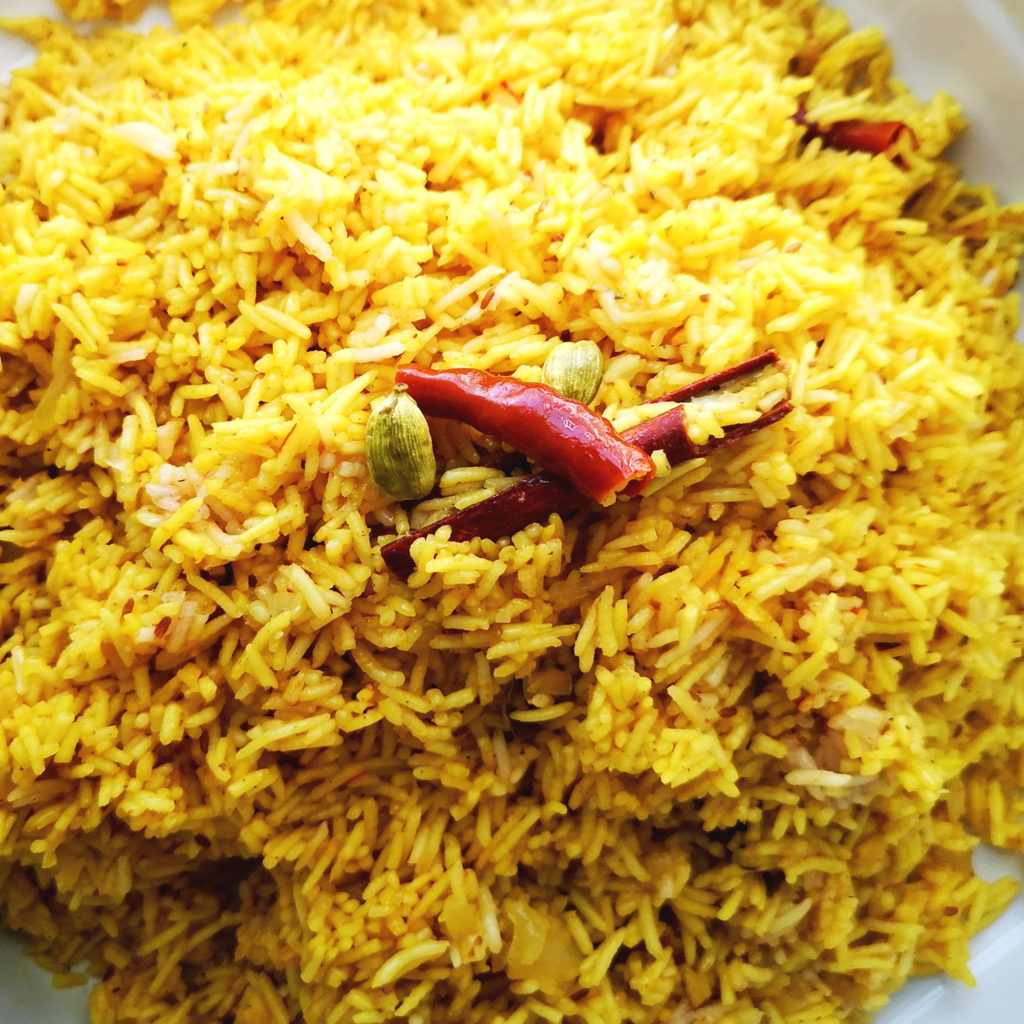 Print
Biryani Rice
Ingredients
2

cups

bismati rice

olive oil for cooking

1

onion

(chopped small)

pinch

saffron

(in a couple tablespoons of warm water)

2

cups

vegetable stock
Toasted Spices
2

teaspoons

cumin seeds

2-3

bay leaves

2

dried red chilies

6

green cardamon

1

inch piece

cinnamon stick
Instructions
Put the rice in a large bowl and rinse under cool water, changing the water 2-3 times until clear. Cover with fresh water and set aside.

Toast the spices in a dry small frying pan, shaking frequently. Once the aromas start to release and the cumin seeds begin to pop, pull off the heat.

Pick out the cinnamon stick, chilies, bay leaves, and cardamon and set aside. Put the cumin seeds into a small mortar and pestal and crush into a powder.
The Rice
In a large saucepot, heat a couple tablespoons of oil and saute the onion on medium heat, until it has softened and begins to brown

Drain and add the rice to the saucepot and stir to mix.

Add 2 cups water, the toasted spices, the powdered cumin seeds, saffron and salt and bring to a boil (uncovered).

Lower the head and simmer uncovered until the water has all but evaporated and then, cover, remove from heat and set aside.
Notes
If your saffon is old and doesn't quite brighten the rice, use 1 teaspoon of tumeric powder mixed through to give it a lovely golden yellow color.
Print
Lamb or Beef Biryani
Ingredients
curried meat from above

rice from above

1

cup

frozen peas
Instructions
Preheat the oven to 350°F.

Fold all three ingredients together, placing in a casserole dish, cover with tinfoil, and bake for 35-40 minutes.
If you like this recipe, please share!